Dynamite Force FC of Benin City bring hope, excitement and hungry youngsters into National Nationwide League
By Daily Sports on September 14, 2017
Views: 4,880
A few years ago a club was founded in Benin City. Dynamite Force FC was set up by a young and ambitious sports administrator Benard Jomah with noble goals: to give talented young grassroots players a pathway to furthering their football career and provide a source of sporting entertainment to football followers in Edo state and beyond.
Today that goal is being accomplished with a great zeal as the club, which has campaigned in the national amateur leagues of Nigerian football, has birthed now in the Nigerian National League (NNL), which is the second tier of Nigerian domestic league football.
Dynamite are no strangers to success. They have a couple of Edo state FA Cup trophies in their cabinet and a slew of former players are plying their football trade in different top clubs in and outside of Nigeria.
But for the present band of mostly teenagers who were competing in the grassroots and amateur leagues recently, the opportunity their promotion to the NNL provides to rub shoulders with very established and traditional clubs in Nigeria is a new and exciting one for the Dynamite players. Clubs like Heartland FC of Owerri, Bayelsa United of Yenagoa and fellow Edo State club (and 1993 winners of the then CAF cup) currently compete in this division.
John Idahor is a sleek midfielder of the club who operates mostly from the left of the middle and made good contributions to help Dynamite gain promotion, combining football with the demands of university education. He's in his final year of his B.Sc. in Physical and Health Education undergraduate degree program at Ambrose Alli University in Ekpoma, Edo State. He's one of those players of the team who are excited to play in the NNL. He is thankful of the progress for his club and himself.
"First I will give glory to God for the promotion to the NNL. It wasn't an easy task. The lessons we have learnt playing in the amateur league would hopefully help us succeed in the NNL."
He lists the lessons as hard work, togetherness even in the face of financial difficulties and belief.
Club owner Jomah is a more fulfilled man today because of the rise of Dynamite. An ambitious sports administrator, he's not only had positive impacts in his Dynamite club, but also in other areas of Edo State's sporting life. He is the head of the Samuel Ogbemudia Stadium council workers in Benin city and also a major administrative official of Edo State Hockey Association.
A much loved and popular figure in the sporting community in Edo state and beyond, not a few are happy that Jomah's Dynamite FC pet project is growing.
"Benard is a nice man who is always willing to go out of his way to help people. All he wants is to see a vibrant sports scene in Edo State. He's such an asset to the state because of his many good contributions to make sure that Edo State maintains its image as a leading sports state," one fan says.
One can glimpse the motivation and strong sense of belief that Jomah instills on his players when they talk about him. Idahor credits the club owner for the influence and personal touch he has with his players.
"My chairman (Jomah) has really made a great impact in my life in different ways. He gives you that belief to work harder. He tells us that the best players in the world today do not have two heads. When I am in school in Ekpoma, he will encourage me to come all the way from school to train and play because he believes in me. He has giving me that courage that you can play in any club in the world, he is not sentimental. He always knows when a player is good and he signs him and gives him that trust," Idahor says.
Dynamite pulled in an appreciable number of fans to the Ogbemudia Stadium on match days during their stay in the amateur league and the expectation is that more fans would troop into the stadium to follow the club's games in the NNL.
Dynamite have a playing philosophy that would ensure this is a reality. The club's game is based on fast, nice passing game and with a coach, Johnbul Egharevba who has been in charge for years now, that continuity could ensure a balance the club needs in the chaotic world of today's football.
The challenge now for the club is to weather the storm of a very demanding NNL. There's the issue of finance. The club is run single-handed by Jomah, but there's room for private and corporate sponsorship. With a strong fan base, nice playing pattern and ambitious club management, Dynamite Force has what it takes to ensure that investments in the club would not be a waste.
The Edo State Government as well would do well to support the team as Dynamite's presence in the NNL, added to that of Bendel Insurance, means that the state has an increased chance of having a club qualify for the Nigeria premier league.
To play in the NNL, players salaries would have to be increased and good players recruitments would most likely cost money. The financial tasks could challenge Dynamite to the limit.
The marketing department of the club must have to look to secure good sponsorship deals to help the team.
It was heartwarming for fans of Dynamite to see the deputy governor of Edo State Phillip Shaibu visit the team recently after they gained promotion and being presented with a pair of Dynamite jerseys as a souvenir. It shows the state government's goodwill towards the club. The hope is that this goodwill can be leveraged into more significant support for Dynamite so that the grassroots players that call the club home can excel and bring glory to the people of Edo State.
•Photo shows Bernard Jomah presenting Dynamite kits to Edo Deputy Governor, Phillip Shaibu.
Source Daily Sports
Posted September 14, 2017
---
You may also like...

Wenger's replacement: Arsenal may surprise many

Brazil condemn Fernadinho racist abuse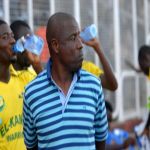 CHAN: Salisu Yusuf says no cause for alarm...

Dalung sets up NFF reconciliation committee

Maradona sacked as coach in UAE