Tiger Woods returns at The Masters: Rory McIlroy, Justin Thomas, Jon Rahm, Jordan Spieth and Dustin Johnson give their views
By Daily Sports Nigeria on April 6, 2022
Tiger Woods was once again the main topic of conversation at Augusta National on Tuesday as he confirmed he plans to make his long-awaited return to action at The Masters on Thursday.
The presence of the five-time champion has been welcomed by his fellow professionals, with some of them happy to see the spotlight turned on to the former world No 1.
Here's what some of the big names have had to say about the prospect of Woods competing alongside them once again this week…
Woods has confirmed he plans to make his long-awaited return to action at The Masters on Thursday.
Rory McIlroy: "Tiger has been wonderful for us all in this room. He creates attention on the game of golf that no one else can. That's great for his peers. It's great for the media. It's great for this golf club. It's great for everyone. So, any time Tiger Woods is involved, it's a wonderful thing.
"I think in terms of the competitive nature of it, if he's in the field or not, I don't think it really changes much. You're trying to focus on yourself, and he can't stop you shooting a 67 if you play well. It's not like any other sport. So, I don't think that changes much.
"I've spent a little bit of time with him at home, and the golf is there. He's hitting it well. He's chipping well. He's sharp. It's just the physical demand of getting around 72 holes here this week. That's probably the question mark. But the golf game is there."
Justin Thomas: "Nobody has a work ethic and determination like him. I've never seen anything like it in terms of setting your mind to something and kind of setting a goal for yourself and proving to yourself and everybody that you can do it than him.
"The days and weeks and months that he couldn't do anything and do the same thing every single day but would look at it as an opportunity to get better and get stronger and get one per cent better that day.
"Unfortunately, he's been through it a lot, not that specific type of injury or whatnot, but he's been through that type of process before. He unfortunately knows better than others, but it's still unbelievable the stuff that he can do given everything."
Jordan Spieth: "I think him playing and playing with being healthy and playing and potentially playing well is just in general, no matter where it is, just so good for the game of golf and all of us. Obviously, no stage is brighter than it is this week.
"He seems to be moving great, in great spirits. It's amazing if you think about where he was at a year ago to now, I don't know how many people, if anybody, could be out here - and this is not an easy walk. So to be out here and not to throw his age in the mix, but I don't think that helps much for that recovery, but is anybody surprised?"
Jon Rahm: "There's a lot more electricity in the air, and you have Tiger being there. Monday felt like a Saturday in a regular event.
"[Tiger's presence] could help Rory (McIlroy). I know this week can be tough because every time he comes up here he's going to hear about the Grand Slam, and maybe having Tiger out here might help.
"He's done so much for professional golf. The Tour looks a lot different than it did in 1996 before he came out, so we're all very grateful and we're hopeful to have him back."

Source Sky Sports
Posted April 6, 2022
---
You may also like...

Topping the group, our priority – Wenger

NFF to refund FIFA cash they can't account...

Liverpool Set To Battle Leeds United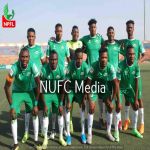 Abubakar Lawal's Goal Not Enough To Salvage Point...

COVID-19 Could Force Olympics Cancellation, Says Top Japanese...