Nwosu to NFF: Embark on aggressive sponsorship drive; you can't leave everything to government
By Augustine Kalu on January 10, 2017
Views: 2,155
Former national team captain and striker, Henry Nwosu, has heaped the blame of last year's national and international embarrassment occasioned by the Super Falcons sit in protest to drive home their demand that their bonuses and allowances that ran into millions be paid to them before President Muhammadu Buhari's intervention on the door steps of the Nigerian Football Federation (NFF).
Speaking with Daily Sports in an exclusive interview, the member of the 1980 Green Eagles squad that won the Nation Cup for the country as the national team was known then, explained that the blame for the national and international embarrassment caused by the Super Falcons action should go to the Amaju Pinnick led board of the Nigeria Football Federation (NFF) for their failure to do what they were supposed to do by going on aggressive sponsorship drive to raise funds for their activities to augment whatever the Federal Government made available.
"I have always said it and I will continue to say it that it is wrong for you to leave everything to the government," Nwosu stressed.
"If we must tell ourselves the truth, it is not proper to leave everything to the Federal Government to shoulder. The Federal Government has a lot of things that they are faced with and they don't have enough resources to attend to all these things.
"That is why the Federation should endeavour to go into aggressive marketing or sponsorship to shore up their finances so that from what they get, they will make up with what the government is giving them," Nwosu said.
Speaking further, he said what happened late last year would have been avoided had the Federation been going for sponsorship drive to improve on their finances but preferred to remain in their offices waiting for the government to spoon feed them by providing them with all the funds they required for their programmes.
"It is sad that the NFF board members preferred staying in their cozy offices doing nothing and waiting for the government to give them all the money they need to carry out all their progammes. It is not proper. That does not portray them in good light.
"Had it been that they have been going for aggressive sponsorship drive or marketing, their situation wouldn't have been like this.
"Everybody is very much aware of the economic situation in the country. There is no money anywhere in the country. We are in recession; that is the reality. So, leaving everything to government is not the right way to go.
"Look, like I said, had it been that they have been going on sponsorship drive their situation wouldn't have been like this to the extent that they couldn't pay the players their entitlements. It is quite unfortunate to say the least.
"If they embark on sponsorship drive, even if they get 50 per cent of what they need from one organisation, it is better than nothing at all. If they have about, let's say 10 organisations that they are dealing with, assuming that they need about N100 million and some of them offer to give maybe N20 million and another N15 million and each of them giving nothing less than N10 million, you will find out that at the end, they will raise more than the required funds.
"Therefore, as far as I am concerned there is need for them to start going on aggressive sponsorship drive in case they have not started before now," the former captain explained.
Photo shows Ex-international
Henry Nwosu.
Source Daily Sports
Posted January 10, 2017
---
You may also like...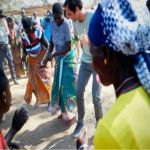 Roger Federer: 'Visiting Africa makes me motivated to...

WBO urged to review Pacquiao, Horn decision and...

Gernot Rohr Downplays Nigeria's 2019 AFCON Hopes

Hazard Fires Chelsea to Europa League Final Clash...

Chelsea exit: Emenalo breaks silence