Nigeria Vs Algeria: On the superstition surrounding the Uyo venue
By Daily Sports on November 8, 2016
Views: 1,573
Let me make a little admission. I'm superstitious about some things. For example, I'm superstitious about the number 13. I dread days in which I dream about something bad because I don't want it to become a reality.
A lot has been debated about superstition and how much we should pay heed to it. I just feel that whatever the varying views are, for me personally, there are some things about reality that seem to elude our human understanding or capacity to explain.
I can't explain a situation where I grow up dreading (I can't pinpoint when and how it started) the number 13. But I know that my father (who's passed on) shared a certain dislike for the number so much to the point where he was willing to change the date he put down for something he purchased if the date fell on the 13th. Behold my dad made the great transition from this world in 2009 on (you guessed it) the 13th (of November)
How do I explain situations where I dream about seeing a friend I hadn't seen for years and then I wake up and step out of my home only to meet this person?
Superstition has always been with us and in sports in particular it is very visible. Players doing some particular things (like wearing their kits in a unique way) in the belief that it would make them win, springs to mind.
I recently I read a piece by my senior colleague Victor Enyinanya on his concerns about the Akwa Ibom Stadium as choice for this weekend's World Cup qualifier between Nigeria and Algeria. His fears where hinged on the superstitious fact that the beautiful Uyo edifice of a stadium has not been a lucky ground for the Super Eagles given the fact that Nigeria has always laboured to win its home games there.
Now it's true that Nigeria has found it difficult to pick up comfortable victories at the Uyo Stadium, but could there be an unseen hand orchestrating the performance of the Eagles such that they can't function well as unit anytime they play in Uyo?
Is the fear about the 'hard luck' associated with the Akwa Ibom stadium an isolated one, or one that is generally held by Nigerians? What do the Uyo fans think of such superstitious beliefs that could deny them the chance of watching their darling Eagles live?
The answers to these may well be elusive. But what is not is that the choice of Uyo been made by the NFF and the Eagles who are experiencing a sort of renaissance under German tactician Gernot Rohr would do well to simply concentrate on their tactical and mental preparations for what is expected to be a huge game. The real trouble is if the players or the coaches in their hearts share such superstitions about the Uyo Stadium.
In every bad 13th for me, there may well have been many that recorded unknowingly some good tidings. In every bad dream that came to pass, there have been countless ones that did not.
Nigerians would need to get any superstitious bogey out of our minds and hope this time, a Super Eagles match in Uyo would bring great joy.
Source Daily Sports
Posted November 8, 2016
---
You may also like...

Rangers crumble in Cairo, slump 1-4 to Zamalek...

Pato moves to China's Tianjin Quanjian from Villarreal...

Gernot Rohr names Victor Osimhen in first Nigeria...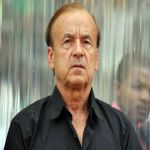 I'll resign if Super Eagles don't qualify for...

Iheanacho impresses Leicester coach