CAF Champions League: Enyimba in grudge clash against Zamalek
By Victor Enyinnaya on August 13, 2016
Views: 934
Enyimba International FC of Aba, Nigeria's representative in this year's CAF Champions League will on their spirited bid to play into reckoning against the Egyptian dreaded team Zamalek, stake all to achieve the near impossibility.
Originally scheduled for Egypt on Sunday, the match was brought forward to today by the Confederation of African Football (CAF).
Although, pundits will readily tell you that in the game everything is possible once you get your acts right and together from the onset.
Head or tail, Nigeria's champion, has a date with history as they try Zamalek for size in front of her very partisan fans.
It would be recalled that Enyimba lost its two previous group games against her opponents, Zamalek in Port Harcourt and Mamelodi Sundowns of South Africa on one hand and on the other hand, the Zamalek has 3 points as the South Africans has 6 points from the two matches.
This is the kind of game you see the resilient spirit of the Peoples Elephant in full display. The spirit in camp is so high as the management motivated the team and promised to do more if they leave Egypt on avictory note.
From the above therefore, it is obvious Enyimba is walking a tight rope and only the eighth wonder of the world would salvage the near-deadend for the Aba-based billionaire squad.
However, it is like the age old adage that says he who fights and run away lives to fight another day, which is what faces Enyimba, to make amends against their host or forget emerging as this year's champions that threw to their face the challenge they never bargained for. It is achievable but Zamalek team is no push over despite the fact what hit them against the South African side remain unexplainable.
It will be fight to finish for both wounded sides. While the host team is wounded, their visitors are thoroughly bruised. Again while Zamalek will be out searching for a win that would steady their hold in the competition, Enyimba will be aiming at victory that will put life back to the tournament they prepared so well for before this unfortunate turn of events.
In both legs however, though the Paul Aigbogun tutored lads showed enough strength and composure to either win or salvage a point from the away game in South Africa but the reverse was the case.
It won't be a tea party. The stakes are high and from the mood of the Nigeria league kings, their mission to Egypt will be accomplished. The prayer of their fans will be for God of football to smile at them in this crucial hour. Truly, fans will have their hands filled with excellent exchange of football exchange fire.
One prays that the officiating be free and fair as we witness in the first leg in Port Harcourt. Both teams are some of the crack squads Africa can boast of as they had been custodians of the very prestigious ACL trophy. Go, Enyimba, Go for outright win. You can do it.
•Photo shows action from the first leg, which Enyimba lost 0-1 to Zamalek in Port Harcourt.
Source Daily Sports
Posted August 13, 2016
---
You may also like...

Nigeria's Pascal Durugbor continues to shine in Sweden...

It's a lie; I didn't beat Warri Wolves...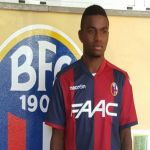 Orji Okonkwo suffers groin injury in Bologna 17-0...

Missing Commonwealth Games athletes and coach face deportation...

Onyekuru: Everton play down injury speculations