Guardiola Leads Calls To Allow Five Subs In Premier League Again
By Daily sports on October 31, 2020
Views: 472
Manchester City boss Pep Guardiola says the Premier League should allow five substitutes per match again because of a rise in muscle injuries this season.
Guardiola said there has been "47% more muscular injuries" this year compared with the same stage last season.
Premier League clubs voted against continuing to permit five substitutions for the 2020-21 season in August.
The rule was brought in when the 2019-20 season restarted after lockdown in June to protect player welfare.
When asked if the Premier League should revert to allowing five substitutions instead of three, Guardiola said: "They should 100%."
City have been affected by injuries to several players this season, including Sergio Aguero, Gabriel Jesus, Benjamin Mendy and Nathan Ake.
"It is not about one club," added Guardiola.
"In the Premier League players have 47% more muscular injuries than the previous season, due to no preparation for most of the teams and the amount of games.
"All the leagues – Germany, Spain, everywhere – allow five substitutions to protect the players, not to protect one team.
"Hopefully they can reconsider and do what the rest of the world does because we have to adjust to the pandemic situation."
Fifa allowed the continued use of five substitutes in competitions this season but many Premier League members are believed to have felt it unfairly benefited major clubs.
Other Premier League managers backed Guardiola's call for the rule to be reversed.
Manchester United boss Ole Gunnar Solskjaer said: "I don't understand and cannot believe that the vote went against because we have to look after the players.
"I can see why clubs voted against but if you take a step back and think about these footballers and their mental and physical health, the only sensible solution would have been to give us the opportunity to rest a few more."
Chelsea manager Frank Lampard said "the ball was firmly dropped" when clubs voted against having five substitutes.
"I'm not just talking about my club, I'm talking about every player, who is asked to play day after day, putting themselves at injury risk," he said.
"We have a big squad here, but the pressure is on the players and it could certainly have a big effect this year more than any other year."
Newcastle boss Steve Bruce said soft-tissue injuries were proving "a problem" this season.
"But we are not alone, there are other teams who are finding it a struggle," he added.
Liverpool boss Jurgen Klopp said the packed fixture schedule leaves his side susceptible to injuries. (BBC)
•PHOTO: Pep Guardiola
Source Daily sports
Posted October 31, 2020
---
You may also like...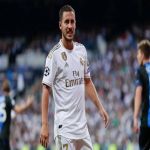 Hazard: No Pressure To Replace Ronaldo At Madrid...

Wolves Poor Form Continue With Braga Loss

Ferrari Won't Appeal against Vettel Penalty

Rangers, Rivers United Get Confederation Cup opponents

World Bicycle Day: Cycling Federation intensifies plan to...