Nigerian fan of Cristiano Ronaldo kills Lionel Messi fan (a fellow Nigerian) during argument about who is better between Ronaldo and Messi
By Nelson Dafe on March 7, 2016
Views: 3,117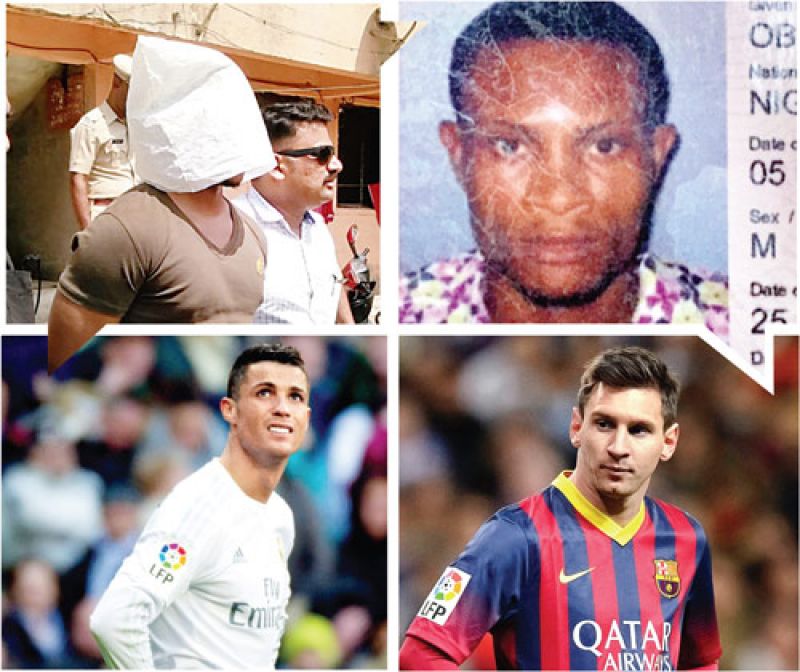 An argument between two Nigerian friends in India about who is better between Cristiano Ronaldo and Lionel Messi turned fatal during the weekend, leading to the killing of the Messi fan, Obinna Michael Durumchukwu.
Reports reaching Daily Sports from India have it that the friends, Chukwuma Nwabu and Obinna Michael Durumchukwu, had been watching a football match at a friend's house on Sunday morning when the argument occurred.
Some time between 9:30 and 10am, an argument broke out about who is the best footballer. Michael supported Argentina and Barcelona striker Lionel Messi, while Nwabu argued that Cristiano Ronaldo (Real Madrid and Portugal star) was better.
Verbal abuses began to fly thick and fast, and Nwabu hit Michael, who threw a glass tumbler at him in retaliation. The tumbler missed Nwabu's head and smashed on the wall instead. Incensed, Nwabu picked up a broken glass shard and rammed it into Michael's throat.
On hearing the commotion, the flat owner woke up and saw Michael lying in a pool of blood. He called the police and the hospital, but it was too late. The Tulinj police arrived at the spot, arrested Nwabu and sent Michael's body for postmortem.
Police Inspector Kiran Kabade, from Tulinj Police Station, said: "We have arrested the accused for murder and are investigating whether the murder was actually the outcome of a minor argument."
According to sources, all those at the birthday party were Nigerian nationals who were in Mumbai on student visas. They had all been living in different rooms at the B wing of Mahesh Welfare Society near Agarwal Nagri. The house where the murder took place is on the third floor of the building.
Nwabu is 22 while Michael just celebrated his 34th birthday on Saturday, a day before his death.
•Photo shows police arresting Nwabu. Slain Michael's photo is in the top right. Below are photos of Ronaldo (left) and Messi.
Source Daily Sports
Posted March 7, 2016
---
You may also like...

Boost for Arsenal as Alex Iwobi resumes training...

Iheanacho on duty as Aguero double rescues point...

Uruguay, Russia reach World Cup knockout phase

James Shines As Chelsea Thrash Grimsby Town

Wolves retain Ikeme, 58 others for 2018/2019 EPL...