Austin Akosa gone? No! No!! No!!!
By Daily Sports on January 25, 2016
Views: 4,189

Honestly, I don't really know how to start with this week's write-up as I already lost appetite for it. It is one tedious task I would have readily decline to accept to do. But fate sadly and forcefully beckoned it on me – it is obviously not my will. Truly speaking, no jokes, I won't have kept this weekly ritual with you, my very dear and loyal readers, if not that it is one bond we have promised ourselves every Monday. You have encouraged me thus far; disappointing would be an overkill.
I lost a dear friend, uncle and all. He was an extraordinary sports cum football administrator and commentator. He ran a very racy weekly column in The PUNCH known as Suzzy's Mixed Grill, which was a must-read.
Really, last week started on an awfully sad note for me. To be precise, Saturday, January 9, 2016 is one of the days I won't forget in any hurry. In short, I would need the mouth of the gargantuan to vividly paint the picture of how the news of the demise of Austin Akosa a.k.a Suzzy, former Publicist of the West African Football Union (WAFU), hit me like a thunderbolt. As hard as I try to bear it, it hurts and bursts. Even to piece this write-up together becomes big issue; my head goes round and round and emotion would take over me. Put yourself in my shoes and then you would have a fair idea of my pains and frustrations.
To be honest with you, I am not yet well composed to narrate my closeness to Austin Akosa. This is the truth and nothing but the truth. It is never easy to write bad news about a loved one. Suzzy was. I miss him dearly. Let me confess that I am not in the right frame of my mind doing this. Heavy hearted. Suzzy's Mixed Grill is no more! Haba! This world sef! I am highly devastated!!!
He meant different things to different people. To my family and I, he was a true, kind, focused, honest, intelligent, diligent fellow. A patriot, loving friend, father and uncle. He never promised what he could not provide. He hated hanging people's psyche on the balance.
He chaired my wedding reception in year 2000. He added cream and sagacity to the event. He was with us from the church. He made the occasion one to remember. He never played a back roll in anything that concerns me. He introduced me to bigwigs in Nigerian sports, told them my brand of journalism that is anchored on truth, balance and all. I was accepted amongst them. They freely discussed when I was in their midst. I never betrayed him or sold out. That was the bond that held us together until his sad demise.
Thanks to Suzzy, I made super exclusive stories adorning the very reference point back page of Sunday Times of old. My Sports Editor then, Ikpo Igbinoba, and the then Editor of Sunday Times, Tunde Ipinmisho, who is now the Assistant General Manager of Federal Housing Authority Abuja, held me in high esteem for authenticity, accuracy and all the tenets that formed the ethics of the profession. Most times, they called me Exclusive. All credit to Suzzy. He meant well for me hence I grew solidly in the profession with rock solid contacts. He encouraged me in totality. I learnt a lot from him. He was a long distance runner. His kind of resilient spirit is second to none. I have been short of words to use to drive home the bond I shared with him. The ripest moment truly is the saddest encounter!
He was the kind of person that liked setting the tone in any given assignment. I can lucidly recall that at every international sporting event for which I travelled with him, the first thing he told me on arrival would be, "I trust your ability to deliver. Do not fail to hold tenaciously your traditional hallmark of reporting events as you see them, verifying all your facts, knowing that facts are sacred." After such sermon, I would be on my toes and get cracking. He was my hero. Forgive some places you will read me addressing or referring him in present tense. It is the mood of the time, still unbelieving that he is no more. A thorough breed. Staunch member of Association of Sports Veterans Nigeria, of which yours in sports is a member, too.
He lived an exceptionally fulfilled life on earth. A beloved and caring father to his children and sundry. The football family in the country cum continent has lost a true administrator. An admirable CAF and FIFA Match Commissioner. He was CAF Instructor par excellence. He was always beckoned on by the continental football body to commission games in those difficult spots, knowing him as Mr. Integrity who does not take No as an answer. He was a symbol of hope. So death, be not proud.
I find it extremely difficult to come to terms with this rude certainty on ground, because I was too close to the man. We came to become that close in the course of this job. If you know how we related before death came to snatch him, you will quickly understand where I am coming from. He does not compromise excellence, accuracy, brilliance, cohesion as his middle name could safely be said to be Mr. Thorough.
We came face-to-face during one of the numerous assignments at the Nigeria Football Association office at Ogunlana Drive, Surulere, Lagos. I was reporting for the good old Daily Times associated with the Biggest and the Best. The Flagship of Nigeria's Journalism. As a bubbling and vibrant Reporter, I asked one intriguing question that made the NFA bigwigs at the high table to adjust their seats. The rest is now history.
It was there and then that Suzzy way and I become friends, which we mutually nourished till he was called home just last week. He meant everything to me. He is the next person I confide in after my very beloved wife. See how we have lost him. Rest in perfect peace, Suzzy, the long distance runner!!!
•Enyinnaya can be reached via 08055068145 (sms only) or by e-mail via sportzvictor@yahoo.com.au
Source Daily Sports
Posted January 25, 2016
---
You may also like...

FIFA hands corruption report to authorities

Gambo Mohammed transfer hanging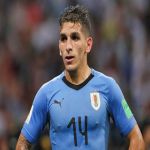 Lucas Torreira: Arsenal set to complete signing of...

Rafael Nadal is better than Roger Federer, says...

NFF reacts to court order to arrest its...