Arsenal's Away Form Seriously Threatens Champions League Aspiration
By Daily sports on April 9, 2019
Views: 527

Everton ensured on Sunday afternoon that the twists and turns for Champions League (Top 4) places continue with a 1-0 home triumph against visiting Arsenal.
4 teams, Tottenham Hotspurs, Arsenal, Chelsea and Manchester United are in a virtual dead heat for the remaining Champions league places, with Manchester City and Liverpool guaranteed of finishing in the top two and locked in another dead heat of their own for who wins the 2018/19 season title.
Arsenal had the opportunity of moving into third and above their bitter North London rivals Tottenham with a won over Everton at Goodison Park, but the Gunners wilted under the slugfest of an Everton approach that showed no fear of their more illustrious opponents.
Unai Emery has largely done a good job of steering Arsenal away from the doomsday post-Wenger predictions and the club still sit on a surprise 4th place after many had foreseen them being strugglers for even a Europa spot place this season.
The Arsenal have been in fantastic home form and have recorded a long unbeaten run earlier this season.
But it is the away form that has been a pain in the Arse for The Gunners. Arsenal have not been able to keep a clean sheet away from home and their performances on the road have contrasted sharply with their irresistibly consistent home form.
Watching the Toffees outthink and outfight Arsenal on Sunday afternoon and then contrasting it with Arsenal's bullying and overpowering of teams in their boisterous Emirates home ground, it invites the comparison of The Gunners with those kid bullies who are aggressive and oppressive to other kids at home but timid and shivering outside in the face of the slightest confrontation.
If the Everton players left Goodison Park on Sunday with one regret, it is that they didn't beat Arsenal by a larger margin.
They had chances upon chances to extend the early lead that ageing Phil Jagielka had given them off a goalmouth scramble that exposed the Arsenal's unwillingness to show any natural defensive instincts of being brave in the air and defensively aware to track their man.
Everton were clearly the more energetic side and, after going 1 up, set themselves up in a killer pressing and counter attacking way that befuddled the Gunners.
Arsenal sorely missed the grit and energy of Lucas Toreira in midfield. The Uruguayan was serving the last of his four match ban following a red card against Tottenham at Wembley in March and in his absence the Gunners midfield couldn't do much to stop the mixture of guile and grit of the Everton midfielders.
The visitors needed someone to break up play, a role Toreira plays with feisty ease, as well as a midfielder with the passing guile to bypass the Everton press. This latter role is one carried to usually great effect by the injured Granite Xhaka.
The absence of these two players who have been instrumental to their club's champions league ambition robbed Arsenal of the needed quality to deal with Everton and ensured that Emery's team were totally dominated in a way this season that had never happened against a team from outside the top six clubs.
Worryingly for Arsenal, they have four of their remaining six games coming up away in the difficult grounds of Watford, Wolverhampton Wanderers, Leicester and Burnley.
On paper these are not supposed to be 'impossible to win' games for Arsenal but these teams have been very solid lately at home while the Gunners away statistics have been damning and rightly elicits fears that it could be the undoing of the club in their chase of a champions league place via the English premier league.
•Photo shows Arsenal striker Alexandre Lacazette
Source Daily Sports
Posted April 9, 2019
---
You may also like...

Ndidi needs time to settle – Drinkwater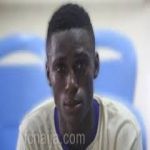 Odey braces up for Wolves challenge

Aubameyang's hat-trick sees Dortmund through to Champions League...

Abia Warriors must win NPFL title - Boboye...

Messi accused of setting up a tax fraud...