Canadian curling team kicked out of event for being drunk
By Daily Sports on November 21, 2018
An Olympic gold medalist, along with three other Canadian curling players, were kicked out of a tournament on Sunday for allegedly being "extremely drunk."
Four people — Ryan Fry, Jamie Koe, DJ Kidby and Chris Schille — were removed from the Red Deer Curling Classic in Alberta, Canada, according to CBC Sports.
The event, which was part of the World Curling Tour, was held at the Pidherney Curling Centre. The facility's manager reportedly labeled the curling players' behaviour "unacceptable."
"They went out to curl and they were extremely drunk and breaking brooms and swearing and just unacceptable behavior that nobody wants to watch or hear or listen to and it was just 'enough was enough'," Wade Thurber said.
He added "some damage" was discovered in the locker room, and noted that other teams were "complaining about their stuff being kicked around."
The World Curling Tour confirmed the players' removal from the tournament on Twitter, writing they were "ejected from the [event] due to unsportsmanlike behavior, forfeiting their remaining game."
Fry won an Olympic gold medal at the 2014 Sochi Winter Games when Canada took home their third consecutive gold medal for men's curling.
He apologised in a statement posted to Twitter on Monday, in which he emphasized "how sorry I am to everyone affected by my actions on Saturday."
Koe and Kidby also apologized on Twitter. Kidby wrote that the team "entered the event to compete and have fun at the same time and things got taken way too far."
Earlier Sunday the team, according to USA Today, tweeted out a photo of the four players alongside eight beer bottles with the caption "TeamCorona2.0." The tweet has reportedly since been removed. (NAN)
•Photo shows Canadian Curling team
Source Daily Sports
Posted November 21, 2018
---
You may also like...

Why we imported Brazilian ball jugglers —Ifeanyi Ubah...

Done Deal: Eto'o Joins Vitoria Guimaraes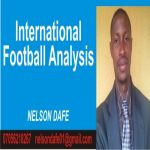 Benardo Silva's Faux Pas Joke On Mendy's Blackness...

Suarez, Dembele on target as Barcelona sink Real...

Bayern Beat Tigres To Become World Champions