Semenya, Manyonga stranded in Nigeria as Travel chaos hit African Athletics Championships
By Daily Sports on August 2, 2018
Views: 2,240
Lagos - The start of the African track and field championships in Nigeria was delayed on Wednesday after hundreds of athletes were left stranded at an airport, some for three days when they were left to sleep on the floor as they waited for a connecting flight to the host city.
The Confederation of African Athletics said only a small number of events scheduled for the first day of competition in Asaba in Nigeria's southern Delta state would go ahead - and they will be moved back from the morning to the afternoon.
The majority of the events scheduled for Day 1 will take place later in the week after the chaos at Lagos' international airport.
The CAA said there had been "organising problems" as angry and exhausted athletes and team officials were stuck in Lagos amid flight cancellations and long delays. Some were still there on Wednesday.
Pictures posted on social media showed Africa's top athletes sleeping on the airport floor surrounded by their luggage. Some used suitcases for pillows as they slept next to airline check-in desks.
Members of the Kenyan team spent 48 hours at the airport and threatened to quit the championships and go home before they all finally arrived in Asaba on Wednesday.
"It's not being rude ... it's being real. Nigeria is a poor, poor country," Nicholas Bett, Kenya's 400m hurdles world champion in 2015, wrote on his official Facebook page.
Moroccan high jumper Rhizlane Siba, the 2014 African champion, said she and her team-mates were stranded for three days waiting for a flight and claimed they were given little help by organisers.
"We slept the first night at the airport. And then we slept the second night at the hotel," she said in a video posted on Twitter on Tuesday.
"They claimed that we had a flight coming today. We've spent the whole day in the airport waiting for a flight but when some of the Nigerian team came in, they took our spots and went to Asaba. We are stranded in Lagos. We haven't trained for three days, and we haven't eaten properly in two days."
Officials at the Federal Airports Authority of Nigeria said they were not responsible for the problems and it was a matter for airlines and the African championships organizers.
Kayode Thomas, spokesperson for Asaba's organising committee, declined to comment and said the organisers would instead issue a media release later.
The stranded athletes included South Africa's Olympic 800m champion Caster Semenya and long jump world champion
Luvo Manyonga . The South African team also spent three days in Lagos.
IAAF president Sebastian Coe is in Nigeria for the event, which was initially meant to be held in Lagos but was moved to Asaba, a city that has no previous experience of international sports events.
"Whoever gave Asaba the rights to host this year's African athletics championships must see a doctor," Kenyan journalist Muigai Kiguru said. He was stranded with the Kenyan team.
Organisers put on a colourful welcoming ceremony for Coe in Asaba on Tuesday as the problems continued in Lagos.
Athletes from around a dozen countries were affected.
After waiting "hours" for a flight to Asaba, Ghana's team instead flew to Benin City and made a two-hour road journey to Asaba, Ghana Athletics Association general secretary Bawa Fuseini said. It was "the only way we could make the competition," Bawa said.
Ghana has just four athletes competing, however. Kenya has more than 60 athletes and a 90-strong contingent including officials.
"Let us take everything in our stride with our usual humility," Kenyan athletics president Jackson Tuwei told his athletes when they arrived in Asaba two days late.
The travel problems weren't restricted to Lagos' airport.
Malawi's athletes were still at home on Wednesday, waiting for organizers to issue them visas to travel to Nigeria, their athletics association said.
"If we get the clearance by today, they will go. If not, there would be no need for them to go," Athletics Association of Malawi general secretary Frank Chitembeya said. (AP)
•Photo shows stranded athletes
Source Daily Sports
Posted August 2, 2018
---
You may also like...

No Plan To Postpone Edo 2020 NSF Over...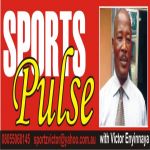 AFCON of Mixed Grill; Daniel Igali, an Apostle...

I have no issue with Onazi — Rohr...

Doping: 11 Olympic athletes banned for life

PSG Still Keen As Juventus Willing To Offer...