Chelsea UNCOVERED: Hazard and Courtois transfer plans forced Abramovich to sack Conte
By Daily Sports on July 13, 2018
Views: 1,698
ANTONIO CONTE has been a dead man walking for six months but yesterday, 54 days after winning the FA Cup, Chelsea finally got round to sacking the Italian.
It has become the most bizarre managerial saga of the summer. He knew what was coming. Everyone knew what was coming. But he has still been taking training sessions with his Chelsea players. That is until director Bruce Buck arrived yesterday with confirmation of his departure.
And finally, Maurizio Sarri, who led Napoli to two second place Serie A finishes in his three years, is able to be brought in as his replacement.
Antonio Conte, a ball of fiery energy on the touchline, was an affable and engaging character and unquestionably a great coach. He transformed Chelsea in his first season into a title-winning side playing excellent football and using innovative tactics.
Behind the scenes, though, he was a spiky, aggressive figure, surrounded by his Italian coaching clan who increasingly fell out with senior figures at the club.
So the second season was significantly less happy. Yesterday's departure was on the cards ever since the Italian signed a new contract that gave him a rise but no extension to his deal after winning the title in the summer of 2017.
Conte caused alarm by telling striker Diego Costa by text message that he was not part of his plans and then began a year-long war of words with the board over the lack of signings the manager insisted he needed.
What followed was a troubled campaign that saw key players such as David Luiz, Willian and Eden Hazard alienated.
Chelsea could only finish fifth but the cup was lifted. Conte wanted out, according to friends in Italy, many of his squad wanted him gone and many at the club were tired of the black moods and rows.
But matters took so long to resolve that Conte, refusing to walk, drew up the pre-season training plans while on holiday and arrived back in England at the weekend to begin putting them into place with what remained of his squad who were not at the World Cup.
What worried the club and finally pressed owner Roman Abramovich into meeting Napoli president Aurelio De Laurentiis this week to push the deal along was that Conte fully intended to see out the final year of his contract if no agreement was made – and that would have meant players such as Hazard and Thibaut Courtois, both yet to sign new deals, were likely to move on.
In the wake of Chelsea's FA Cup win, Willian obscured Conte in a celebration photograph posted on Instagram. Yesterday, Spain midfielder Cesc Fabregas 'liked' a Tweet celebrating Conte's departure, though later claimed it was a mistake.
Chelsea hoped that another club might attempt to buy Conte out of the final year of his deal, but possible openings at Paris Saint-Germain and Italy never materialised. The 48 year old is now ready to take a year off, if necessary.
Sarri arrives as a former banker who had a spell working in London so speaks good English, who only took up full-time coaching at the age of 40 in 1999. He has never won a major trophy but earned plaudits for his football at a series of minor clubs in Italy and at Empoli and then Napoli.
With him will arrive the Italy midfielder Jorginho, who flew into London last night to have a medical on a deal that, combined with the fee that Chelsea will have to pay Napoli for Sarri's release, will be worth about £57.5million.
No Napoli raid
It is understood that another part of the deal with De Laurentiis that has taken almost two months to work out, is that Sarri and Chelsea will not be allowed to go back and raid his former club for any more players, in particular full-back Elseid Hysaj.
It was in fact Chelsea's decision to move in ahead of Manchester City to sign Jorginho that was the key to unlocking the deal to get Sarri out of the Neapolitan club, where he had already been replaced by Carlo Ancelotti, but still had two years of his £1.2m-a-year deal remaining.
That deal, still being finalised by lawyers on both sides last night in Italy, plus the negotiations to pay off Conte with the full year's worth of contract that he has demanded – the full £9.5m – took this long to sort out.
It sounds a mess. But with Chelsea these days, does anyone really expect any different? (www.express.co.uk)
Source Daily Sports
Posted July 13, 2018
---
You may also like...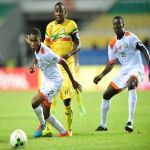 U-17 AFCON: Mali beat Niger to lead Group...

Bayern Win Snow Battle In Berlin To Go...

French FF rejects relegated Bastia's appeal over forfeited...

Madrid promises full-throttle against Athletico

Dybala Reveals Coronavirus Nightmare