America turns focus on Nigeria for sporting success
By Daily Sports on July 2, 2018
Views: 1,427
Sitting on the floor of a gymnasium in brightly coloured yellow and blue t-shirts, 150 young Nigerian boys and girls stare raptly at 6'10" former NBA player Olumide Oyedeji as he dribbles a big orange basketball and shares pointers on how best to shoot a basket. When Oyedeji instructs, the kids — some as young as five — scramble to their feet and divide into teams for practice. It's a chance for them — and for basketball — to score.
The camp run by Oyedeji in Lagos is one of several training programs in American sports for Nigerian youth that have emerged in recent years, underscoring a shifting relationship between the two nations. It's no longer unidirectional. Yes, there are Nigerians traveling to America in search of better education and a livelihood. But now, American sports authorities, non-profits and players are also increasingly heading to Nigeria, eyeing a future in Africa's most populous nation and largest economy.
As with Nigerians who have enriched America by making it their home, the benefits are mutual. Many of the American academies taking root in Nigeria are teaching their pupils more than just sports — helping them learn life skills and avoid violence. But there are definite gains for American sports in this deal too, from widening their market to tapping talent from a community that has already proven itself in multiple fields in the U.S., such as medicine, education, entrepreneurship and Hollywood.
The NBA launched its Jr. NBA program, called Power Forward, in Abuja, Nigeria, in late 2013 and has since had more than 10,000 participants. While players from this program haven't gone on to the NBA just yet, two Nigerian graduates of another NBA program, Basketball Without Borders, have — including Solomon Alabi, who played for the Dallas Mavericks and the Toronto Raptors, and Chukwudi Maduabum, who was drafted by the Los Angeles Lakers in 2011. To date, Nigeria has produced nearly 20 NBA players — more than any other African country.
Football and baseball are making moves too. Launched in 2015, Baseball Tomorrow Academy works with the U.S. embassy in Abuja to promote baseball and softball in Nigerian schools. Former Major League Baseball player Jeremy Guthrie — who had never been to the continent before he visited Lagos three years ago — hosts annual youth camps through the academy. Baseball Tomorrow is expanding each year and has already coached more than 400 kids to date. The sport is new across Africa, and within the continent is most popular in South Africa (which has produced six MLB players), Uganda and Kenya. But the MLB is nonetheless investing in Nigeria's baseball future. Over the past five years, it has handpicked upcoming Nigerian players and coaches for annual coaching camps it holds in South Africa for promising African baseball talent.
The Nigerian Institute of American Football, set up in 2011 by former football players Daryl Hayes, Ricardo Dickerson and Gregory Hendricks, hosts clinics to train coaches in the sport and camps in schools for kids. And the American Football for Africa Mission (AFFAM), launched in 2010 by coach Amadi Chukwuemeka and also supported in part by the U.S. embassy, has since trained more than 2,000 young Nigerians in the sport. Chukwuemeka put together the first American football team in West Africa, Nigeria's A.B.U. Zaria Titans Football Club, in 2010. When you combine placement on U.S. university teams, European leagues and the NFL, Nigeria has been more successful in exporting football players than any other African nation.
"My dream is to see football rival all existing sports here in Africa," says Chukwuemeka, who is Nigerian and was introduced to the sport by a group of former NFL players and U.S. college coaches who visited his school in 2010.
The only football most Nigerians know is what Americans call soccer. Still, the rush of American sporting academies to Nigeria isn't entirely surprising. In basketball in particular, America and Nigeria have had a little-known relationship for decades, fostered in large part by U.S.-born coach Oliver B. Johnson, popularly known in Nigeria as Coach OBJ. Johnson first visited Nigeria in the 1960s as a member of the U.S. Peace Corps. As FIBA describes it, Johnson met a slender, energetic young boy called Hakeem, and spoke about basketball with him. Years later, Hakeem Abdul Olajuwon would play for the Houston Rockets and Toronto Raptors in the NBA, emerging as one of the sport's greatest icons.
Johnson has coached basketball in Nigeria now since the 1970s, was the nation's first full-time paid basketball coach, and some of his students — including former Denver Nuggets player and current Toronto Raptors president, Masai Ujiri — have made it big in the NBA. So, when the NBA looked to Africa as the next destination for their junior basketball program, Nigeria was an obvious location. Nigeria, says Tunde Adekola, coach of the Power Forward program in the country, has great talent in both men's and women's basketball.
That's also increasingly evident in American football — at least 24 players of Nigerian origin currently play in the NFL, up from 15 a decade back, and 10 in the 1990s. Fewer than 10 players of Ghanaian origin — the second most successful African ethnicity when it comes to American football — have ever played in the NFL. In the NFL's 2016 draft, there were as many players born in Lagos — three — as in Chicago.
The community has had less success in the MLB, where the Dominican Republic, Venezuela, Cuba, and to a lesser extent Japan, have dominated the list of foreign-born hires. But in the past decade, two Nigerian-origin players have breached that glass ceiling: Wande Olabisi, who played for the San Diego Padres, and Demi Orimiloye, who plays for the Milwaukee Brewers.
Beyond sports training, the academies in Nigeria say they also do more. The Jr. NBA program teaches kids teamwork, leadership and respect using basketball, says Weska. The coaches throw in life lessons like sex education along the way. Helping young players resolve conflicts non-violently is Johnson's priority too. Baseball Tomorrow teaches kids between the ages of six and nine non-violence and drug abstention in addition to the sport, says founder Peter Imonikhe John. The AFFAM offers formal education classes and mentorship programs.
Funding remains a challenge. Even with help from the U.S. embassy, Baseball Tomorrow Academy needs donations for equipment and uniforms, says John, including for an upcoming tournament in Palm Beach, Florida, where he wants to send his team. Chukwuemeka wants to expand AFFAM across his country and beyond but needs more funding. He'd like to partner with an NFL charity in the U.S. "Africa needs football, and football needs Africa," he says. Johnson was resource-strapped for years — till more recently — rarely having enough basketballs for all his students.
Still, these sports are taking off in Nigeria. Johnson says he has seen basketball grow from 500 players when he started coaching there, to more than 20,000 today. Nigerians playing these sports now also have the beginnings of a pathway to success.
If the pros come calling, Johnson knows well how to get his players to that level. "I make sure they're ready if the opportunity comes along," he says. Many of Chukwuemeka's AFAMM players have received football scholarships to universities in the U.S. and Europe, and some have been offered professional contracts to play for divisional teams in the European leagues — stepping stones to the NFL. And the Palm Beach tournament isn't the only one John is eyeing as an opportunity to put his students on coaches' radar in the U.S.
America's sporting bet on Nigeria, in other words, is starting to pay off. (Daily Dose)
•Photo shows ex-NBA star Olumide Oyedeji
Source Daily Sports
Posted July 2, 2018
---
You may also like...

Manchester United legend Sir Alex Ferguson undergoes emergency...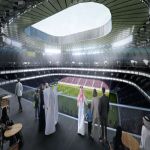 Qatar's World Cup bid used "black operations" -...

Wenger 'ideal' for England – Pires

Pogha gets replacement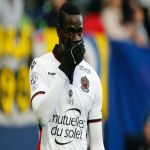 Balotelli targets Premier League return