Mayweather, McGregor projected to reach 1 billion homes
By Daily Sports on August 19, 2017
Views: 1,281

Floyd Mayweather Jr. vs. Conor McGregor will reach more than 1 billion homes worldwide, according to UFC president Dana White. The fight is projected to bring in a whopping 4.9 million pay-per-view buys in the U.S., which would shatter the existing record of 4.6 million buys for the Mayweather vs. Manny Pacquiao fight from 2015.
Mayweather says he'll make $350 million."This is the biggest event that has ever happened in combat sports," Dana White said White via ESPN. "This fight will reach over a billion homes worldwide.
"Even if the Mayweather vs. McGregor fight falls short of the predicted numbers from White, it'll still be a greater success than any of the fights we've seen recently.
The PPV industry and has been down ever since Mayweather's fight with Pacquiao in 2015. The boxing public stopped purchasing fights at the same level as they had in the past. There haven't been too many great match-ups since the Mayweather-Pacquiao fight.
In a promising sign for the PPV industry, Saul Canelo Alvarez's fight against Julio Cesar Chavez Jr. brought in over 1 million buys on HBO PPV. The only downside about that fight was how totally one-sided it was. "Everything is tracking right now like we're going to kill this thing," White said.
This could be a disaster for White if McGregor pulls in far more than the $100 million that he was originally expected to make for the Mayweather fight. If McGregor is so filthy rich after fighting Mayweather on August 26, he might not want to come back to the UFC and make small money in comparison.
There's also the possibility of a Mayweather-McGregor rematch in the octagon. Surely, McGregor will want to risk losing out on the Mayweather rematch by going back to the UFC and taking a risky fight that he could lose. McGregor is better off waiting to find out whether Mayweather will fight him in a rematch rather than returning to the UFC right away and fighting before the end of the year as he had originally planned to do.
After he faces Mayweather, McGregor says he'll "relax on my yacht and begin the counting game. "It would be amazing if McGregor makes $150 million for the fight. It's incredible money for a UFC fighter to get that kind of a paycheck for just 1 fight.
Mayweather-McGregor will likely break the gate record of $72 million set by Mayweather vs. Manny Pacquiao. Over $60 million worth of tickets have been sold already. The tickets remaining are the high-priced ones that the boxing fans and celebrities with deep pockets can afford.
There are 3,000 more tickets available at the T-Mobile Arena in Las Vegas compared to the MGM Grand in Vegas, which is where the Mayweather-Pacquiao fight took place 2 years ago. There's more money to be made with the extra 3,000 tickets, as long as the fight sells out. It's still not sold out though with 8 days to go.
•Photo shows Mayweather, McGregore face-off.
Source Daily Sports
Posted August 19, 2017
---
You may also like...

Rashford on same level as Ronaldo, Rooney, says...

Nigeria Set to Escape FIFA Ban!

Yakubu makes winning debut for Coventry City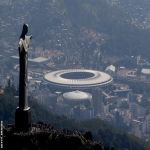 All set for 2016 Rio Olympics opening ceremony...

Rohr: Nigeria's Iheanacho Lacking Confidence Ahead Of AFCON...