WBA orders Rigondeaux vs Flores rematch
By Daily Sports on July 7, 2017
Views: 1,101
"Chucky" Flores (25-0, 11 KOs) will get another title shot against WBA Super World Super Bantamweight champion Guillermo "The Jackal" Rigondeaux (17-0, 11 KOs) due to their previous fight on June 17 being ruled a no contest.
On Monday, the World Boxing Association ordered the rematch between the two fighters. The management for Rigondeaux and Flores has 30 days to negotiate the rematch. If they don't come to an agreement by the end of the 30-day period, then the WBA will order a purse bid.
Last month's fight between Rigondeaux and Flores ended after Rigondeaux knocked Flores out with a shot after the bell. Some boxing fans think Flores faked the knockout in an attempt to try and win the fight by a disqualification.
Flores went down in a delayed reaction after getting hit by Rigondeaux. That's what made some fans feel that Flores was just hoping to get an easy way.
Initially, the referee Vic Drakulich scored it as a legal blow that Rigondeaux landed. Later on the Nevada State Athletic Commission reviewed the fight and they reversed the ruling on June 26, changing it to a no contest.
A rematch between Rigondeaux and Flores will likely be just as one-sided as the first fight, which saw Rigondeaux dominating the bout. However he will to be careful not to hit Flores after the bell.
Boxing pundits believe the match will still likely end by another knockout because Flores is too easy to hit and way too slow for Rigondeaux.
•Photo shows Rigondeaux.
Source Daily Sports
Posted July 7, 2017
---
You may also like...

Ronaldo eyes seven children for seven Ballons d'or...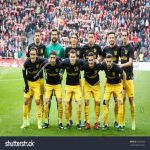 Koke accepts Atletico Madrid's Europa League 'favourites' tag...

We will get three points at Enyimba -...

Top European League Fixtures and EPL Table

Tennis: Djokovic gives up on Federer's record