Best young player of Edo FA Cup, 15-year-old Adeniyi, aiming for the stars
By Daily Sports on May 11, 2017
Views: 1,136
When he appeared out of the corridors of the Samuel Ogbemudia stadium dressing room with his Ine Stars team as they filed out against Pro 1 side Bendel Insurance last week, he was conspicuous for his obviously young frame. 15 year old Timileyin Adeniyi kept a straight face as his team filed out for the Edo FA fixture against the highest ranked club in Edo football. Then a small debate at the state box of the stadium began about his young age and small physical build. A spectator wondered why Ine would take the risk of lining up the young lad for the big fixture. His tone was a mix of sympathy for the young lad being thrust into the lion's den of playing against the traditionally intimidating Insurance and a tinge of contempt for Ine Stars for, as he put it, "gambling with such a big game."
Another spectator countered him, saying, "This boy is good. I've seen him play in his team's previous matches and he's been fantastic."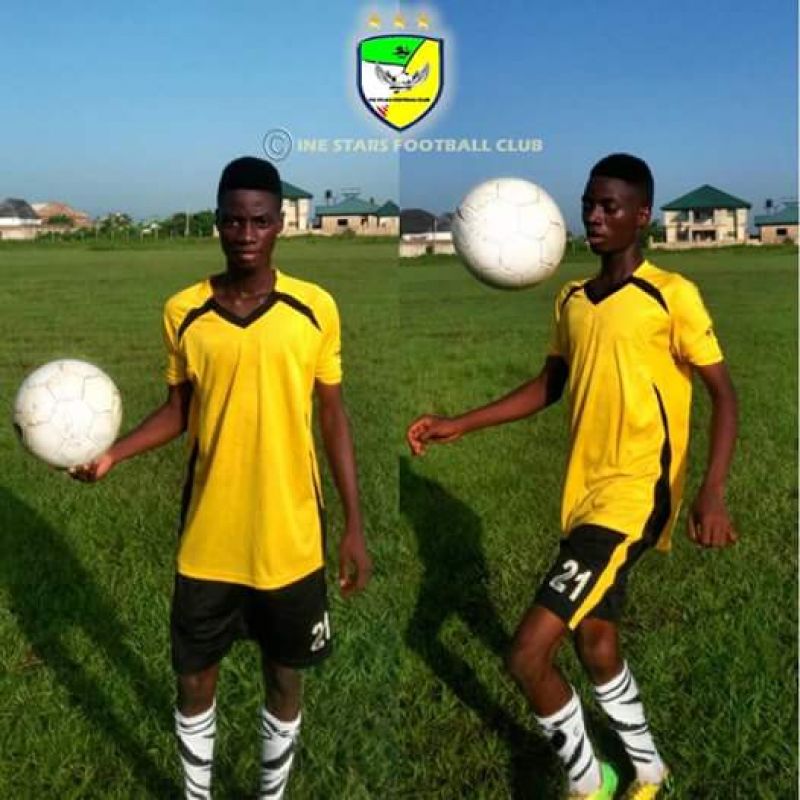 And so the game kicked off at 9am in Benin City, under the sun. Adeniyi's first few touches were good enough to steady him for the game and he went on to show the full array of qualities that have made him a big revelation and one of the most talked about players in Edo State today. In the end, fans came out of the match with a very positive impression of the young right-footed center back, who had taken on the FA Cup challenge impressively.
The qualities he dished out against Insurance, even though Ine lost the game 1-3 are the ones he exhibited throughout the tournament. Before the Insurance game Ine Stars had not conceded a goal in their previous three matches.
While most teams plump for bulky barrel-chested center backs, Ine went for brains and technique and the almost tiny frame of Adeniyi showed a combination of an exceptional reading of the game, knowing when to go into tackles and when to hold back in 1 v 1 situations, a calm finesse on the ball and (what seems to be the most impressive of the lot), an amazing ability for accurate long range ball distribution.
The only other player in the FA Cup who is known to possess such long passing quality is Rio Olympics bronze medalist Saturday Erimuya who played for his grassroots team BJ Foundation to tune up for a rumored impending move to Europe at the close of the European season.
Like Erimuya, Adeniyi has his sights on representing Nigeria. "It's my dream to wear the Nigeria national team colors one day and defend my nation. It would be a dream come true. And also to become a professional player and do what I love to do best on the highest level. There is no better feeling," he says.
While spectators praised his club for giving such a young lad the chance to play in the prestigious and highly competitive FA cup, instead of much older players, little did they know that Ine Stars are not just about thrusting talented talented young players in the pitch to play. The club also has a policy of granting scholarships to its bright youth team players so that they can be better rounded individuals in the future.
Adeniyi is full of thanks for the sporting and academic opportunity offered to him by Ine Stars. "It has been a very good year for me especially as regards my football career. I am still in school on a special scholarship programme given to me by my club Ine Stars Football Club. I kept improving and giving my best. I was playing in the U-16 youth league until, to my greatest surprise the team coaches led by Nnamdi Onuigbo called for me to be promoted and informed me that I would be playing in the FA Cup. I just want to thank God for their confidence in me and how it all went. I wish I won it on my first time, but this experience means so much to me. It's a solid foundation that would help me in future," the young lad said.
Now that the FA Cup has ended, a lot would hinge on visibility as far as getting more recognition is concerned. It is the hope that there would be more worthwhile competitions that would afford this young talent to continue to develop and give his best.
One of such competitions, if the organisation leaves up to the hope of participating teams and watchers, is the Edo State league. This year, the news is that unlike in the recent past years, the state league will take the format of a true league with matches to be played in a home-and-away basis. With many games to be played, there would hopefully be more game time in competitive games for Adeniyi to continue his growth.
He is still not the finished article. He would need to bulk up a little more and his positioning would need to improve more. But with age and time these are things he surely can work on.
PLAYER PROFILE
NAME: Timileyin Adeniyi
NICKNAME: Timi Paper
YEAR OF BIRTH: 2003 (14 going to 15)
STATE OF ORIGIN: Kwara
PLAYING POSITION: Centre Defense
FAVORITE FOOT: Right
ROLE MODEL: Sergio Ramos
Source Daily Sports
Posted May 11, 2017
---
You may also like...

South Africa suspend Mashaba after win over Senegal...

Shola Ameobi aiming to secure new contract; eyes...

Isaac Success gets down to pre-season business with...

Southgate named England manager

Tevez set for mega-money China move