Blood on the pitch: BJ and Dynamite end Edo FA Cup semi-final match in violence
By Daily Sports on January 1, 1970
Views: 4,216
It was ugly. Really ugly at the Samuel Ogbemudia Stadium on Wednesday evening in Benin City when the much-anticipated clash between national amateur outfit Dynamite Force FC and internationally recognised grassroots club BJ Foundation FC turned violent in the dying moments of the second semi-final of the ongoing Edo State FA Cup. In the end players of both sides suffered serious injuries, one of BJ's assistant coaches suffered a deep cut on his eyes as an unexpected blow landed, while Dynamite's assistant coach, ex-international Tony Emedofu (a part of Nigeria's China 1985 under-17 squad who won the first ever international football gold) was physically assaulted.
The bad blood was always in the air prior the match as supporters of both clubs could still remember the violence that ensued after the same fixture last year and at the same semi-final stage when the added time added by the centre referee caused uproar among BJ supporters with their club trailing Dynamite 1-2.
This time trouble started with just a few moments to the end of the game when Dynamite scored from a cross and BJ players protested wildly by rushing to the ref to argue that it was a clear offside. Without the benefit of replays it is difficult to know for certain that they were right.
While surrounding the ref in real anger, some BJ players seemed to have struck him with kicks and slaps. He was holding his face in pain and ran away from the mob of players.
There was no immediate police presence to bring the situation under control as Dynamite players got engulfed in arguments with the BJ players and a free for all ensued. Players were trading blows, some fans of both teams squeezed themselves through the perimeter fence and got into the fighting action.
The civilian stadium security eventually broke up the fight and saved what would have been an even uglier situation.
It was a sad end to what was largely a highly tactical game. Dynamite took an early lead with a beautiful combination of passes which resulted in a shot in the six-yard box of BJ.
BJ found themselves conceding first for the first time in the competition, and they were stunned. Dynamite were tighter at the back and neutralised BJ's attack for the remainder of the first half.
But things were to change as BJ charged out in the second half with desperate determination and they were duly rewarded with two quick goals early in the second half. Junior Osaghae nodded home from a cross while highest goal scorer Tochukwu Akaolisa finished a flowing move with calm.
Dynamite fans were speechless, but the players were not going to lie down and die. They threw everything at BJ and equalised through their substitute attacker's mazy run. And soon after they had a third which caused the fracas.
Source Daily Sports
Posted May 4, 2017
---
You may also like...

Nigerians to FG: Reward 2016 Rio Olympics bronze-winning...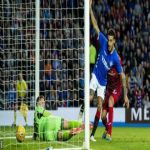 Rangers beat UFA in Europa League

Canelo upset over Golovkin WBC title

Arsene Wenger says his future was a factor...

Echjejile needs strong competition for Eagles left-back spot...