Spence Jr would welcome Brook world title fight in Britain- James
By Daily Sports on February 3, 2017
Views: 2,310
Kell Brook has no choice other than to defend his IBF title against mandatory challenger Errol Spence Jr, says the American's trainer Derrick James.
Promoter Eddie Hearn has revealed it is "70-80 per cent" likely that Brook will make the next defence of his IBF title against Spence Jr, after talks broke down with Amir Khan.
But James says the IBF welterweight champion's only option was to face Spence Jr, and the man behind 'The Truth' is confident it will happen.
"That's good to hear (about the chance of a Spence-Brook fight) but he hasn't really got a choice," James exclusively told Sky Sports.
Brook is going to need to go in there and do what he does best because Errol is going to do what he does best and what he needs to do to become a champion.
"We've heard about that fight [Khan], but we're not concerned with that because Eddie Hearn does say a lot of different things.
"Kell Brook wanted to fight Khan and be champion, but if he wants to stay champion, he's got to fight Errol.
"We're happy about it. We've worked a long time to get where we are and the outcome has made us happy. I can tell you, it's going to be a pretty good fight.
"We're expecting it to happen in the next three or four months and fighting in the UK is not a problem at all."
Spence Jr was part of the USA team that came to London for the 2012 Olympics, but missed out on a medal by losing in the welterweight quarter-finals.
James, who also trains WBC super-welterweight champion Jermell Charlo, was in Spence's corner for the London Games and is convinced the 27-year-old from Texas will go to the very top in the professional ranks, starting with taking the IBF title from Brook.
"On paper it might look like a big step up for Errol, but so far I have only watched one of his (Brook) fights against Triple G, and he looked a pretty good fighter but he certainly ain't phenomenal," James added.
"Errol is a quiet guy, but he's a fierce competitor. He wants to be the best and win this title and be the best in the world. He takes on everyone he needs to be successful, so that's what it's about.
"It just so happens that he is the No 1 in the IBF and it's not so much about the fighters, it's about the belt.
"If it was someone else, we would be talking about someone else. We've got nothing against Kell Brook, Kell Brook's just got something he wants to get.
"I think he's a good fighter, but I wasn't super impressed, thinking 'oh my god, he's amazing'.
"He's earned everything he's got, but he is going to need to go in there and do what he does best, because Errol is going to do what he does best, and what he needs to become a champion." (skysports.com)
•Photo shows Errol James Jr
Source Daily Sports
Posted February 3, 2017
---
You may also like...

Anthony Joshua must stay clear of the distractions...

Okumagba lauds NFF on Eagles' home games venue,...

Bologna reject 7 million Euros bid for Orji...

Drug Scandal: Maria Sharapova banned for two years...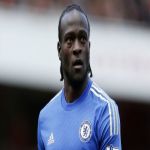 Victor Moses could miss Manchester City game —...