Guardiola sticking to his guns
By Daily Sports on October 22, 2016
Views: 2,086
A few weeks later his side are still top of the table but the early euphoria has been replaced by the cold chill of reality as the dark winter months loom.
First there was a 3-3 draw at Celtic in the Champions League and a few days later the wheels came off City's bandwagon when they were outplayed in a 2-0 defeat at Tottenham Hotspur.
Last week's 1-1 home draw with Everton was then followed by a 4-0 hammering at Guardiola's old club Barcelona.
City's start to the season now looks slightly underwhelming, although Guardiola gave a passionate defence of his methods on Friday when it was suggested he may change tack.
They will seek to end a four-match winless run when they host Southampton on Sunday, but even if they lose Guardiola said he will not be adapting the philosophy that has served him so well throughout his career.
"I think about that," he told reporters. "But after that the solution is not better than I believe. So I cannot. Do you know why as well?
"Because in seven years I won 21 titles. I'm sorry, but I won 21 titles in seven years. So it's three titles per year, playing in that way."
Guardiola said expectations upon his arrival in English football had been too high.
"We won the first 10 games of the season and everyone said City will win four titles," said the Spaniard whose first eight Premier League games have returned an almost identical record to the first eight under Manuel Pellegrini last season - six wins and 19 goals scored.
"But if you believe I arrive here and in three months everything is going well and we are going to win in Camp Nou 4-0 and going to dominate against those guys, and Messi and Luis Suarez and Neymar are going to do nothing and Iniesta isn't going to play good - no way.
"I am good, but not enough. Last season Man City were the oldest team in the Premier League and that's why we tried to change a little bit for the future. We need to learn of course as quickly as possible."
Apart from the Tottenham defeat, Guardiola said he has been proud of his team, insisting the result in he Nou Camp could have been different had keeper Claudio Bravo not been sent off when the score was 1-0.
However, he said City must learn to be more clinical.
"The big teams are like a machine; they don't fail," he said. "But we've only had three months together and you can't imagine how difficult it is to build something.
"I came here for three years. After three years in Barcelona and Bayern Munich it was much better than after three months. I need time to learn, especially the Premier League.
"On Saturday (Everton manager) Ronald Koeman said in his press conference he never saw a team play football like Manchester City. That is the best compliment I could ever receive." (supersport.com)
•Photo shows Pep Guadiola
Source Daily Sports
Posted October 22, 2016
---
You may also like...

Why We Lost FA Cup To Arsenal: Chelsea...

Juventus Coach Sarri To Miss 2 Games With...

Wan-Bissaka Set for a Medical at Manchester United...

COVID-19's Deadly Blow On Sports, Others: Call For...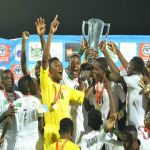 Zambia crowned 2017U20 AFCON champions •Guinea claim bronze...