Pogba Extortion Case Takes Bizarre Twist
By Daily Sports Nigeria on September 24, 2022
The police investigation into an alleged extortion plot against Paul Pogba has taken a bizarre twist after more than 30 videos were posted on a social media account linked to his brother, Mathias, who remains in custody in France.
The videos appear to have been recorded some time ago and were accompanied by a series of Twitter posts and a statement addressed to Paul Pogba. The first tweet claimed it had been sent automatically by a "bot."
Mathias Pogba, who denies the allegations, turned himself in for questioning last weekend and, according to reports in France, is yet to be released from custody.
Paul Pogba, who re-joined Juventus from Manchester United this summer, has alleged that he was the victim of an £11million plot against him by some of his childhood friends including his brother.
The France midfielder has claimed that he was confronted by a group at gun-point and brought to a flat in Roissy-en-Brie, where he alleged they demanded more than £11million for "protecting him."
The gang were alleged to have demanded £2.6million in cash immediately but Paul Pogba was reportedly only capable of withdrawing £85k from his account. When the group allegedly attempted to extort money, Paul Pogba made a criminal complaint through his lawyers.
Last week Mathias Pogba's lawyer, Yassine Bouzrou, reiterated that his client is innocent, despite being "placed under formal investigation".
Last week Bouzrou told French broadcaster BFMTV: "We are going to challenge this decision. My client has committed no criminal offence. We do not understand the decision to keep him in custody, especially as he has an alibi for the night of the alleged kidnap."
Source Sporting Sun
Posted September 24, 2022
---
You may also like...

Lazio get new FIFA deadline to pay Ogenyi...

Eriksen Helps Inter Milan Close In On Serie...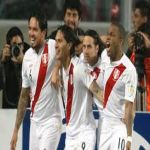 Peru Beat Uruguay on Penalties to Reach Copa...

Nigel Benn, Steve Collins clash 21 years after...

UEFA Returning N259bn To Broadcasters Due To COVID-19...