Women professional golf a new dawn in Nigeria, says Bayelsa's Gloria Diri
By Daily Sports Nigeria on June 3, 2022
Views: 157
Bayelsa State Governor's wife, Dr. Gloria Diri, has described the introduction of professionalism in women's golf by the Professional Golfers Association (PGA) of Nigeria as one of the best things to happen to the sport in the country.
Speaking, last week, during the official opening ceremony of the 2021/2022 PGA Nigeria Qualifying School for women at the Henry Seriaki Dickson Golf Club (HSDGC), Yenagoa, Diri, a new entrant in golf, playing off handicap 36, said: "Having women professionals is a new dawn in Nigerian golf and a development that must be supported by all of us."
Elated that the event was held in Bayelsa State, she enthused: "I am glad that Bayelsa is hosting the event because we love golf and we want to take women to the next level, professionally.
"Nigerian women deserve the best of golf and its many benefits, particularly, at the professional level. This is why we want to ensure we have enough well-trained women professionals to grow the game better."
She urged the women to work hard to enable them to achieve their goals while advising the examiners to strictly adhere to the rules of the game in the spirit of sportsmanship.
Meanwhile, a total of 16 ladies participated in the classroom work and playing ability, with only the best 10 expected to qualify from the exercise.
To wrap up the programme, the PGA of Nigeria organised a competition for amateurs, which was followed by a presentation of prizes and certificates to winners.
Source The Guardian Nigeria
Posted June 3, 2022
---
You may also like...

Juventus Not Interested In Signing Aubameyang

Ighalo in Trouble over Social Media Use

Joe Erico Saw His Death Coming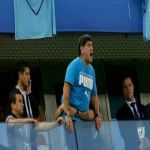 Maradona's Death: Lawyer Calls For Investigation

Rajevac resigns as Algeria coach after Cameroon draw...