Ghana-Nigeria W/C Play off: The Titanic Football Supremacy Reaching Feverish Heights
By Daily Sports Nigeria on March 7, 2022
Without much ado, it would be a titanic World Cup 2022 football play-off looming between Nigeria and her old age most football rival, Ghana to determine who picks the ticket from the encounter that promises to be a top flight ground battle of prestige, reason, mean and sorts of all times.
This week's column would serially and systematically analyse the ups and downs of the journey thus far between Nigeria and her close West African neighbour, Ghana.
Nigeria Football Federation no doubt is up and doing in the whole process in a bid to ensure the Super Eagles players and crew are no distracted in any form. For the first time NFF President and his executive committee colleagues are leading from the front. Methinks that such early step would pay off handsomely once the players and the technical crew plays their own parts beautifully.
The NFF wants the players and their official to be lodged in a very conducive five star hotel of repute. Make no mistake about it it such is on and it must be accomplished enduringly.
It will be unputdownable article as it will touch enduringly on this down to earth analysis.
The stage is set for one of the oldest rivalries in African football when the Super Eagles of Nigeria battle for the sole Qatar 2022 World Cup ticket against the Black Stars of Ghana.
This week's write up is much more historical in all facets as it would touch several areas between Nigeria and Ghana football history and rivalries. In that colouration therefore, let us go this jolly football trip.
It would be recalled that the rivalry between both nations' dates back to October 16, 1950 in a friendly match in which Gold Coast now known as Ghana defeated Nigeria. Since then, 55 more matches in all competitions have been played.
It is on record that out of the 56 games played according to the record books, Ghana has the bragging rights having won 25 and drew 19, leaving Nigeria to win 12 games.
Statistics have it that Ghana won 16 of those games, drew 6, and lost just one game in their home stadium with the last defeat in December 15, while Nigeria in the 20 home matches has only won 8 games, drawing 9 and losing 3 with the last defeat on February 10, 1973.
The first leg of the playoff will be played in the Cape Coast Stadium on Wednesday, March 23, or Thursday, March 24, while the reverse fixture which will be the 59th clash at senior level between both West African football giants in a chequered – 71- year rivalry will take place at the renovated MKO Abiola National Stadium, Abuja on March 27.
Nigeria is angling to pick her 7th World Cup outing since 1994 version she first qualified for after several attempts in the past and have missed only one of seven editions. However, the last of three appearances by Ghana was in 2014.
Therefore one could deduce the reasons why there has been much more tension in both camps as the build up thickens. The sole ticket is so important for both countries for thirsty is glaringly dripping. Ghana like Nigeria is leaving nothing to chance on this make or break football supremacy showpiece. Much water has passed under the bridge of both countries in terms of injecting life into their teams from technical and to invitation of their first rate players that either missed the 2021 AFCON hosted by Cameroon recently or newly discovered that switched allegiances to either country.
The build-up to this all-important clash has seen both the Nigeria Football Federation (NFF) and the Ghana Football Association (GFA) announcing shakeups in their technical crews. It is no longer news though as sooner than later the dice will be cast and hen home to roost.
The last captain so far to win the Nations Cup, Joseph Yobo is in the crew and ordinarily his presence is supposed to act as moral boaster for the team.
Truth is that Yobo's presence in the team has not been felt since his surprised appointment into the supposedly highly reference Super Eagles technical crews. Head or tail time they said will tell. It must be pointed out here that his appointment is not the first wrong one done by the NFF in its history. What Nigerians want is result? I digress.
It is instructive to note that reacting to the coming on board by Emmanuel Amuneke; Eguavoen acknowledged that the presence of his former teammate would be a great and valuable addition to the Super Eagles' coaching team.
According to him, Amuneke is his younger brother and they have worked together for so long. Therefore he thinks his coming into the team will add a lot of value also.
He also gave insight on how they currently working saying, once we get information on a player, they goes round to watch him as crew, a couple of my colleagues are also watching.
"That gives the home-based players lots of glimmer of hope and thinking that they will get a chance one day to play in the Super Eagles."
In the same vein, the GFA officially announced the appointment of Otto Addo as the interim Black Stars coach for the crucial two-legged tie.
As revealed by the GFA, the Borussia Dortmund talent development coach will be supported by the former Norwich City and Brighton & Hove Albion manager, Chris Hughton, who will act as the new technical advisor to the new technical team. These Ghanaians are plotting pointedly the down fall of the Super Eagles earnestly. The atmosphere won't be easy to travel. The clouds are heavy and nothing will come easy in this two legged encounter where only the fittest would survive.
As earlier promised Daily Sports would keep tap on this game whose preparations on the side of both countries are steadily reaching feverish heights and brings updates to our numerous readers. Our social media handles are on stay with the best.
Keep shooting till next week as the struggle continues!!
Source Daily Sports Nigeria
Posted March 7, 2022
---
You may also like...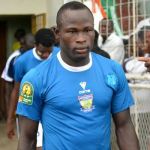 Olorundare declares injury hell over

Gareth Southgate praises Three Lions' 'courage'

Zidane Refuses to Rule Out Kroos Sale

France's Kiprotich wins 2018 Lagos marathon, Ethiopia's Guta...

Olarewaju Kayode returns to Girona