Jose Vitor Dos Santos Peseiro: Another Failed Coach Amaju Pinnick Imported for Super Eagles
By Daily Sports on January 3, 2022
Views: 758
When sports writing had its bearing, each end of the year Sports Desk's chronicle the activities of the sub-sector and unveil their report card for that year and lay such bay for public consumption and appraisal.
Major newspapers like the old good Daily Times, New Nigerian, Nigerian Standard, Nigeria Tribune, Punch, National Concord, The Guardian, Vanguard, Nigerian Statesman, Daily Star, Nigerian Tide, Nigerian Chronicle, Nigerian Herald, Satellite, Triumph, etc. Sports Editors assigned each of the sports to the Reporters on the desk to examine and return sound verdict.
Note that these Reporters covered these sports and therefore had become authorities of sorts on them. It was when sports reporting were so exciting and alluring too. You found healthy competition on the desk which enhances productivity.
Such yearly tradition has been completely eroded today chiefly because what obtains now are just straight forward reportage and other negative attitude of administrators that are non-achievers. Nothing works again; results are also non-existent. Administrators, especially the golden cow – football – is being administered by crooks of the worst order. That is the reason why you, dear readers, have missed that aspect of late, especially in Daily Sports now.
The news of the employment of Vitor Dos Santos Jose Peseiro, a Portuguese, as the Super Eagles head coach is no more news. Nigerian football has yet another issue of importation of a failed coach into the system to handle one of the high profile and flamboyant Africa playing national side. In short, another national conspiracy delivered after the other one called Gernot Rohr was just sacked.
The same group of individuals in charge of the game in our apex governing football house that arranged Rohr did so on Jose Vitor Dos Santos Peseiro of Portugal. If his current profile in the public sphere is anything to go by, he is zero.
The Super Eagles continuous decline won't abate for now. To be honest with you, I had wanted to keep to myself after devoting the whole of this precious space to this lesser coach called Jose Peseiro. But after dialogue with the numerous die-hard readers of this page every Monday, l bowed down to their pressure to share this again this week on the technical adviser who, many, including yours truly in sports, dub dead-on-arrival. This Super Eagles Technical Adviser job project is another bad product from Amaju Pinnick and gang. Jose Peseiro has no capacity.
Truth is that Nigeria is in for it again. However, what I have assured myself is that nothing would make me ever give out myself again for the Super Eagles cause when the team is being punished by her opponent (s) during games.
The good news for www.dailysportsng.com numerous readers remain that they read it first on this portal. Daily Sports is one of both the online and offline media to jump at the news of the Portuguese already landing the plum job to handle the three time African champs despite the fact that I am not in Amaju Pinnick's selected friends he sneaked into Lagos and briefed on the employment of this man.
No boast, before his arrival, Daily Sports was confided in and all that transpired during his briefing with his sports journalist-friends from unregistered Guild of Sports Editors which exists only in Lagos State out of 35 other states plus FCT.
That is such illegality Amaju Pinnick patronises because of his penchant for divide-and-rule if you like the act of cutting corners which those that knew him would but agree intoto with this columnist to be his hallmark these odd years of his sojourn in sports administration.
As many must have read the Amaju Pinnick and gang "messiah" Peseiro's profile showed is nothing to write home about on act of coaching.
He is not better than Nigeria's Paul Aigbogun who has been a failed coach of the worst order. The man from Warri is one of the assistants completing the bench in the current interim arrangement Austin Eguavoen is heading.
Let me say for the records that our Nigerian coaches at the level of Emmanuel Amuneke, Findi George and others are far better than this yet another lame-duck-import from Jose Mourinho who packaged his brother for Amaju Pinnick and gang and delivered into Nigerian football circle to handle high profile Super Eagles team that just overwhelmed Gernot Rohr, the immediate-past, low-profile Franco-German coach this same Amaju Pinnick packaged and smuggled through the then NFF technical Committee saddled with interviewing and employing a Grade A foreign technical hand for the Super Eagles side.
We saw how Rohr messed up Super Eagles to the extent that minnows of African football and other lesser World playing countries had the muscle to hold Eagles or made the supposedly flamboyant Nigerian flagship team often sweat through their pant to either force a barren or score draw. Cape Verde did it at the Teslim Balogun Stadium Lagos during the last World Cup 2022 qualifier.
That was what Nigerians went through and as if that was not enough, Amaju Pinnick again unveiled this Portuguese lowly-rated coach whose profile is more of sack than him resigning from his job.
I don't know how he will go about it here but one fact is certain and that is the country is yet in another one chance. Amaju Pinnick and his gangsters are silent on what his earnings are. Recall that Sunday Dare, Sports Minister, suggested our own Emmanuel Amuneke but the NFF mafia subdued him and his suggestion due to the fact that his hands are tied.
The drama would continue. I have long made up my mind for the worst. After all, the very arrogant Amaju Pinnick has many officials of the Buhari regime in his pocket. Even the Justice Minister, Abubakar Malami, is not left out and so cannot do him anything; otherwise they will dance or fight naked in the market square then Nigerians will hear dirty deals done in secret.
We are still keenly following and watching the drama of the former's property in Banana Island Lagos certain government official is insisting or if you like has vowed to seize from the NFF bigwig. The fight is still on though. It has been causing lots of ripples and it is still on going.
I digress. Nigerian football at the Super Eagles coaching level currently has K-leg. It is no longer bothering me and I won't lose sleep over it either. But so far as one remains a Sports Journalist of the first order, truth must be constant. I don't care whose ox is gored.
Head or tail, the hen is home to roost. Peseiro is dead on arrival. Our promise is that we will keep our searchlight on him and report back to you dear readers for full assessment and evaluation. Stay with www.dailysportsng.com we are on. Keep shooting hard till next week as the struggle continues!!
Source Daily Sports
Posted January 3, 2022
---
You may also like...

NFF accused of sabotaging local coaches

Comoros Close In On Afcon Qualification After Kenya...

Spain survive Iran's scare to close in on...

Iwobi doubtful ahead of Arsenal's Emirates FA Cup...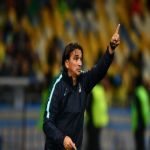 Croatia coach to spy on Eagles in England...