Nigeria, Killings And Sports In A Fearful Atmosphere
By Daily sports on August 23, 2021
Views: 399
Many things unprintable have been happening in Nigeria I won't dwell into the daily killings that has become recurring decimal which has overwhelmed the Buhari/APC lame duck government and at the divisions he has created in the polity have unfortunately become deadlier virus than even many well-known war thorn countries. What Buhari and his blood tasty individuals and groups entrenched in his quest for power in 2015?
This anomaly has affected every facet of life in the country. No sector is spared. Every segment is experiencing the bad omen which herders, bandits Boko Haram and other extremist militias these Islamic antichrists unleashed on the citizenry since AP C took over power Nigerians have known no sleep.
Killings everywhere and this government is there clapping ceaselessly but push out weak statements to look as if government is not doing anything. Sports, like any other sector, is hit hard as athletes now conduct their practice fearing being killed by gunmen littered in every nook and cranny of the country presently.
This is the way Nigeria is today. Don't listen to the often lying lips and tongues of Buhari's men without conscience. The truth is that a country where the now helpless citizens have relied heavily in sports to keep body and soul together from reflecting on the misrule and squandering and sharing of our supposedly commonwealth to themselves leaving the entire lower class of the population at the mercy of hunger, bandits, herders of various and different kinds to continue to have field day killing at random.
However one would not relent on the job of highlighting these ills APC government brought into the polity. As Plateau State is bleeding, Benue State Governor, very hardworking Governor Ortom continues to shout his voice hoarse crying to high heavens without any solution in sight because what is happening in Nigeria today is a script the government of the day is acting to know how far the ultimate of converting Nigeria into Islamic State would be an easy stuff.
You cannot pretend to behave like President Muhammadu Buhari and most of his government officials that behave if blood is not following through their veins, allowing these killings to continue unabated. Life means nothing any longer in Nigeria. What the government of Buhari/APC is busy pursuing is how to retrace the so called grazing routes so that cows and their killer herders would continue their killing activities freely
Sports cannot thrive in this kind of environment like others that have been devastated which have put Nigeria in the eye of the storm in the World presently. We all saw the shame that was Tokyo 2020 Olympic Games where the unimaginable took place in Team Nigeria camp yet those that are supposed to be cooling their heels in EFCC cells are working freely on the streets of where they are living.
For instance Sports Minister, Sunday Dare is warming up to enter into the murky water of Oyo State guber primary of APC. He is ought to be held responsible for the nonsense that have taken the centre stage in our sports today.
As a novice in sports matters, he brought lots of crisis into the arena most of these were avoidable but he sadly listened to idlers and succeeded in messing up and polluting the entire arena that manifested in Tokyo Olympics and more of that yet Sunday and his fellow looters are not being asked question to explain this or that. Nigeria of loot, as much as you can and retire and enjoy your loot after all it is where one is working that he eats from. That is very popular saying in Nigeria today.
As the former loquacious national chairman of APC aptly noted that once you are in APC you are forgiven that like joke statement has long taken hold and obtains.
Next year's AFCON draws are here. Nigeria is in Group G alongside Guinea, Guinea Bissau and Ethiopia. These countries will be trying themselves for size in spirited bid to pick a slot from the group to advance.
True the group looks easy but it is more difficult playing against Minnows. How Nigeria will get pass this group would unfold as the date draws. The issue is that Super Eagles players and their handlers have issues as the new players Rohr has kept introducing into the squad would no doubt act against the blending strategy and tactics of the team.
For the records, Cameroun will be the host country and Nigeria will be competing on the strength her position at the last African continent's most sort after and prestigious football summit. How Nigeria's preparations would look like would also be seen in the nearest future.
Before the curtain will be drawn this week, we will like to pip into the camps of our representatives in CAF Club Champions where Akwa United, Rivers United, Enyimba International and Bayelsa United.
Many of the teams have gone out of their way to recruit some of the best legs in other clubs and it has been smooth in my view. My take has been that the teams must brace up decisively and shine their eyes from the layoffs otherwise, otherwise.
Our three other teams will participant in the first matches except Enyimba International that was drawn by. Let me point out here that the Aba based side if report at my disposal is anything to go by is hiring a new technical hand and has also recruited some new legs to fortify the team in readiness for her continental and NPFL championships.
Commendable on the surface you may say, but how the new coach will quickly settle down on his own blend the team and run with the dream of his employers. From whichever angle you may be looking at it from, Enyimba FC has its hands full and no excuses. Truth is that Fatai deserved the boot. He added nothing in the team but reduced the once high flying team also to nothingness where almost all NPFL teams don't have respect for the dreaded squad and two time CAF Champs League kingpins.
To Akwa United, Rivers United, Enyimba International and Bayelsa United to strive hard and ensure their eyes will be on the ball. The State governments that own these teams are performers of the first order. Their records are there. Governors Emmanuel, Wike, Ikpeazu and Duoye are equal to the task and would support their teams to the teeth. This mixed grill in sports is alarming since 2015. Sad tales as told by the present government lying tongues.
As we mourn the dead that herders, bandits, Boko Haram cut down, my heart went for their various families. The Nigerian State head by President Buhari has not been fair the Nigerians. Let us keep our fingers crossed as we trend the rest in our round the clock social media handles. Keep shooting hard till next the struggle continues!!
Source Daily sports
Posted August 23, 2021
---
You may also like...

Football Needs More Black Managers — Sterling

Germany win Confed Cup title for the first...

Enyimba must be clinical, says Anyansi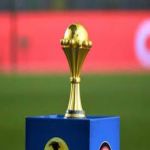 Egypt's Prosecutor To Investigate Missing African Cup Saga...

Players May Need Short Pre-Season Before EPL Resumes...