Of Leicester, Ranieri and Nigeria
By Segun Adeniyi on May 12, 2016
Views: 5,956
Just in case there are still some readers out there who don't know what the above headline means, it is about the unbelievable achievement of Leicester City Football Club which was last Saturday crowned the English Premier League Champions. For a team that was not even in the Premiership two seasons ago, barely survived relegation last year, and was put at an odd of 5,000/1 by bookmakers, to now win the biggest prize in English football, it is almost akin to a miracle.
However, there was no miracle in the incredible story of Leicester because it is about the efforts put in over a long season and having the right leadership at the right time. And with what the football club has achieved, the first time in their 132-year old history, there are several lessons that we can all learn. At a time like this, some of those lessons will also serve our nation and those in charge of our affairs.
Let us begin from the manager, Claudio Ranieri. At 64, Ranieri's career, spanning 28 years, has seen him manage such big clubs like Napoli, Fiorentina, Parma, Juventus, Roma and Inter Milan (Italy); Valencia and Atletico Madrid (Spain); Monaco (France) and Chelsea in England. Yet, he never won any league title with those big clubs in almost three decades of his managerial career. Interestingly, Ranieri's last duty post was with the Greek National team where he was sacked within four months after some embarrassing results.
Therefore, when Ranieri's name was announced 10 months ago as Leicester manager, many football pundits, including Gary Lineker, respected former English international, who once played for the club where he is still adored, criticised the choice. There were also predictions that Leicester's performance and results under Ranieri would be so woeful as to necessitate his sack before the last Christmas. Not only did that not happen, Ranieri has today become one of the biggest names, and perhaps the most adored manager, in the game of football.
Meanwhile, Ranieri has said he doesn't know the secret of his success at Leicester but we can look at his managerial career and hazard some guesses. One, he has obviously learnt from his own experience that you don't continue to do the same things and expect different results, except you are a certain Mr. Arsene Wenger! At Chelsea, where he was sacked in May 2004, Ranieri's constant squad rotations earned him the nickname "The Tinkerman." At Leicester, he had a predictable line-up as he used practically the same players and the same formation for most of the matches.
In the early part of the season when he felt that Leicester's defence was leaking too many goals, Ranieri promised the players that the next time the team kept a clean sheet he would take all of them out for pizza. The fulfillment of that promise became known as "the pizza moment" which became the turning point for Leicester. "It was my birthday, and Claudio remembered. You don't find many managers who do that," said a Leicester player. That is what inspirational leaders do. They encourage members of their team. They treat them specially. They absorb the pressure.
The ruling All Progressives Congress (APC) can learn from Ranieri the value of managing expectations. At the beginning of the season, Ranieri made it clear the objective was to secure the 40 points that would ensure safety in the premiership. He was only being realistic, given the size of his club and the resources (human and material) available. Even when the team was winning matches at the initial stage of the competition, he refused to promise what he might not be able to deliver.
However, when Ranieri achieved that objective, he told the fans to continue dreaming, this time about a possible place in Europa League which a "top six" finish would ensure. When that became evident, Ranieri said the fans could also dream of a possible "top four" finish that would earn Leicester a UEFA Champions League qualification that now eludes many big teams. And finally, after crossing that hurdle, Ranieri said his team would bid for the title. By that time, winning had become such a habit for Leicester that the team had also become the darling of most neutral football followers across the globe.
What Leicester has taught us is that for a country or an organisation to do well, it is not always about the resources, it can also be about a team where all the members are working together for a common goal. Indeed, anybody who followed the season would come to only one inescapable conclusion: Leicester is a classical example of the whole being more than the sum of its parts. Unlike other clubs where you have expensive stars, most of the Leicester players are those you would consider football "scraps" – rejects from premier league and cheap buys from some other less-prominent leagues.
Robert Huth, 31, was an integral part of Stoke Football Club until two seasons ago when he had a serious knee injury. By the time he recovered, Huth could no longer get into the Stoke first eleven so technically, he became surplus to requirement. In January last year, Huth went to Leicester on loan and after he helped them to avoid relegation last season, he joined on a permanent basis and not only was he solid in defence, he scored crucial title-defining goals against fellow contenders, Tottenham Hotspur and Manchester City.
Riyahd Mahrez, who was once considered too smallish in frame to succeed as a footballer and was bought last year by Leicester for just £400,000 (less than one percent of the £49 million Manchester City paid for Raheem Sterling!) is now the PFA Footballer of the Year—the first African player to bag the honour. Believing he had no real prospect as a professional footballer, Jamie Vardy was dropped from the Sheffield Wednesday youth programme at 16 and had to play for non-league Stocksbridge Park Steels while working part-time as a medical technician. In 2012, Leicester paid £1 million for his services which he has repaid a thousand fold with the goals that have earned the club an unprecedented premiership title. In 2011, Jeffrey Schlupp spent three weeks on trial at Manchester United before he was also considered not good enough for the club and allowed to leave but is now an integral part of the team that has just won the premiership!
Looking at the Leicester players individually, it is amazing what the team has achieved. Mark Albrighton, who was also asked to go by his childhood club, Aston Villa (now relegated) two seasons ago but is now a champion with Leicester sums it up: "I think teamwork is the difference. Somehow you get brilliant individuals who can't piece it together as a team. We are the opposite of that. Maybe it's because so many of us in the dressing room have faced rejection at sometime in our careers."
The lesson: It doesn't matter how many times you have failed, nobody is condemned to be a failure. You just keep giving your best and one day, everything will fall in place. What that also teaches is that having the personnel with the right attitude, even if they don't have the best credentials, is a critical success factor. With each of them playing for the team and working very hard on every match day, Leicester was difficult to defeat in the course of the season. "The guys in Leicester City, on their own, probably aren't going to achieve this kind of success individually as they would together," wrote football writer, Simon Hartley.
Finally, you have the Leicester fans who, in the words of Ranieri, kept dreaming. Without their support, it would have been practically impossible for the team to win the title. The same goes for every country. You need passionate leadership as well as a citizenry that would keep dreaming together. In years to come, several books will be written and movies will be made of the incredible success of Leicester for which, Ranieri, as the manager, takes the biggest credit. But the ultimate lesson really is that there is no limit to what a person, organisation or country can achieve with the right leadership and everyone working towards a common goal.
•This piece originally appeared in Segun Adeniyis column "The Verdict" in today's edition of ThisDay. Adeniyi can be reached via olusegun.adeniyi@thisdaylive.com
Source Daily Sports
Posted May 12, 2016
---
You may also like...

Liverpool, Everton battling Man Utd For Villarreal winger...

Iheanacho On Target As Leicester City Beat Everton...

Napoli coach Ancelotti on Liverpool thrashing: Better to...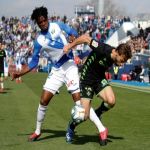 Awaziem Ready To Leave Porto On Permanent Deal...

Guardiola Backing Xavi For Barcelona Job