CAF Presidential Election: Yes To FIFA's Nod For Pratrice Motsepe, No To Jacque Anouma
By Daily sports on March 8, 2021
Views: 1,409
As it is and barring any unforeseen circumstances, the Confederation of African Football (CAF) will elect the next President of the apex Africa Football governing body come March 12, 2021.
Already four candidates have been given the nod or cleared to contest for the highest seat in the continental football ruling body.
The four candidates eyeing the position are Senegal's Augustine Emmanuel Senghor, 55 years and a Lawyer and President of the country's football federation since 2009 and CAF executive committee member since 2018. Another candidate is oldie Jacque Bernard Daniel Anouma of Cote D Ivoire, 69, Financial Executive and former executive committee member of FIFA.
The third candidate is Ahmed Yahaya Mauritania 44 and President of his country's Football Federation and executive committee member of CAF while the fourth candidate is South Africa's Practice Thopane Motsepe 58. The Governance Committee of CAF on January 28, 2021 set to replace the discredited Madagascar's suspended CAF President, Ahmad Ahmadu These candidates were deemed admissible.
It would be recalled that CAF executive committee members' election would come earlier this month. However what caught the attention of this columnist last week was a report widely published by many media houses on and offline including Daily Sports where FIFA came out openly to campaign for South Africa's Practice Thopane Motsepe for the position of the continental football body. In short, FIFA advised other candidates for the position to step down for the South African multi billionaire for his tenacity and not a member of any clique in CAF. Above all, he is new to the politics of CAF and not having any allegiance whatsoever and so would be independent minded in running or administering the affairs of CAF for the good of the game and development of African football.
The South African high profile Club President has received the nod from the World football governing body. FIFA also went further to share positions for the other three candidates in order to create lee way for the man they said the cap fits. FIFA said the Ivoirian's Anouma should serve closely with Motsepe as advisor.
To this columnist, FIFA's recommendation of Anouma is grandly misplaced. The man recommended as advisor to the awaiting CAF President, Motsepe would sink the body. The Ivoirian remains black leg in African football and moreso his time has passed. He should go and enjoy his loot over the years. He has nothing to offer African football this century. Giving the position as advisor to the CAF President is like him governing the body.
He is high handed and must not be allowed near CAF. Anouma is also corrupt and his antecedents when he was in CAF and FIFA tell the story. He works silently across purposes with constituted authority and so would reenact such against Motsepe. Those that knew him can readily attest to this. I have met him thrice and he never impressed me. His looks betray him as not as not being loyal..
He looks arrogant too and would be at loggerheads with the gentle man although he is administratively sound. The Ivoirian will as usual sabotage the efforts of the very unassuming and performance oriented Motsepe as well as ruin the plans and purposes of Motsepe to reposition and cleanse the rotten CAF. Anouma is not fit to be in CAF after his peers have all retired and his fray into the modern CAF as an ill wind that will blow the continental football governing body no good..
This truth is that FIFA's advice for other CAF Presidential candidates to withdraw to give the South African football club owner and multi billionaire to coast home remains in the right direction but Anouma as advisor is ill advised. FIFA by mentioning Anouma is taking CAF many steps backward because the man is terrible and his presence in CAF at that level would portray it as primitive and being in dark ages.
The CAF Governance Committee ought to have disqualified him, if nothing for being out of tune with current affairs relating to modern football administration in today's world.
I pray that the other candidates would heed strictly to FIFA advice and step down and also accept the positions the global apex football body suggested they pick up for the smooth and harmonious running of African football at that highest level. However, one would appeal to all the candidates for both the President and executive committee to play to the rules for the greater glory of African football. One also hopes that Nigeria's candidate, NFF's supremo; Amaju Pinnick would get it right and get the giant of Africa represented at that level. We must start it from there.
It would go a long way to put or place us (Africa) in good light before the rest of the World. This columnist wishes the entire contestants the best of the polls except Anouma, an odd man amongst the contestants. He should be called to order and let him make a tactical withdrawal from the race even FIFA's suggestion for him in CAF is not acceptable as he would rock the boat, being his usual attitude to leadership.
We are keeping a close tab on this election and hope to celebrate our own Amaju Pinnick and the emergence of Motsepe next week. Our social media handles would be on as usual. Let's discuss. Keep shooting hard till next week as the Struggle Continues!!
Source Daily sports
Posted March 8, 2021
---
You may also like...

Steven Gerrard in race for Rangers job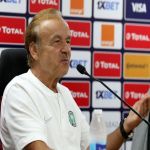 Stiff Competition For Super Eagles Places — Rohr...

Young keeper Isyag ready to star for Nigeria...

Wolves Held At Home By Leicester After VAR...

Yusuf confident ahead of NPFL-Valencia Clash