Amaju Pinnick's Appointment of Ladan Bosso as Flying Eagles Head Coach, A Ridiculous, Blunder
By Daily sports on September 28, 2020
Views: 272

If one concludes that Nigeria is a country of absurdity, it won't in any form pass as an overstatement. This is the home truth that unsuspecting Nigerians face today in all facets of this country often referred to by analysts as 'Paradise Disfigured.'
There is no sector that is spared. Needless to recall or restate here that with her wholly or roundly failed leadership, the nation has never had it as worst as the present regime that has made falsehood its middle name.
It is only in Nigeria that oddity, one of the worst ironies of life, has eaten very deep into her fabrics like the deadly and frightening maggot. How would one come to terms with such scenario where leaders tell lies in things, not knowing they deceive themselves and not the populace who are more enlightened today than ever?
The rate of kite flying by this government plus its buck passing instincts continues to leave sour taste in the mouth, leaving many scandalised.
Honestly this Columnist settled to critically look at the Super Eagles team list for the proposed international friendlies with Tunisia and Cote D' Ivoire which however the Ivoirians reportedly backed out suddenly. As this page was almost going to bed came the announcement by the Nigeria Football Federation (NFF) of the coaches for some of the age grade teams, both male and female national teams, except the U-23 Eagles side.
However, what took this Columnist aback was the penciling down of Ladan Bosso to handle the Flying Eagles. Where is he coming from? Bosso that is out of touch with the current realities in the coaching world. Why the recycling of Ladan Bosso. Now what is his coaching pedigree presently?
You can vividly come to concrete terms with my position. How such absurdity happens only in Nigeria. I have two questions for Amaju Pinnick and his executive committee board in the NFF. ONE: What informed the appointment of Ladan? TWO: Why the recycle, Ladan is not fit for the job and so Flying Eagles team is doomed. There are more qualified and well grounded people in modern coaching, technical and tactical formations in the field than Ladan Bosso whose time has expired and has nothing to offer.
Apart from the inclusion of Bosso who has nothing to do in national team of any colour, the others are fit. I don't know why ex-international and coach who has paid his dues, Fatai Amoo was assigned to handle the U-17 instead of at least the Flying Eagles after sterling outing with the U-23 Eagles the last time.
Even the ardent supporter of Amaju Pinnick's led NFF executive committee board would react angrily why the misplaced priority that brought back Ladan Bosso over more resourceful Fatai Amoo. No matter who is backing Bosso, it remains injustice of the first order, not with Amoo's quality display or performance in the U-23 side where the nation came back with Bronze medal. This remains an oddity.
The NFF has explanations or concrete clarifications to make to Nigerians why Ladan resurfaced to handle the U-20 team. Let it be said loud and clear that he is not the kind of coach to head the U-30 Flying Eagles squad. In short he is a misfit for the boys.
Iam still at a huge loss why Ladan Bosso was announced and it won't be far to conclude that it is typical of Amaju Pinnick to bring in dead woods from retirement to head or handle very sensitive positions. That was how he once upon a time brought an equally failed coach in person of Paul Aigbogun to coach the U-23 team after pushing him to coach Enyimba International FC, where he (Paul Aigbogun) reduced the former CAF Champions League kings to nothingness. What Nigerians saw was his appointment to the U-23 Eagles team where he failed woefully and nothing happened and I guess that must have given the NFF the leverage for this once again suicide mission that saw the body playing up a failed coach.
To be honest with you, I have said in different fora that national teams must not be seen as habitation centres for coaches that have nothing more to offer like Paul Aigbogun, Ladan Bosso and their likes. I repeat it without any let or hindrance that I don't have anything against these men and their co-travellers but there must be sanity and justice which would see the most qualified amongst our trained ex-internationals picked for these coaching jobs. Ladan Bosso has no new ideas in football modern coaching and so what is he going to do in U-20 Flying Eagles.
I have never seen this kind of administration anywhere in the civilised world where instead of spirited efforts to move the level of football at all levels forward; football administrators are busy taking many steps backwards. This is really a typical example of leadership defect. This is deliberate attempt to reduce the game to disrepute. The leadership deficit is across board in the country and it has been our doing.
Ladan Bosso must be told in clearer terms that it is over for him in coaching. It is game over for him. He should enjoy his retirement. He was recently sacked at football Club level as result of low performance or output.
That is our stand and it is clear and only good and natural enough for Amaju Pinnick and his cohorts to toe the part of honour and withdrew whatever appointment letter issued to Ladan Bosso no matter who recommended him for the coaching job at the national team category.
That would mean listening to the voice of reason for the good of the beautiful game. Only such would be fair enough for the round leather sport. We must be reasonable enough. Join us in our social media handles for this burning issue. Keep shooting hard till next week as the struggle continues!!
Source Daily sports
Posted September 28, 2020
---
You may also like...

Bayern spank Benfica to book knockout place

LeBron James says Lakers will have to work...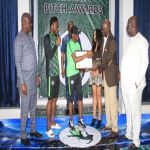 Musa, Ighalo, Akinwunmi, Gov. Okowa Emerge Pitch Award...

Mourinho fires back at Pogba 'lies'

Bayern Extend Bundesliga Lead to Four Points