Ranting of An Ant, 'James Amadi's Failed Mission
By Daily sports on August 31, 2020
Views: 642
Your very authentic, authoritative and influential all sports digital newspaper, Daily Sports ace columnist and Managing Editor, Victor Enyinnaya came under attack by one of the attack dogs of Rivers State Commissioner for Sports, Boma Iyaye.
Reason? Because I wrote and published a harmless article titled "BOMA IYAYE'S GOOF ON NPFL'S DECISION ON THE 2019/2020 SEASON" in SPORTS PULSE a critical Monday column in Daily Sports last week and one dead wood, faceless and silly boy who calls himself James Amadi chose to embark on an impossible suicide mission to delve into the subject matter he knew next to nothing and his shallow, watery and guess work about me gave him out as nonsense and foolish fellow.
Without mincing words dearly beloved readers, who have been there for this soar away newspaper and for me, yours truly in sports, the unassuming core professional journalist of tested integrity, ace columnist and reporter, you will agree with me that we have been consistent since we debuted many years ago.
I was alerted of the highly biased, sponsored and deeply prejudiced venom on me by one of Iyaye's boys, one unknown 'James Amadi' who I hardly know where he is coming from.
To further give himself out, 'James Amadi' as a born coward copied over one thousand people in the trash, he wrote about me without copying me, typical of what Boma Iyaye has instituted in the State now. This clueless James Amadi not only displayed his ignorance in his not cohesive trash, but sadly consigned or sentenced his miserable self in the perpetual refuse dump of history, where cheap fools like him belong.
Truth is that in my over three decades as a journalist cum sports journalist, I never involved my good self trading words with even reasonable news pegs let alone one faceless idler called 'James Amadi' who because of very insignificant mess of Portage stuck out his neck to be ridiculed, confirming he lacks image and integrity.
I decided to respond to this, knowing full well that I am definitely responding to his pay master Boma Iyaye. Let me point out here that it was after several pleas from both very senior colleagues that have confidence in me and my professional ability, my contemporaries, close friends and those that have seen me as their role model who beckoned on me to reply Boma Iyaye's stooge, that I decide to, otherwise it needed no response because of its cheap under tones.
Now to put the record straight, I am not just anybody in journalism as the idiot 'James Amadi' tried to portray in his meaningless write-up. I started my journalism journey from the Kwara State owned Nigerian Herald newspapers in 1986 under the distinguished editorship of Alhaji Doyin Mahmoud, who was Editor Nigerian Herald and Dan Ikunaiye, Editor, Sunday Herald. Both are of the blessed memory. There, I covered various beats excellently which earned me a letter of commendation by Omotosho Alao, the then News Editor. That time, the shameless 'James Amadi's mother was not probably married.
After some years I returned back to Lagos and picked up an appointment as Sports Reporter with The Lagos News, published by former first civilian governor of Lagos State, Alhaji Lateef Jakande, where veteran Felix Simire was the Sports Editor and Alhaji Muka Popoola was the Editor.
Furthermore, I worked with the Daily Times of Nigeria Plc under distinguished titled editors and Line Editors on the Group Sports Desk of the then giant newspaper when it was Daily Times and other newspapers in Nigeria. I was still in the Newspaper conglomerate when it was widely referred to as The Biggest and The Best newspaper in West Africa cum Africa. Where was this rodent called 'James Amadi' by then? I left Daily Times when it was sold to the present owner.
Let me also let the world know that I have covered both international and local sporting events while sojourning as a sports journalist. It is instructive to note that I and the most of the finest minds in Rivers State SWAN have mutual respect for each other till date. I am a principled man and it translates in my writings. I have not written to kill. I believe in the total tenets of journalism as a developmental writer. I passed through tested professional hands which reflect in my writing and it has guided me thus far.
I also worked with Newswatch Magazine from where I founded this one stop digital newspaper, Daily Sports with one of the finest journalists in Nigeria today. The newspaper has earned a depth reputation for itself via hard work, truth nurtured strictly on professionalism. Daily Sports is not just an all sports digital outfit but has within a record time been ranked among the best and influential.
I'm not jobless like this errand boy called 'James Amadi' who is obviously used by Boma Iyaye to 'discredit' me insinuated. Their plans could not fly or hit target rather, like dead wood and drowning men who are looking for something to hold for survival, shot themselves badly on the foot. Their actions and inactions remain laughable.
As he hurriedly assembled bare lies and propaganda, what the amateur writer forwarded as achievements of his principal further betrayed and reduced them to nothingness.
Boma Iyaye and his boys cannot readily point to a valid single achievement since he assumed that office or at least tell or showcase to the world what value he has added to Rivers State sports since his dead on arrival dull tenure. Instead what his 'James Amadi' obviously an interloper, pointed as Boma's achievements are the known things that the very suave Governor Nyesom Wike's inspired charisma attracted to the state.
Let me repeat that Boma Iyaye has nothing to offer and his stock in trade has been to create controversy, point accusing figures and often find imaginary faults which are the only achievement he has to show for since he came to limelight before and now.
I watched him again pointing accusing fingers on Amaju Pinnick who has lots of achievements that dates right back to his years as Delta State Sports Commission executive chairman which he has carried over to NFF as its supremo. Truth must be told, whether you like Amaju's face or not. Amaju Pinnick is an achiever and performer any day which his ardent critics have acknowledged. I repeat that I have a soft spot for him as a goal getter and achiever par excellence. I don't care what interpretation Boma and his area boys may give it. Boma is known to have idle boys milling around him and they promote unnecessary and unruly noise-making to show they are working but the truth is not hidden.
Let me restate here that idlers like the ones Boma Iyaye have been rearing, make my stomach turn for the worst because of the over dose and havoc they have caused thus far. In short, 'James Amadi and his likes are a nuisance to man. Incidentally they cannot attract Governor Wike's attention or sympathy. I will continue to say it to anyone that cares to listen, top in the governor's agenda is to distribute enduringly, the dividends of democracy to his good people of Rivers State and it remains supreme as his first priority and he has never pretended about it. No avoidable noise-making, even to high heavens as Boma Iyaye and his cohorts are instigating, can lure the support of the ever performing and sporting Governor Wike; Period.
I don't belong to 'what the stomach will eat category of journalists.' I call a spade by its name and do not care whose ox is gored, as touts like 'James Amadi' who knew next to nothing in journalism even where he may claim to belong are wont. Obviously, a naughty fool who has failed to differentiate between his right hand from left but timidly played himself into the hands of slave master, who not only blows hot air but shouts wolf where there is none.
For your information and those that talk on the drop of hat, football is played on the pitch and nowhere else and you also don't resort to blackmail to achieve a means. I don't believe in blowing my trumpet but fact is that I am a thorough breed professional who plays strictly by the rules guiding journalism practice in the country. I am an issue and idea based senior journalist because I was told in News Reporting class that one that kills by the sword dies by the sword, therefore truth must be constant. I never gate-crashed into journalism profession.
I have solid higher diploma and degree certificates in Journalism and Mass Communication respectively. I have for once done what I hate doing, which is joining issues from the reaction (s) of my weekly article which attracts wide readership. Unfortunately the type 'James Amadi' did last week. He is born coward otherwise, why did he not forward to me, his stage-managed write up. Why has he been calling on most of the people he sent to, to publish in their various newspapers online or offline?
Dear esteemed readers, this reply has deprived us the often juicy and well researched article this week but by your wide opinion it is worth the while. Thanks for your solidarity and support since these people thought they can rattle me. Keep shooting hard till next week!! The struggle continues!!!
Source Daily sports
Posted August 31, 2020
---
You may also like...

Federation Cup: Enyimba, Nasarawa semi-final now for Oct....

Guardiola Stands With Klopp Over Fixture Congestion

Onome Ebi undergoes successful arm surgery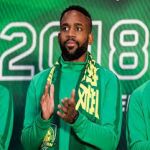 Beijing Guoan sign Cedric Bakambu in African-record £65m...

Nlareb wins FCT Classic