NFF/Rohr Contract Extension: We Need Concrete Action Now!
By Daily Sports on March 23, 2020
Views: 186
Yes, you would agree with me that the fear of Covid-19 now is the beginning wisdom globally. Nigeria is battling to contain the surge and it is the fervent prayer of men and women of goodwill and faith that this cup must pass quickly.
To be honest with you, this air borne disease is so scary and we pray its reign terminate immediately. It has paralysed everything, sporting activities not left out.
You are aware that in sports there have been total and comprehensive lock down. That is the tune of a time like this. Call it end time if you like. Only the wise God would save His people. That truly is the way we are now.
Now, that is the most aspect on our hands presently. Truth is that the Lagos and Abuja airports shut down is coming a little too late. However, we believe that the spread would cease forthwith.
Now to the week's discussion, the imbroglio between the NFF and Super Eagles technical hand Gernot Rohr over contract renewal. The disquiet that has been brewing between both parties leaves sour taste in the mouth because the wind as provided by Covid 19 that occasioned the postponement of the qualifying games in CAF and others ought to have been utilised to sort out whatever should be in the contract books of the Franco Germany sweat merchant.
But alas, the Nigerian way and style, of last minute approach to handle very important issues seems the way and manner this NFF/Rohr issue is tilting towards.
It should be on record that this present NFF leadership has shown some good measure of prudence when it comes to human management and must extend such to this lingering contract renewal of Rohr. Those of us that was closer to some of the last executive committee members got briefs which we published as exclusive notes from an insider. Such reports made great copy as news stories and also in the column.
It is however instructive to reveal that Amaju Pinnick and some of his co travellers ensured that those that opposed him never returned to the present executive committee.
I was also privy to how Rohr emerged as the technical hand of the Super Eagles. I also did the worldwide exclusive for Daily Sports as at that time.
But it has been roses between Amaju Pinnick led board and the White man coach where the football house supported him to a hilt. This was why the last World Cup qualifier was so smooth and well-coordinated hence the Eagles qualified for that world football summit before it concluded the group's games.
Now we don't need to look too far to know that the bucket is leaking so visibly. There is obviously soured relationship between the two parties. There is cold war which is more delicate and dangerous than full blown war. That cat and dog working relationship is never good enough for employer/employee because of its grievous consequences/disadvantages' in achieving set goals. Therefore, time has come for the NFF and Rohr to get down to the table and sort things out, if Nigeria must continue its steady flight at the ongoing AFCON and sundry.
The NFF should bear in mind that the head coach is currently rebuilding the team as he has been infusing new lads to the already existing players which many commentators, bookmakers and pundits have applauded as great step in the right direction.
These close watchers, further gave Rohr thumbs up for ensuring renewed interest by Nigerians born abroad, who are already falling over themselves to lace their boots for the nation's flagship team. This on its own brings honour, formidability, confidence, work-ability and above all respectability to the squad.
Again, the high interest shown by most of these children born abroad to wear the green/white/green colours of Nigeria, shows how the team is being rated out there which upped their zeal, love, great interest to identify with the former African champions. It is against this inflammable background therefore and cogent reasons that we must drive the NFF to quicken for the resolution of the impasse before it snowball into an ill wind that would blow nobody any good when the chips are down. There is need for intervention, if only for the overall interest of the owners of the Super Eagles team, the fans.
This columnist is restating that this abnormal window provided by Covid-19 pandemic should be taken advantage of, to clean up all the contending areas so that the coach would resettle with his mind and heart focused on the strategies to formulate water tight match tactics and plans that would sustain the flying mood the team is in, already.
Many Nigerians have also spoken on the need for the resolution of whatever clause that ought to be resolved. I will touch on what ex-international Henry Nwosu recently said and such suggestions should be adhered to for the good of this beautiful game which must continue to be on stream and focus as the players are now keen and competitive in all its ramifications.
NFF should this time open its eyes and senses wide as it goes into this round of talks with Rohr. Many, despite his weak areas gave him good measure of clean bill of health that he has tried and should be given another chance. As he is entrenching himself with the team and players, one also hopes that with the employment of Joseph Yobo as assistant to Rohr, the former captain of the side will fit in perfectly, not only as stabilizing factor but role model to especially the younger players making their entrance into the team because he did pay his dues for the country and club side.
Let NFF/Rohr break this ice and let's move forward because this round leather game must work. Readers, let's do it again via our social media handles for the good of the sport at that level in the country.
Keep shooting hard, till next week!!
Source Daily Sports
Posted March 23, 2020
---
You may also like...

Tottenham Right-Back Trippier Joins Atletico Madrid for £20m...

Arsenal Boosted by Lacazette Ban Reduction

2019 AFCON: Mikel, Five Others Arrive Asaba

Pochettino: Spurs Can Win Champions League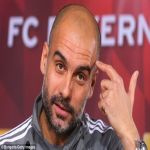 No coach like Guardiola – Gundogan