International basketball players arrive Nigeria for ABL debut season
By Daily Sports on March 1, 2016
Views: 1,424
All is set for the debut of the African Basketball League (ABL) as top international basketballers who will be featured throughout the season have arrived Nigeria for the league which tips off on 5th of March 2016 at the Landmark event centre.
Four cities in West Africa will play host to a hundred and twenty games in the first season; Lagos, Abijan, Dakar and Libreville. Lagos Islanders, Lagos Warriors and Stallions are the participating Nigerian teams.
The other Africa clubs that will participate in the league are Dakar Rapids from Senegal, Abidjan Ramblers from the Cote d'Ivoire and Izobe Basketball Club from Libreville.
The first game will see the Stallions playing at home against Dakar Rapids of Senegal on Saturday, March 5, the game will commence by 6:30 p.m. at Landmark Event Centre.
Some key players to look out for during the season are Mark Hill, Kelechi Anuna, Melvin Baker, Akintunde Moses, amongst others.
Mark Hill: At 5'11, Mark Hill is a quick silver point guard who has the ability to lead his team, while being able to score at will anytime. He has an excellent foot speed and agility which makes a very good penetrator who can finish in traffic. Mark was most notedly the league's MVP in Finland for the 2014/2015 season before he joined the Lagos Islanders.
Kelechi Anuna: Kelechi is a point guard for the Stallions, having also played for the Nigerian National Team in the past and more recently for the Slovakia League. Born and bred in the USA, Kelechi played basketball for his college Middle Tennessee State University before he played professionally. He has played in Top leagues in Tunisia, Slovakia, Dominican Republic, Egypt and Venezuela.
Melvin Baker: At an outstanding 6'7' and 215 pounds, Melvin Baker is more than an able power forward, adept at blocking shooters who might be aiming for his team's basket. He has played basketball across Europe, most notedly winning the championship in Helsinki Finland and winning the championship while averaging 17ppg and 8rpg.Melvin represents the Lagos Islanders.
Akintunde Moses: Akin is a versatile, physical and athletic player with tremendous athleticism and strength which make him a powerful lead on the court. He is an excellent mid-range and 3-point shooter. Akin represents the Stallions.
As more professional basketball players arrive in Nigeria for what can be described as one of the greatest and most remarkable events in Africa, we hold on to our seats in anticipation of The African Basketball League Season premier.
Tickets are available on www.ablafrica.com, Wakanow offices and Select Union Bank branches.
The ABL is proudly supported by TRACE, Union Bank, Wakanow, Cornerstone Insurance, Landmark, THE BEAT 99.9FM and ASKY Airline.
•Photo shows Melvin Baker in action.
Source Daily Sports
Posted March 1, 2016
---
You may also like...

Jose Mourinho 'had his own players' at Chelsea...

LMC Sanctions, Abia Warriors, Sunshine Stars, Enyimba Masseur...

Murray ready for more gold in Rio

Eaglets eye Chile 2015 U-17 FIFA W/C final...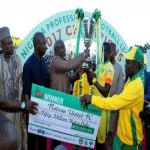 Plateau Utd crowned NPFL champs