VAR Confusion, Sterling Sterling And How Liverpool outwitted Man City
By Daily Sports on November 12, 2019
Views: 1,734
The Liverpool vs Manchester City game lived up to its pre-match billing, serving up the very best of premier league football in a contest between two of the best (if not the best) sides of world club football.
If there were any worries that the game would become a damp squib of defensive football from two sides wary of the attacking potency of their opponents, they were thrown out of the window as manager Pep Guardiola sent out his Manchester City warriors on a super high press from the get go, going after Liverpool's jugular like a band of suicidal soldiers in a do or die raid.
Jurgen Klopp, Liverpool's effervescent manager, was worried but must not have been surprised.
Everything that was hoped for and expected in the contest, from frenetic paced football, exhibition of technical brilliance from 22 technically gifted footballers as well as two coaches with a no-suit, no calm sitting while the game is on, manic finger and tactics pointing match behavior well all on display.
What was not wished however by neutrals was for a contest that would be stained by a moment of significant controversy.
That was what actually happened in early stages of the match when a clear hand ball from Liverpool's defender Alexander Van-Arnold was not given as penalty, despite the hot appeals from City players and bench with Liverpool going on to score from the counter moments later.
Let's examine some of the talking points from the game which Liverpool went on to win 3-1 to open a 9-point gap between them and City.
1. VAR confusion
When Alexander-Arnold's outstretched hand stopped the ball from rolling over to a lurking Man City player which would most likely have resulted in a goal, the gut feeling was that that was a penalty.
Referee Mark Oliver waived the City appeals away and VAR didn't step in on it. Liverpool went on to score straight from the counter attack and a serious confusion about VAR was exposed. How cruel would it have been for Liverpool to chalk off Fabinho's beautiful strike and then go ahead to award a penalty against them at the other end?
Yet, in fact Alexander-Arnold clearly handled the ball with an outstretched arm and it should have been a penalty. Simple.
When Tottenham's Mousa Sissoko touched the ball with his hand while he had his back to the ball, it was adjudged a reckless movement of the arms and a controversial penalty was given to Liverpool which handed them the Champions League title some months ago.
Alexander-Arnolds here had his face to the ball and had his arms out to touch the ball. Stone cold penalty! But Oliver and VAR saw it differently.
It's been argued that Oliver deemed Arnold's hands to be in a natural position when he touched the ball but if that really is a natural position for the arms to be in the box then defenders would simply have no need to hide their arms and use them as a shield to block a move. That's illegal and Arnold's handling of the ball was illegal.
Would it have affected the outcome of the game if City had been awarded a penalty and scored the first goal? Hard to tell exactly but tight games between two big sides usually are decided by who gets the first goal.
2. Liverpool find a unique way of beating City's aggressive press
One of the main features of Pep Guardiola's sides is a stifling press they effect any time they don't have the ball. They hunt for it like hungry lions, pressing and suffocating the opponents until they cede possession.
Manchester City under Guardiola have carried on in this tradition of winning balls back so beautifully, so greedily since the Spaniard took over as City's manager. However, Liverpool's manager Klopp knows all too well about this tactic, himself being famous for a similar gegenpressing style.
So how did Liverpool outwit City's pressing game? Well, they did it in the old fashioned way of switching play quickly across the pitch anytime the Etihad invaders sought to constrict the space around the ball.
In the not too olden days it was midfielders Steven Gerrard and Xabi Alonso who were in possession of this long range ball distribution quality to bypass the opponents press. But today, Klopp has got his full backs, Alexander-Arnold and Andy Robertson doing it and it's fascinating to see in its innovation.
While Guardiola has been praised over the years for introducing the application of inverted fullbacks who cut in field and function as midfielders to help in the ball circulation process and help keep a solid defensive balance to prevent being hit on counter attacks, Klopp surely deserves the adulations be is getting now for redefining the roles of fullbacks as creative playmakers.
It was so frustrating for Man City at times on Sunday having to deal with fullbacks who make long passes to each other with such precision, guile and force. The second goal for Liverpool came from an accurate lofted pass from the tremendous right back Alexander-Arnold on to the path of the waiting left back Robertson, who raced like an unstoppable bike to deliver an inch-perfect cross to Mo Salah to finish with aplomb. What a move!
In gushing about the assymetry of Liverpool's fullbacks, Barney Ronay of the UK Guardian wrote: "Alexander-Arnold was, once again, sublime here. His range of passing from right-back is a thing of beauty. His calmness, his physical strength, his ability to cover the ground allow him to dominate his flank. He sees the whole picture from inside his own half.
"One to pass and one to run: Robertson was an urgent, thrusting menace on the other flank, a £7m player coached into phenomenon at this level. Robertson and Alexander‑Arnold played 21 long passes in this game, compared to seven by Kyle Walker and Angeliño. Virgil van Dijk was, as ever, a wall. But either side of him it was Liverpool's full-backs who dictated the rhythms of this victory."
2. Sterling Sterling, a shining tormentor-in-chief
Perhaps more fired up by the boos of his former Liverpool fans, Raheem Sterling, the Manchester City left winger was a man on fire on Sunday afternoon, relentlessly running at the Liverpool defence, trying to unlock the keys to the door of the backline marshalled by the vigil keeper, Virgil Van Dijk.
With Alexander-Arnold showing his passing range and bombing forward with characteristic fearlessness to deliver crosses into the Man City box, Sterling was in no mood to let himself to be outshone. His stamina to last the whole 90 minutes at a high level, without looking physically gone, driving City on in the late stages with constant running towards the Liverpool box and intelligent ball control in skipping challenges, was something to behold.
It's difficult to question an accomplished manager like Guardiola but one wonders why he didn't introduce Riyahd Mahrez in the second half when City were chasing the game to apply pressure from the right flank with his sublime skills which could have distracted the attention of Liverpool's defence and given Sterling some more freedom to be more effective against Liverpool late in the game.
•Photo shows controversial moment when Alexander-Arnold's outstretched hand touched the ball in the Liverpool box.
Source Daily Sports
Posted November 12, 2019
---
You may also like...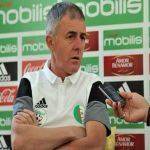 Algeria sack coach, face Eagles November 10

Thiem says Nasal can be beaten in Madrid...

Iheanacho stat sums up wonderkid's class

Real, Barca set up title showdown

Barcelona Receive Financial Boost