AFCON: The 3 Errors of Rohr That Cost Super Eagles against Algeria
By Daily Sports on July 16, 2019
Views: 893
The headline of this piece could look a little bit unflattering for Super Eagles Technical Adviser Gernot Rohr who saw his Nigerian national team beaten in the semi-finals of the ongoing African Cup of Nations (AFCON) in Egypt by a Riyahd Mahrez-inspired Desert Foxes of Algeria. However, I would say that so far, I've found the German coach's time at the helm of the Super Eagles a success, our painful loss to Algeria notwithstanding.
Rohr has been very much a stabilising influence in the team and has instilled some good tactical discipline as well as overseeing a relatively happy and United Super Eagles team, away from the internal rancour that used to be the lot of the team.
A World Cup qualification in a tight African group and ensuring that the Eagles returned to the Nations Cup and finish in the last four of the tournament after a few years hiatus could be considered a considerable achievement, even though Nigeria would feel big enough, and rightfully so, to be dominating in the continent much more.
A quick analysis though of the Nigeria vs Algeria game. The simple fact is that – allow me to paraphrase what someone commented on my Facebook post mourning the Nigerian loss – the better side won.
Algeria showed a fine combination of high tempo energy and enough technical armoury in their arsenal to overpower the Super Eagles who looked ironically the more lethargic side, even though it was their North African foes who had played a full 120 minutes in their quarter-final tie with Cote d'Ivoire and had lesser days than Nigeria to get a rest before Sunday's semi-final encounter.
From the get go, Algeria pounced on the Eagles and like true cunning foxes, they moved around with speed and deceptive intent, confusing a shaky Nigerian back line regularly.
With a deserved lead off a fine move by their inspirational winger Mahrez whose cross was inadvertently turned in by William Troost-Ekong, the Nigerian centre back, the Algerians were looking increasingly commanding but found themselves unlucky with a VAR decision when a harmless-looking shot was handled by an Algerian defender in the second half after a brief period of Nigerian pressure.
After the equaliser, the Algerians regained their attacking mojo and totally seized the initiative against their West African opponents who had their backs firmly against the wall and looked to be hungry to hear the whistle and regroup for extra time.
And then Mahrez struck his wonderful free kick to break Nigerian hearts in the last second of added on time.
Those dying moments of the game are what I felt Rohr mismanaged. Let's be clear, hindsight is a beautiful thing. Everyone gets a better perspective of things from it and Rohr probably would. But it seemed pretty obvious what he should have done or shouldn't have as Algeria turned in the screws in the late stages of the game.
One of the errors Rohr made and which he's been roundly and rightly criticised for was taking off Samuel Chukwueze in those late moments of the game. Chukwueze has been a revelation in the Nations Cup throughout in the games he's played and alongside Alex Iwobi of Arsenal, the Villarreal man has been Nigeria's best player in the competition.
Against Algeria he was tightly marked but still managed to produce some beautiful threatening moves that kept the Algerians very wary. He didn't look the most tired of the Nigerian attack late on but Rohr opted to sub him for Henry Onyekwuru. The barrage of Algerian pressure only intensified as they didn't have the Chukwueze threat in the Nigerian right wing to hold them back from going for the kill.
It's quite simple. In a big and tough game, you leave your best players in the pitch for as long as possible because, though they may not be very visible for some moments, they could present a moment of spark to turn a game around completely.
Look at Mahrez. Just before Algeria scored both goals, the second through his great strike, he seemed pretty anonymous. But he turned up with the goods at last.
Chukwueze may not have scored but leaving him on for as long as possible would have been a better bet of Nigeria scaring Algeria. Ahmed Musa looked more fatigued to me and should have been the one to make way if Rohr was hell-bent on a substitution.
Then the other crucial error the French-German made in my opinion was a failure to react to the Algerian late onslaught by balancing the Nigerian Midfield or to go into a more defensive tactical mode to stem the tide.
Here we would have made do with Mikel Obi the captain.
Mikel has come under a lot of flacks in recent times for Nigeria and I feel sorry for him because this is due to the insistence of the Nigerian fans and coaches to see him play as a number 10, a position that is frankly not his best. However, as a central midfielder who can keep the ball excellently and pass decently, he's a great asset.
I believe Mikel could have done a good job of being a calming presence in the last few minutes of that game and could have helped the Eagles to at least reach extra time.
Unfortunately, Rohr went for a like-for-like change and with a player of arguably lesser quality coming on, the Algerians smelled blood and won deservedly in the end.
It is the end of another chapter for Nigeria as far as an international tournament is concerned and this is the time to look quickly ahead. There are a slew of fine young players like Victor Osimhen waiting in the wings to become a Super Eagles regular and the task now is to learn from the mistakes of this tournament and build on the positives to go into the future with belief, whether with Rohr in the saddle or someone else.
Source Daily Sports
Posted July 16, 2019
---
You may also like...

Blood on the pitch: BJ and Dynamite end...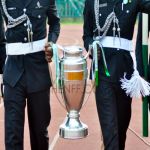 Federation Cup: Crown ambush FC IfeanyiUbah in Kaduna...

AFN: Udo-Obong declares ambition to lead association

Kvitova to be released from hospital after knife...

FIFA says Nigeria, Ghana risk being suspended over...