Historic run by MVP James Harden propels Houston Rockets
By Daily Sports on January 2, 2019
Views: 274
A historic run by reigning MVP James Harden has allowed the Houston Rockets to rise in the Western Conference standings and has awed his coaches and teammates.
Harden continued his roll with a 43-point triple-double on Monday to carry the Rockets to a 113-101 win over the Memphis Grizzlies, pulling Houston (21-15) into a tie for fourth place in the West standings less than three weeks after they were 14th in the conference.
Harden now has 408 points in his past 10 games. According to the Elias Sports Bureau research, Harden joined Michael Jordan and Kobe Bryant as the only players in the past three decades to score at least 400 points over a 10-game span. He's the first player since Oklahoma City's Russell Westbrook two seasons ago to have four straight 40-plus-point performances, something that had never been done in Rockets history.
"What he's doing is incredible," Rockets guard Austin Rivers told ESPN. "What he's doing is a Kobe. Man, that's a Kobe run. That's what he's doing. He's doing it so effortlessly. That's the thing. It's not like he's forcing it or like he's shooting the ball every time. I mean, it's crazy. He's just different, man.
"For real, you can't stop him. Back-to-back [MVP]. He's going to end up winning this s – back to back. Nobody in the league can do what he's doing right now. He's winning back-to-back MVPs. It's incredible."
Harden is averaging 39.7 points, 6.3 rebounds, 8.5 assists and 2.1 steals during the Rockets' 10-1 run. He has eight consecutive games of at least 35 points and five assists, breaking a record set by Hall of Fame guard Oscar Robertsonz
•Photo shows James Harden
Source Daily Sports
Posted January 2, 2019
---
You may also like...

1994 FG house promise to Super Eagles: Semitoje...

Madrid appoint Solari on permanent basis

Tornadoes still rusty from break, says Bala

Probe into alleged bribery in football opens after...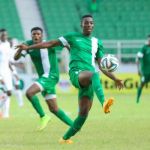 Bad news for Guinea: Chikatara, Usman recover from...