Ebewele thwarts officials' plan to boycott athletics championships in Asaba
By Daily Sports on August 6, 2018
Views: 1,670
A member of the board of the Athletics Federation of Nigeria ( AFN ) , Brown Ebewele, may have preserved the country' s pride by halting an alleged move by some officials of the federation to boycott the ongoing 2018 African Senior Athletics Championships in Asaba .
The championships , which started on Wednesday at the Stephen Keshi Stadium , Asaba , Delta State , ends today. The Guardian learnt, yesterday, that aggrieved AFN officials , who felt neglected by the Local Organising Committee ( LOC ) , planned to boycott the event on Friday.
They were alleged to have converged on a hotel in Asaba , where they plotted their moves before Ebewele delved in to save the situation after declining to lead the boycott plan.
When The Guardian contacted Ebewele yesterday, he confirmed being approached by a top official of the AFN to address a press conference on the issue. " An official of the AFN actually approached me yesterday ( Friday) to lead the boycott, but I told him to count me out . The question I asked him was if the AFN just woke up from its sleep ? Why should I address a press conference on plans to boycott the championships when the AFN board is divided ? We have only two people ( Ibrahim Gusau and Sunday Adeleye ) ruling the AFN .
" As we were on the issue , an official of the CAA overheard us , and he quickly pointed out that it was wrong for the AFN to accuse the LOC of not carrying it along . He reminded those protesting that the secretary general of the AFN is the scribe of the LOC . Is it now that Gusau and his group just realised that an African Athletics Championship is going on in Asaba . They are claiming that the LOC is not carrying them along , shame on them . Gusau should look for a way to resolve the crisis in AFN instead of crying foul , " Ebewele stated.
Gusua , who later addressed the press , yesterday, did not speak on the alleged plan . He , however , revealed that Nigeria would be bidding to host the 2025 World Athletics Championship , which will be coming to Africa for the first time.
He thanked the Delta State government for rescuing Nigeria by agreeing to host the championships. Meanwhile , 14 countries were on the medals table yesterday, with South Africa leading with five gold, eight silver and six bronze medals. Host , Nigeria , was second with five gold, three silver and four bronze , while Kenya was in third with three gold, two silver and one bronze medals. (The Guardian)
•Photo shows Ebewele
Source Daily Sports
Posted August 6, 2018
---
You may also like...

Nadal coach announces split

Everton's Lookman to ditch England for Nigeria –...

Leroy Sane: Manchester City winger must improve, says...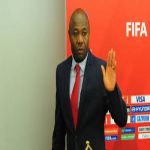 Amunike Reveals He Chose Zamalek Over European Move...

Former Edo State FA Boss Omokaro goes home...