Fans of FC Torpedo Moscow protest after Russian side sign black defender Erving Botaka-Yoboma
By Daily Sports on July 19, 2018
Views: 653
Supporters of FC Torpedo Moscow have protested after the club signed 19-year-old black defender Erving Botaka-Yoboma.
Botaka-Yoboma, who is of African descent but Russian-born, joined the Russia Second Division team this week after the player left Lokomotiv-Kazanka Moscow.
The decision by the club to sign Botaka-Yoboma was met with racist abuse.
A group of fans, known as the Zapad-5 Ultras, wrote on Russian social media site Vkontakte: 'There may be black in our team's colours, but there is only white in our supporters' ranks.'
The comments have been met with condemnation by a number of Russian football officials, including the club's owner Roman Avdeyev.
Avdeyev defended the decision to sign Botaka-Yoboma, who is also a former academy player of FC Torpedo Moscow.
He said: 'There is no 'skin colour' in our criteria. We've never noticed it and will never notice it.'
Alexander Zotov, who is head of the All-Russian Union of Footballers, said the 'idiots' weren't representative of football fans in Russia.
'There have been changes in attitude after the World Cup, but a group of idiots still remains,' Zotov said.
'People with a limited worldview exist in any country. We saw how open our society and people were [during the World Cup].' (Daily Mail)
•Photo shows Botaka-Yoboma
Source Daily Sports
Posted July 19, 2018
---
You may also like...

SA and Senegal join Guinea and hosts Zambia...

Presenting Erimuya, Nigeria's Olympic star, a versatile player...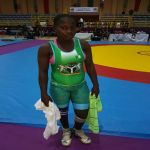 Nigerian Army female wrestler wins gold medal at...

NFF announce 2.5 billion Naira sponsorship deal for...

Horn loss unlikely to push me into retirement-...