Where's the National Stadium, Abuja?
By Daily Sports on May 30, 2018
Views: 1,904
When the then magnificent National Stadium, Abuja was built at a very high cost, to utter the mildest, Nigerians managed to get through the quoted and suspected real amount of building the edifice and rather focused on the happier fact that at last a stadium befitting of a real home for the Nigerian national football teams and other national sports teams had been found.
After hosting a few major international tournaments like the 2003 Commonwealth games and the 2009 FIFA Under-17 World Cup, and a number of international matches of the senior national football team the Super Eagles, the stadium seems to have receded to the background.
The magnificent Godswill Akpabio Stadium, Uyo seems to have stolen the show as far as hosting the Super Eagles is concerned.
There are strong reasons for the use of the Godswill Akpabio Stadium. The Akwa Ibom State government's willingness to float the costs of hosting the Eagles is one.
However, Abuja remains Nigeria's capital and it is disappointing that the very beautifully conceived Abuja National Stadium would be abandoned totally.
Abuja could go down in present history as the only capital of a major footballing country to be denied the right to host matches involving its national teams. This doesn't sound right.
While it's important to diversify the presence of the national teams from time to time so that all parts of the country can get a fair chance of watching their darling national teams, it is also important that the Federal Capital Territory get the respect it deserves by being the central focus of major events of the country.
Fine maintenance culture involving stadia in Nigeria is not something that could be proudly spoken of. The National Stadium in Surulere, Lagos, has long died.
The Abuja stadium is reportedly drifting to a similar sad end.
One hopes that Nigeria would for once be bold to stop this rot and reverse the bad impression of its culture of maintaining nationally important facilities.
The hope is that honest and intelligent effort would be put in place to see the beautiful Abuja national stadium host major football matches again.
This bold effort should include not just renovating the stadium alone but, as well, making it logistically easy for people to turn up at the stadium in high numbers for not just football games alone, but also other national and international sporting events.
Source Daily Sports
Posted May 30, 2018
---
You may also like...

German President meets Özil, Gündoğan over controversial visit...

It's a lie; I didn't beat Warri Wolves...

Kane signs six-year Spurs deal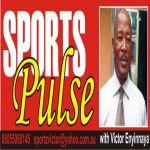 Still on the Nigerian Awards for Sporting Excellence...

Friendlies: Junior Ajayi reacts to Super Eagles call-up...