Trump's misguided pressure on Nigeria and Africa to support US World Cup bid counter-productive
By Daily Sports on May 2, 2018
Views: 1,365
US President Donald Trump can't seem to help himself from controversy. The controversy over how he won the US presidency last year is still raging with Special Counsel Rob Mueller looking at possible illegal collusion between the Trump campaign and Russia.
Then we have the Stormy Daniels case, where the model is accusing Trump of paying her to shut up about their fling some years ago.
Of course we know of the President using Twitter to cause a lot of trouble from time to time.
Now, President Trump has his eyes on making sure that the US wins the hosting rights of the 2026 FIFA World Cup and has started a controversial move to pressure African countries into voting for the US bid at the expense of their African brothers Morocco who are also in the running to host the World Cup.
A recent piece by Jacob Weindling on this latest cunning move by Trump and why it's not going to help the US bid captures my thoughts perfectly.
Here's the part of the article for your consumption:
"Maybe the singularity that all futurists have predicted already happened, except it wasn't man melding with machine, but reality with satire to form an indistinguishably new dimension of complete and utter madness. If you ever obtain the ability to time travel, take this next sentence back to your past self, just to see your reaction. President Donald J. Trump held a press conference in the White House Rose Garden with Nigerian president Muhammadu Buhari, and implored him to support North America's bid to host to 2026 World Cup, saying "I hope all African countries and countries throughout the world that we also will be supporting you, and that they will likewise support us in our bid along with Canada and Mexico for the 2026 World Cup."
The president also took to Twitter to campaign for our bid, while issuing a veiled threat that extended beyond the soccer field.
Trump repeated his half-assed mob boss impression while standing next to the Nigerian president, saying "We will be watching very closely, and any help they could give us in that bid we would appreciate."
One problem? North America is competing with Morocco for the 2026 bid. Nigeria is not going to support North America, because, well, they're not in North America. They're in Africa. So they're going to support the African nation. It's the World Cup, this shouldn't have to escalate into the realm of diplomats. But because president brain worms is only concerned with "wins," and losing a World Cup to the African continent will not sit well with our white supremaPOTUS and his fanboys, what should be a spirited competition in rampant corruption may now spill out into the diplomatic realm.
FIFA is an international criminal organization whose front is the chief governing soccer body in the world. I mean this literally. Like any good mob, FIFA squeezed Brazil to change their laws on banning alcohol during soccer games because Budweiser (these laws were in place because lots of people died—soccer hooliganism makes American sports hooliganism look like a 10-year old's birthday party). The 2015 corruption scandal ensnared everyone in FIFA leadership, and resulted in 18 indictments of individuals and two corporations—including nine FIFA officials and five businessmen. FIFA responded to Trump's unsubtle insinuations by hilariously pointing to their ethics rules, which are located on a roll next to one of their golden toilets. Trump and FIFA sparring over "ethics" is the ultimate Spiderman pointing at Spiderman meme.
So What's Gonna Happen?
As always, the correct answer is "we don't know." Both bids have strong emotional persuasion behind them. The last World Cup on North American soil came in the United States in 1994 (the third one ever), versus the last one on African soil in 2010 (its first ever). However, looking at Africa as one large continent is the colonizer's mindset, so here's a mind-bending fact: The distance between South Africa and Morocco is roughly two thousand miles greater than the difference between London and Seoul. Or, expressed as a math equation:
(Denver to New York City) + (The right-hand side of the Atlantic Ocean to the left-hand side of the Pacific Ocean) =
South Africa to North Africa."
Source Daily Sports
Posted May 2, 2018
---
You may also like...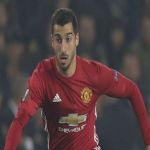 Man United ease through to knock out stages...

Terrible night for Barcelona, Madrid in La Liga...

Presidency summons Pinnick, NFF top shots

We are under no extra pressure to beat...

Omagbemi can lead Falcons to glory - Oshoala...