Trump asks Buhari and other African nations to support US World Cup bid
By Daily Sports on May 1, 2018
Views: 1,966
United States President Donald Trump has called for African countries to support the North American joint bid to host the 2026 World Cup.
Last week, Trump tweeted his support for the joint bid while also cautioning it would be a "shame" if U.S. allies lobbied against it. On Monday, he reaffirmed his stance while speaking at the White House alongside Nigeria President Muhammadu Buhari.
"I hope all African countries and countries throughout the world that we also will be supporting you, and that they will likewise support us in our bid along with Canada and Mexico for the 2026 World Cup," Trump said.
"We will be watching very closely, and any help they could give us in that bid we would appreciate."
The bid from the U.S., Mexico and Canada will be opposed only by one from Morocco when FIFA votes on the hosts on June 13 in Moscow. All 206 votes from member nations will be made public.
Suggestions of political repercussions for the vote could be a violation of FIFA's rules. After Trump's tweet, the sport's global governing body pointed to its Bid Rules of Conduct, which warn against "any undue influence on the outcome." FIFA's code of ethics have long prohibited government interference in all member countries' respective national soccer federations.
Morocco's bid is likely to earn significant support from African nations, and soccer federations from several European countries – including Russia, France and Belgium – also have announced they will back Morocco. The North American bid has the support of 16 voting nations in South and Central America, as well as Saudi Arabia.
ESPN reported in February that the race between the joint bid and Morocco already was much closer than expected, due in part to Trump's foreign policies – including a travel ban against mostly Arab countries – and rhetoric in describing poorer countries, including those in Africa.
Lingering resentment over the U.S. Department of Justice investigation into FIFA corruption also has hampered the North American bid's effort to attract votes.
•Story (except headline) culled from ESPN. Photo shows Buhari and Trump in Washington DC
Source Daily Sports
Posted May 1, 2018
---
You may also like...

Suarez Opens Up On Barcelona Exit

High-Flying Brighton Go Third After Victory Over Leicester...

Rasdford Honoured With MBE

Kalu Uche joins Indian club Delhi Dynamos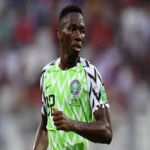 Chelsea Close In on €5m Omeruo Sale to...