Shehu Dikko Vs NANPF: Who will blink first?
By Daily Sports on April 30, 2018
Views: 21,138
By some painful calculation, wicked souls and their likes, which in broad day light call white black, evil men and women have sadly out-numbered the few good ones in today's Nigeria. Definitely, this is not the Nigeria I was born into. A nation now full of wicked, blood tasty and sucking vampires can never progress.
To put it mildly, Nigeria is a jungle in every sense of the word. Shamefully these sadists have forcefully hijacked the polity and they are spread out in strategic positions and only drinks, acts, dreams and unleashes nothing but terrific sadism that have snuffed lives out of Nigerians. They don't want to see the progress of others. They are in sheep's cloth while in the real sense of it they are wolves. This is not what the founding fathers bargained for.
Dear readers that have made this column and Daily Sports their authoritative medium today can obviously and easily feel my mood hence the way I'm sounding. Yes, the story I read from one of the last week editions of your favourite and respected online, Daily Sports blows the mind and heart put together.
I have refused to talk about the empty threats from Solomon Dalung's stooges and attack dogs on the articles that ran for two weeks on this page. While I wait for them if they have their facts than I have and the guts to do all they have poured out while threatening fire and brim stone, I did tell some of Dalung's attack dogs that 'Father is not small boy in prayer." Nothing will separate me from saying or standing on the part of truth.
I have come a long way as I have also traveled to many civilised climes to cover sporting events and came to firm grip of the carriage of their leaders. Of a truth also is that no government official or head of government agency act like God or play God as it is the norm in Nigeria.
But only in Nigeria you see these silly impunity ridden idiots, empty barrels from the head of government to their officials and heads of agencies who are nothing but loafers. They are pretenders to where ever they presently found themselves all. You don't hold Nigerian government officials accountable to their actions and even inactions. They behave and believe they are above the law. They disrespect due process and call the bluff of constituted authorities that dare call them to order.
They refuse invitations to appear to answer for their wrong doings (impunity) and other tendencies that are not of best internationally accepted practices at will. They became above the law just because the government that appointed or aided them to be where don't obey the laws of the land either.
This kind of Dark Age's attitude of theirs is only obtainable in jungle land where man is prey to his fellow man, where justice never exits.
I'm not digressing. I was near stocked on my chair when I read how Shehu Dikko, Second Vice President, Nigeria Football Federation arrogantly and without any regard for anybody turned down invitations from Minister of Labour and Employment, Chris Ngige, whose Ministry the Players body approached to resolve little disagreement between it and League Management Company (LMC).
To refresh their memories, League Management Company is the outfit vested with the authority to oversee how best and well to organised our domestic league and players are.
Let me confess that Shehu Dikko is the man currently chairing the body and inflicting heavy injuries on the players by deliberately sitting on their welfare.
The Kaduna State born was imposed on the body by NFF President Amaju Pinnick. LMC as it is otherwise called was being headed by former Editor of the Guardian Express, an evening publication of the Guardian newspapers in the 1980's. Recalled that this sitting APC President, Muhammadu Buhari jailed him with his former colleague, Tunde Thompson for publishing the truth about diplomatic posting when Buhari led his fellow military to truncate the second Republic administration of President Shehu Shagari. In short, it was during the trial of Irabor and Thompson that he promulgated and back dated the controversial and the obnoxious Decree No.4 to ensure these two gentlemen must be jailed.
They were fine and thorough breed Journalists of high note. The rest is history now.
As I did say, Irabor was the pioneer chairman of the supposedly reverend League body in the country but alas the Nigerian factor reared its ugly head. Amaju Pinnick in order to pacify Shehu Dikko who was to contest the Presidency of NFF was whisked away by security operatives until the highly flawed 2014 NFF congress in 2014 in Warri was over. He preferred Dikko over Irabor. Dikko was never there from the beginning and never knew the concept of the body. He wanted to be NFF President and LMC chairman. But because in Nigeria you don't say no to obvious demotion, Dikko accepted to chair LMC and since then, it has been from these hiccups to the other.
The stories you read in the media about LMC success story are all super stories. They are media made stories. They are not real. Dikko has not fared better in LMC. The body like most of anything Nigeria is the more you look the less you see. LMC like Nigeria is rotten. Never you be deceived, nothing to show.
How has our local league fared. What novel idea has he and his team brought to the table of its prime product, Nigeria Premier Football League NPFL. Absolutely nothing. It has been a paper tiger. There has been no kind of imagination whatsoever in the system that he runs the show. What we have witnessed more in Shehu Dikko's LMC is nothing but drabness, otherwise what would you make out of NPFL whose champion and runners up cannot survive first round of CAF Champions League and yet somebody like Shehu Dikko would still remain as head of such organisation. It is a type case of beast of no nation- let me credit the legend Afro Beat King, Fela of blessed memory. As usual, his idler boys are clapping for him according to them; Dikko is doing a 'good job.'
To be honest with you, until I read Shehu Dikko's encounter with the NANPF and his utter refusal to sign the Collective Bargaining Agreement (CBA) with the body of Nigerian Players who instantly dragged him to Ministry of Labour and Employment whose invitations he (Dikko) totally disobeyed, I never believed he could decline invitations more than twice to come and state his side of why he failed to put pen on paper.
I would agree to high heavens that Shehu Dikko is a gentleman and one of the few law abiding citizens. I will also drag it to anywhere that he is one of the few that believes vehemently in the welfare of Nigerian players, one man that cannot hurt them or put obstruction on the way to make their well being upbeat.
Until I read this unbelievable disobedience story on Shehu Dikko, I fought for him without his notice. I have been called names because of my die hard defence of him. But I have always relied on the age old saying that clear conscience fears no accusation. My firm consolation after each near bloody encounters with Shehu Dikko's detractors has been after all, I'm someone nobody can ever convert into being his or their hired writer. After all, too I'm not among his League matches assessors or whatever name he tags them.
Truth however is that I like religion traversed, the landscape of league centres across the country, analysed and adored one page of Saturday Times during my ever memorable and very keen years in the old good days prestigious and influential Daily Times of Nigeria (DTN). The records are there. My passport Pix under the name Victor Enyinnaya, Pulse of the Big League in the Daily Times of the old from the 1990's till early year 2000 can be readily found in the libraries. I was so compassionate and passionate about the true growth, the welfare of League of players and sundry.
Let me confess that I was Shehu Dikko's diehard fan until he in one fell swoop squandered it by his reported act against the Nigerian players who is supposed to be his number one fan.
To be honest with you, since the story of his refusal to honour the harmless and supposedly august invitation from the Ministry of Labour to iron out rough area (s,) if any, in the Collective Bargaining Agreement (CBA) with the Dairu Sadi led NANPF for the NPFL players broke, his estimation in my eyes dropped drastically. It is an open secret that the players have been sharply short changed by State governments dominated Football Clubs.
It showed his insensivity on the obvious plight of NPFL players who are milked dry by these politician governors that use their various teams to play their local politics. All the States that have teams in NPFL are guilty of this dastard and unwholesome practice.
It beats my imagination why Shehu Dikko of all people chose such inglorious path. This column condemns in strongest terms the silly attitude of Shehu Dikko towards what would benefit the long suffering NPFL players. Though one is still at a loss to fashion out vividly why he behaved the way he did.
Nobody has refuted the story in any form. His attack dogs have displayed postures meant to confirm that every word about his disregard to attend a meeting that would solidify the feet of NPFL player is true. It calls for sober reflection. It further exposes the sitting President Buhari/APC government of their hypocrisy on human rights and obeying the law of the land. If Dikko, a second Vice President of a government agency could refuse to answer or attend a meeting scheduled to amicably settle any disagreement area (s) in the NANPF CBA the Footballers Union wants to sign with LMC head for the benefit of the hard working but highly starved NPFL players, then things has indeed fallen apart.
What must have hardened Shehu Dikko's heart is that after all, the sitting government does not believe in the welfare of workers. He may cite the lingering strike of Joint Health Workers across the country. He will also readily show many instances that the Buhari government has disregarded Courts judgments and sundry.
My disappointment in Shehu Dikko is that I thought he knew where to be man enough and refuse to follow multitude to kill fly with a sledge hammer. His attitude on the subject matter left much to be desired. It also left sour taste in the mouth because few of us that don't look for or depend on their life threatening and bondage patron thought is one of the equally few civilised in the very arrogant board headed by Amaju Pinnick. Henceforth he has lost me. Anybody that is in the position to better the lots of NPFL players and improve drastically the value of the league but proved along the way to be a leperous hand among the healthy won't get my sympathy when the law of nature catches up.
Law of nature is real, active and impartial too. Any injustice meted out to a fellow man if not redressed speedily would definitely come backfiring sooner than later. By this act, Shehu Dkko has murdered sleep and ought to sleep no more. But this is no country. It is a place where justice has no place. But this is a country God designed to be a paradise judging from the heavily endowed resources both in human and material things, but it has proved to be paradise disfigured by her empty brain leaders who trample on the citizenry with all stupidity, thinking they are winning. Theirs are short-lived 'victory' which would crumble as pack of cards for the people to decisively take steps over their rightful commonwealth that have been criminally cornered over these years.
It will come like a revolution whose time has come which no army in the world would be able to stop.
My take is that Shehu Dikko like his fellow emperors would be conquered. People like Shehu Dikko have proved to be victims of history which has never spared them. By this, Dikko has taken his place in the refuse dump of history. If he retraces his steps and turn a new leaf, it will be his saver at the end of the day. We have seen the oppressor and his poor end.
What really did he intend to prove? My few questions are for him.
One: Who does he want to impress. Two: What is the content of the CBA that scared him from attending the meeting two times that he is afraid to sit on a round table to discuss and resolve. Three: Is he comfortable with the state of NPFL players. Four: What has he put on the table for NPFL players that would stand as witness for him at the end of his suffering tenure? Five: Has he truly confirmed the insinuation making the rounds that he and his men connive with these rogue governors to deprive NPFL players of their rights. Six: Is it true that he told some of his confidents that he would muscle the NANPF and its towering tendencies to prove to them that they knew next to nothing and would never dictate to him what he would implement for NPFL.
These questions and more beg for answers and Shehu Dikko must prove them or still harden his heart and be an emperor he has metamorphosed into. Emperors and the wicked end brutally.
The ball is on the court of NANPF executive to give this utmost challenge by LMC chairman a meaning. It is the beginning that will make or mar the Union. If you missed the story in our edition last week, this is a recap:
LMC Boss Dares Ministry of Labour and Employment *Shehu Dikko doesn't have respect for Nigerian players — Austin Popo
The League Management Company, LMC boss, Shehu Dikko, has on two occasions shunned the Ministry of Labour and Employment's invitation to bring an end to the disharmony and misunderstanding between the LMC and National Association of Nigeria Professional Footballers, NANPF.
For the second time in thirty days, the LMC refused to honour the Honourable Minister of labour and Employment invitation to mediate in the disputes between the LMC and the players' Union over the non-refusal to sign the Collective Bargaining Agreement (CBA) with the Union.
This time, there was no communication from the LMC as to why they did not honour the invitation. Unlike the last time, when the league body wrote a letter in the morning of the meeting that they could not make it to venue of the meeting because Shehu Dikko was not in town.
The Director of Labour, Mrs. Amahian J.E who represented the Minister of Labour and Employment expressed displeasure over Shehu Dikko's absence for the second time in one month.
While the Union promises to wait for the Ministry next line of action, NANPF will alternatively strategise to perfect other plans through the Trade Union Congress, TUC to press home its demands.
Secretary General of the Union and former Super Eagles player, Austin Popo frowned at LMC boss nonchalant attitude over his failure to honour the invitations for two consecutive times in 30 days. The angry former Super Eagles player told BSN Sports: "It's just unfortunate that we have someone like Shehu Dikko as LMC chairman. This is a man who is not interested in the development of the game as well as players welfare."
TUC representatives were present in the meeting, also at the venue from the Union are comrades Dahiru Sadi MFR, President NANPF, Austin Popo, General Secretary and Clement Temile Director of projects.
This is assault on collective intelligence of all. Sadi, Popo and others must brace up for this war declared on the Nigerian players by Shehu Dikko, the same players that entrusted LMC topmost position on his hand just for a period. It not only your war, but the wrong must be made right. That is the legitimate thing. To say it point blank, the dice is cast.
Join our social media handles Twitter, Facebook, WhatsAPP and Linkedin let us further examine this shame of Shehu Dikko. Shehu should be reminded if he has forgotten in a hurry that No Condition is Permanent. Keep shooting hard, till next week!!
Source Daily Sports
Posted April 30, 2018
---
You may also like...

Middlesbrough Confirm John Obi Mikel Departure

Iwobi could be like Payet in a few...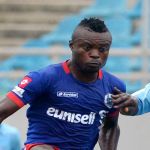 Weli shifts focus to Heartland tie

Godwin Saviour's Belgium Player of the Week

Ex-Enyimba Coach Sues Club over N3.4m Debt