Brook eyes the ring by end of 2017
By Daily Sports on June 22, 2017
Views: 1,063
Kell "Special K" Brook plans on getting back in action by the end of this year after his successful surgery on his left eye socket.
Brook, 31, had surgery on his left eye to repair his fractured orbital bone on June 16, after an earlier surgery on his right eye last November. Brook's eye is healing quickly, and he feels confident that he'll be able to resume his boxing career in 2017.
Brook has said that he wants to fight Amir Khan. That fight might not be doable in 2017. It will depend on Khan.
He's the one that has seemingly been dragging his feet in making the Brook fight for the last couple of years.
This is an ambitious timeline for Brook in him wanting to get back inside the ring so soon after such a bad injury.
Last November, Brook's right eye socket was broken by middleweight champion Gennady "GGG" Golovkin in a fight in London, England. The injury forced Brook's trainer to throw in the towel in the 5th round. It's unclear whether the new injury to Brook's left eye is related to the previous injury or if there's a weakness in the bones of his eyes.
The left eye injury came from Brook's last fight against unbeaten Errol Spence Jr. on May 27 at Bramall Lane in Sheffield, England. Brook (36-2, 25 KOs) gave Spence all he could handle before his eye problem caused him to bow out of the fight in the 11th round.
Brook took a knee and was counted out by referee Howard John Foster. At the time, Brook's vision was blurred from his injured left eye. Brook was no longer fighting effectively because his blurry vision and the pain from his injured eye.
"I spoke to the surgeon and he said that the operation was a big success and simpler than the last one," said Brook, adding, "I expect to make a full recovery and I want to fight again in 2017".
Source Daily Sports
Posted June 22, 2017
---
You may also like...

Shanghai Masters: Rafael set up Dimitrov quarter-final

Nigeria offer 2018 World Cup ticket to Germany...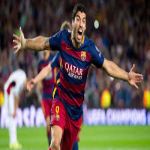 Suarez double, Messi magic hands Barca derby delight...

Jeff Horn targets Amir Khan fight

Caroline Garcia beats world number one Simona Halep...