Women football: Aisha Falode's vision
By Daily Sports on April 3, 2017
Views: 28,936
Nigeria football family finally lost Paul Hamilton, alias Wonder Boy, last week Thursday. As a brave warrior, he fought until when his creator said, "My son, it's time to come home." He is gone. Daily Sports family mourns him.
This week we resolved to shift attention to Women Football, which has been in limbo after the tenure of the very imaginative tenure of Chief Mrs. Dilichukwu Onyedinma as Chairperson of Nigeria Women Football League (NWFL) came to a successful end. However, the leadership of the NFF failed to organise election into the board for flimsy excuses, best known to Amaju Pinnick and some of his executive committee members. However, investigation had it that it does not want Onyedinma back to that leadership position. Her offence: Independent mindedness and an agenda for Women Football.
It lingered until a few months ago when Amaju Pinnick picked Aisha Falode as Independent Chairperson and a few others as directors to preside over the affairs of Women Football in the country.
Let me make it abundantly clear here that I don't have anything against Falode and her team, rather what I have often said without any prejudice is the way and manner Amaju suppressed electoral process and enthroned Sole Administratorship.
It is also instructive to posit that I'm about the only Sports Journalist, still on the beat, that covered the very maiden edition of Africa Women Championship (AWC) held at the MKO Abiola Stadium, Abeokuta in 1998 where Super Falcons won the trophy. I was reporting for the then Daily Times. It was memorable when the then first Lady, Justice Fati Lami Abubakar presented the Cup to Florence Omagbemi, then Captain of the team.
I also have the honour to have covered AWC for five consecutive times, with the most lingering memory being Nigeria 2002 AWC held in Warri where most of the first generation, result oriented Super Falcons players like Patience Avre, Florence Omagbemi, Ann Echiéjilé etc. retired after the overall victory at the keenly contested football summit. I was still of the then Daily Times.
I remain one of those then reporters that made Women Football thick and popularized it through unbiased reportage, analysis and advocacy that helped grow it tremendously before it was hijacked by lousy and noise-making 'reporters'.
The likes of Bola Ngozi Jegede, Veronica from Rivers State, Ayo Omodirin who specifically I sat down with in her Oshogbo palatial home to discuss the way forward for the development of that category of football in the country. That meeting led to her immediate repositioning of the rested Omodirin Babes.
The interaction then based strictly on what should be done to rapidly grow this game. They all served in the then NFA.
Now outsiders are ripping the gains. I'm glad that history crafted our names in diamond so far as the game is concerned in the country. Sad though, that we are in a country where only noise makers are recognised as real people. Those that hijacked Women Football formed all kinds of quasi and demi associations as platform to grab attention and what have you.
Today, they declaim themselves messiahs of Women Football in the country and due to the crude system that recognises short cut and pretence, they are the ones there today, clowning about.
One is not regretting a hoot. I'm by nature not a loud person and by extension not an attention seeking Journalist either; and so it's extremely difficult to go down just like that.
No matter how Falode came in to lead the game today in the country, my heart goes for her. What you won't take away from her; even her greatest critics know, is her first rate passion and interest for the game.
I met her first in AWC 2002 in Warri, she was on CAF duty. I vividly recall an incident that brought us face to face. Internet was new then, I ran into hitches trying to file stories to Daily Times in Lagos, the Sports Editor was on my neck and the cost of internet service was killing.
As I was battling with that, and then turned to my right side, Aisha Falode was busy doing other things, pronto, I beaconed on her, and she came and got me out of that mess. I heaved a sigh of relief, my stories sent to Lagos and the Sports Editor then at loggerheads promptly called to hail me for being resourceful from the beginning of the championship. He then nicknamed me Exclusive Victor, my colleagues then on the very vibrant DTN Sports Desk can attest to this.
Aisha Falode has good intensions for the sport no doubt. Foremost, she has been encouraged to meet one of her greatest desires, to lead Women Football in the country, which she tried severally through election and failed.
One of her strongest points is her doggedness to squeeze water out of stone. She can be outspoken when she chooses to. She also knows her worth when it comes to administration, despite the fact she did not play the game. She could do well if given the backing by NFF and corporate bodies. She has a laudable blue print for the game, players at all levels, technical crew and others.
She talks less and believes in action. She is connected and will use it for the vast improvement of the game. She will like to prove her critics wrong by belling the cat. It looks set that change is knocking glowingly on door of Women League as she strategises to see how she will navigate it back to the early years when it was the talk of the town.
A well placed colleague who is very close to her confided in me during our interaction last week that she is keen to reposition Women Football and making it as viable as their men's counterparts version. According to that credible colleague, she is hell bent on ensuring that she gets it right and harvest optimally. As a result oriented Mama Sports, there is nothing she sets her eyes on that does not get to a logical conclusion. She is trusted and tested too, according to the colleague.
I agreed with my colleague because I have not known him to talk on drop of a hat. I recall telling him that Falode looks like a positive person and I won't be surprised if she re-invents Women League. Head or tail, all eyes are on her. She is on a hot seat. And let me confess that she is lucky to have the intelligent, unassuming and workaholic Nkechi Obi as Chief Executive Officer of NWFL. If she works together with her, we should start singing Women Football has come! She looks visionary. She must be open to enquiries and constructive suggestions. Women football is nobody's exclusive right.
It is my belief that her lofty dream of bringing Women Football out of this lowest ebb would materialise with raw zeal, interaction, and openness devoid of colourations. We wish her well because uneasy lies the head that wears the crown. If it fits her, time will tell. Her approach to all and sundry would also count. Hers is such a demanding job.
As if that big colleague was reading her mind, here comes Falode's interview the other week and your number one and Nigeria's best online portal, Daily Sports ran her vision for the game. See this headline – NWFL Supremo: Aisha Falode reveals plans to restructure women's football in Nigeria . . .
As the 2016/17 Nigeria Women Football League (NWFL) got underway. Independent Chairperson of the board, Aisha Falode has declared that the mandate given to her team by the Nigeria Football Federation (NFF) is to ensure that the league gets a face-lift, proper restructuring and befitting standard.
According to the member of CAF media committee, whose success story as a sports journalist stems from her involvement in both sports and radio broadcasting, the plan involves ensuring restructuring and building a strong and capable human resource base at all levels of Nigerian women football.
"It's our duty to look at the structure and see how Women's Football in Nigeria gets the needed attention and affinity with the audience. Women's Football has what it takes to enjoy some visibility . . . but it's going to take a while.
The point is that everyone believes we have done the same thing over and over again. It's time to adopt a new approach when going forward.
We need to look at a new strategy that we think would work. That's basically what this new board is all about," she said.
"The new NWFL board has been created to embark on a transformation mission. When we talk about women's football in this country the focus is usually on the Super Falcons, Flamingoes and Falconets. In club football, the vast popularity of Rivers Angels, Pelican Stars, Nasarawa Amazons, Ibom Angels, Sunshine Queens and Delta Queens is obvious. There are over sixteen professional clubs in this country. The plan is to expose and make them visible.
"In the past the league didn't have a stable calendar and clubs weren't obeying the laid down rules and regulations. The game is all about rules and regulations. No club will be punished for violations of rules and regulations governing the NWFL but sanctions will be applied to non-compliance as contained in the appropriate sections of the Rules Book. We will continue to dialogue with clubs and hope that they come through the open door of our good intentions for the league for clarification on
grey areas."
The highly experienced administrator further revealed plans to revamp women's football in Nigeria.
"That's the brief that we were given by the NFF. The board brought out the structure, one that will be a -16-team league and clubs being divided into two groups. We looked at economic factor. Why are teams not respecting their fixtures even when they are playing at home? We want to look at the financial burdens of the teams and players' welfare. All these cannot be possible if you are not financially independent."
Is the new board a model just like the League Management Company?
Falode added: "It's the same blue print. What the LMC has done with the Nigeria Professional Football League (NPFL) is now working after so many years of hard work. We are beginning to see the gains of the top flight for men's game. We want to see how we can adopt the model of the NPFL to the NWFL and see what happens. Hopefully in the next two or three years we would have attained some stability in terms of passion, followership and financial gains.
"The participants for the Nigeria Women Premier League (NWPL) campaign are defending champions Rivers Angels, Bayelsa Queens, Heartland Queens, Sunshine Queens, Ibom Angels, Abia Angels and FC Robo Queens. Others are Nasarawa Amazons, Osun Babes, Delta Queens, Confluence Queens, Adamawa Queens, Edo Queens, Pelican Stars and FC Saadatu Kolo Amazons."
That was vintage Aisha Falode, a smooth and daring operator. A woman of great guts on whose shoulders the burden of Women League has fallen. She not only needs the prayers of all lovers of the game but also God's wisdom to actualise all that she has highlighted above.
Daily Sports would as usual applaud when and where necessary as partners in the re-engineering of the sport. Where we will point to errors, trust, it would be constructive and developmental too. Women football is battered. It got bad image even from within the NFF. Naked statements from the supposed bigwigs sacred would be sponsors. All these and more are what the Falode led team would go the extra mile to tackle for positive results. She needs our unparalleled and unflinching co-operation. In my mind, she is competent for the job and we are sounding her out.
I don't envy her on this assignment but one prays for strength and sound health for the service of fatherland. No doubt she has sound mind, character, willingness to set the tone. As we keep our fingers crossed, keenly watching and urging her on, he must be open to information required from her to avoid speculations. There should be no arrogance and discrimination of any kind. The attitude that he/she is not in my list of contact must be done away with forthwith. She has been in CAF and nobody would tell her the importance of openness to the media. A word they say, is enough for the wise. She has the leeway to craft her name in diamond so far as Women Football is concerned. What is essentially required is right attitude. The hour is here and ticking too, The truth is, she has a date with history, Chikena!
Our discussion continues on Twitter and WhatsAPP. Keep shooting hard, till next week!!
Source Daily Sports
Posted April 3, 2017
---
You may also like...

Infantino Open To Changing Offside Rule

Edo Aiteo FA Cup: Royal Force eliminate another...

Man City Cruise Into Champions League Quarterfinals

Ajagun thumbs up team, coach; charges Rivers United...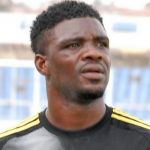 'Eagles won't fail WCQ test'