Conte could stay at Chelsea 'forever' – Emenalo
By Daily Sports on January 6, 2017
Views: 9,212
Antonio Conte has the chance to stay at Chelsea "forever" after winning over everyone at Stamford Bridge with an impressive first half of the season, according to the club's technical director Michael Emenalo.
Conte's impact has been spectacular since he decided to switch Chelsea to a 3-4-3 formation in late September, while he has also made an effort to integrate himself with the club off the pitch, making unexpected appearances at staff Christmas parties and buying everyone at Cobham festive presents.
Emenalo says that Conte has brought title-winning ambitions back to Chelsea after the worst season of the Roman Abramovich era, and believes the Italian is justifying the reputation he established during three historically successful seasons in charge of Juventus.
"Picking Conte [as Chelsea's new permanent head coach] was not as difficult as it was actually to get him," Emenalo said in an interview with Sky Italia. "He was Italy's manager in a country which loves football. We were impressed when we came up against him when he was at Juventus [in the Champions League in 2012-13].
"He has brought with him not only great tactical preparation, but also his approach to games. The players love him and we love him too. There is a possibility of him staying here forever, he's really great.
"I think that we always ask our manager to win us the title! Joking aside, we did talk about it — I don't think any manager feels they are obliged to win the title because obviously there is only one side who wins it in the end, but you never say to a manager that they don't have to win it.
"You can offer him your support, give him the resources to be competitive and then it depends on him to define the objective. It was Antonio who talked about winning the title, but then again he would not be a world-class manager if he were to say 'no, I just came here to be competitive, not to win things.'
"At the same time, we are aware of the fact that we finished 10th last season and there are a lot of aspects that need improving. I think that without getting obsessed about it, we all know that if things go the right way, we do have a good chance.
"We've not won anything yet, but we know we are competitive and that we are in the exact position we wanted to be in."
Chelsea face Tottenham at White Hart Lane on Wednesday bidding to extend their lead at the top of the Premier League to eight points, as well as break the competition record for consecutive victories by winning their 14th match in a row. (NAN)
•Photo shows Antonio Conte
Source Daily Sports
Posted January 6, 2017
---
You may also like...

Probe into alleged bribery in football opens after...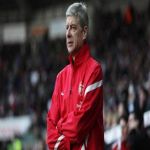 I Won't Go Back To Arsenal Even If...

Liverpool Legend: Mane And Salah Could Leave For...

Pele thumbs up Brazil to win sixth World...

Loew Hospitalised After Freak Dumbbell Accident