2018 World Cup Qualification: Gernot Rohr's worrisome alarm
By Daily Sports on September 12, 2016
Views: 4,892
Last week's write up on Nigeria Football Federation's refusal to pay its former employee, Coach Samson Siasia his months-long unpaid salaries was a good copy and so it drew large number of calls, the good, the bad and the ugly.
Let me without any iota of delay say thanks to those that thumbed up the depth of the article and its presentation; and of course those that not only called the writer names but also told EFCC to probe this reporter. Some of the things they said were unprintable. But despite being raw and vulgar, I still say thank you all. These are my greatest fans that not only put me on my toes, but their actions and inactions make me stronger, bolder and more daring.
My reassurance to my core fans, Sports Pulse won't cave in to these open and unwholesome day light blackmail of sponsored agents. We will continue to stand on the side of truth since there is nothing else that can set us free than that five letter word. However, if you read the write up, let me ask: Where, did l go wrong? Why would people go to that length? I am not lamenting, but it is sad.
I don't know if you keenly followed the recruitment drive of the NFF Technical Committee for the Super Eagles technical adviser's job. I did, for as long as it lasted. The first was the shame that trailed the ruse employment of French man, Paul Le Guen and thereafter, the vow by the Technical Committee Chairman, Barrister Chris Green to redeem the hopelessness and then recommend one for the team with full compliments of his fellow committee members. Truly, it came to pass on schedule.
Pronto, a German, Gernot Rohr was engaged with the announcement to Nigerians that the former Cameroonian tactician agreed to work and live in the country, accepted working with indigenous coaches among others. Foremost, NFF further told us that the gaffer assured he will qualify the country for Russia 2018 World Cup summit. Nigerians including the writer applauded.
He has resumed and also led the country to beat Tanzania's Tafia Stars 1-0 in a formality AFCON 2017 qualifier match played in Uyo, Akwa Ibom State. Though, his apartment in the Utako area of Abuja is yet to be ready. It is instructive to note that before and after the game, the German has been speaking on his preparations for the tasks ahead of him in the team. He is also complaining about the pitches in the country using the Akwa Ibom Stadium as a peg. It shows trouble looms.
After the encounter, he told Nigerians that the boys lack confidence, which he quickly attributed to the ups and downs; difficulties and crisis, the team has gone through via Nigeria's painful back to back absence from AFCON championships. He however promised to restore back the confidence. He told us that the nation has good players he would work with to realise the 2018 World Cup ticket dream. Give to him also, he hinted of his desire to recall Vincent Enyeama who NFF and its former kindergarten coach, Sunday Oliseh hooded out of the national side.
To pundits and analysts, it remained the best option any serious minded coach that set his eyes on success would take, working with quality players that would turn in the expected result. He equally said he would fortify the defence line to make it more potent than ever.
To be honest with you, these steps drew me nearer to him and I started clapping for him even when others stopped. I had already gone out of my way to tell some mutual friends that this man has a grip of what is wrong with our dear national side and with the right mind set and 'medication', the Eagles will fly higher again with him in charge.
But I was alarmed on Friday, September 9, when l read a certain Sporting paper where Rohr shocked me to the bone marrow. He led us into how far his discussion with former Eagles captain, Enyeama has gone. In summary, there seems to be glimmer of hope that the former Enyimba FC safe gloves will reconsider his earlier decision on the national team.
What jolted me most was his repeated declaration that it will be difficult for the Eagles to qualify for the World Cup 2018 in Russia. His reason was that Cameroon and Algeria have more quality lads than Nigeria. He insinuated that he would do all within his power and experience to ensure Nigeria qualifies from the group as a surprise team. That is an insult, to say the very least.
Nigeria with all her mighty spiced with abundant talents is being described as such. I did a hearty laugher and later said to no one in particular, it serves the so called administrators right. It burdens my heart that Nigeria in the 21st Century still believes that the salvation of our football technically lies with the expatriates.
I don't know whether you saw the kind of danger that lie ahead for Nigeria in her campaign and quest to pick the sole slot in the group of death. Rohr himself knew it is group of death. He added that he wants Enyeama to be between his posts because of his vast experience.
The German further revealed that he started following the FC Lille goal tender from his days in Enyimba, how much he contributed to the Aba based billionaire team's successes in her back to back in Africa's premier club football competition.
Enyeama has confirmed his lengthy discussion with the Eagles technical hand stressing that he told him to give him few days to think about it.
I don't want to raise unfounded dust. The German has said where the problem is coming from. The NFF leadership must not close its eyes or block its ears on this obvious Rohr hinted.
The NFF must stand up now to ensure it will swiftly fix where-ever there are patchy parts that may derail our march to Russia as presented by the technical hand. He has sensed danger ahead our qualification and has let the cat out of the bag. Reminding us that Cameroun and Algeria are the favourites leaves sour taste in the mouth.
It is obvious that the coach is already signaling danger to the country's desire to be in the World Cup in Russia.
I have a few questions for Rohr. One, could this outburst be an afterthought? Why did he tell the technical committee point blank he will lead the squad to pick the group's sole ticket for Russia 2018 World Cup tournament?
Why the alarm this time? Is he sort of telling us in case the country fails to qualify from the group? There are more mind bulging questions that one finds difficult to put across. He should be summoned by his employers immediately for far reaching explanations. I know he has reasons for this panic. The atmosphere of his meeting with NFF must be cordial so that he would strategise with them on the road to bell the cat. Fact remains it is worrisome and moral killing.
The country's fans are low spirited because our team has performed so dismally of late. Therefore missing out of Russia 2018 would sound like a final death nail for the country's football. What is required at this time is, all hands must be on deck practically not the cosmetic way we do handle most urgent issues which backfires at the end of the day.
The German has given us a clue of what faces us and pretending as if we do not understand what to do to give him a resounding support to accomplish our collective purpose of flying our flag in Russia come World Cup 2018 must be discarded forth with. It must not be swept under the carpet. It is an alarm bell.
There should be no room for doubting Thomases so that we will not cry 'had I known' at last. Nigeria is vulnerable so far the impending World Cup qualifiers are concerned; Rohr's revelation must be taken head on with concrete moves lay for its successful outing. Nigeria must be in Russia 2018 World Cup. We must not accept nearly this time. The German has looked at the future and identified which seeds that will germinate and the one that won't. I pray God to give the Amaju Pinnick-led NFF the wisdom of reading his lips and act same, whether we will qualify as surprise or miracle team from the group would be out rightly immaterial to us. We want to be in Russia.
My take here is, let's get cracking. Rohr is not blowing hot air. His apprehension is not unfounded too. Those that have the task of ensuring the nation picks ticket to Russia World football festival must work assiduously, closely and foremost be proactive. We need action rather than all motion, no movement.
All forms of arrogance must be thrown overboard. This is a Nigerian project. The only sport that not only unites us but uplifts us will be on the brink of extinction, if out of our usual lackadaisical attitude we fail ourselves to be in Russia 2018. No more, no less.
He is working for Nigeria to succeed by going all out to fish out quality and reliable players that will withstand the insensitive pressure from the Desert Warriors of Algeria and the Indomitable Lions of Cameroun which he has expressed fears for. Enough, they say is enough!
•Victor Enyinnaya can be reached via 08055068145 (sms only) or by e-mail via sportzvictor@yahoo.com.au
Source Daily Sports
Posted September 12, 2016
---
You may also like...

BREAKING NEWS: Former FIFA President, Joao Havelange Dies...

Nations Cup: 20 Players Light Up S'Eagles Camp...

Wales Captain Ashley Williams punctures lung in game...

BREAKING NEWS: 12 trapped footballers, coach rescued from...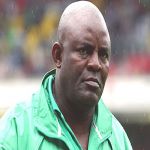 Maximum points against FC IfeanyiUba excites Chukwu *Says...