Senator John Enoh Applause! But Watch Your Back Hawks Hovering Around
By Victor Enyinnaya on September 4, 2023
In this week's column, the columnist would X-ray the new Sports and Development Minister, Senator John Enoh.
I was in his tour of the National Stadium Lagos on Thursday last week. The energetic Sports Minister effortlessly like an elegant stallion galloped through the length and breathes of the expansive Sports City that has been shadow of itself of late.
Many other Ministers have in the past came calling and at the end of the day told the sporting Press and numerous fans what they wanted them to hear. In short, it was all rumble rousing of all motion, no movement.
However, let it be instructive to note that I lost the count when I was in the Minister's tour of the decayed National Stadium Lagos. This time, I accepted to be there on the diplomatic persuasion of very hard working and articulated Chairman of the Lagos State Chapter of the Sports Writers Association of Nigeria (SWAN), Olatutu Oladunni who as usual was at her best during the entire exercise.
I followed the Minister from beginning of the tour that spanned hours to last stop at very posh - Nigeria Olympic Committee (NOC) secretariat, where the Distinguished Senator, John Owan Enoh had interactive session with the Media where within me, I had fears that he would receive in full dose his worse baptism of fire from colleagues roaring to go.
To my surprise, Senator proved me wrong answering all questions with utmost ease and never acted like a first timer. He quickly mixed up resoundingly with his audience. He showed gritty to every question asked, no matter how ticklish and cunning.
During the tour, the Minister exhibited himself as an intelligent, articulated fellow, suave and above all, disarmingly unassuming. My curiosity was confirmed during the media session where he, with all ease, after addressing his audience during questions and answers, again showed resilience and held on the job he was sent to do.
His grab of the situation was so dripping as if he is not a first timer on the sports beat as Minister. He had swell time with colleagues and one would not forget the intelligent contribution by Lagos State Chairman of SWAN, Olatutu Oladunni, a diplomatic personnel which read thus: "The new Minister, you should incorporate SPORTS DIPLOMACY which will establish a bilateral collaborations and foreign relations with nations who are sports oriented so as to enhance generation of income via sports. The Sports Minister embraced the idea and said it is already going to be his main point of Agenda of SPORTS DEVEOPMENT.
The Lagos SWAN chairman added that her hopes and that of the entire SPORTS writers in the State and indeed Nigeria, is to see a better spirit of reinvigoration of undiluted and uncompromised spirit of service delivery, that will have direct impact of positivity on the sporting family and sports sector in general.
Oladunni also recommended special welfare package for sportsmen and women past and present, adding that they have been neglected for too long. She further stressed that we should focus on their welfare which includes financial, psychological as well as emotional motivation. They also needed proper education and reorientation to help them avoid issues with doping. Recalled that the SWAN Lagos chapter boss had earlier decorated the Minister and presented him with a gift on behalf of members of SWAN for his glowing sportsmanship, humility, warmth disposition, leadership and accommodation.
As President with that iconic mantra of renewed hope, in his wisdom, appointed and sent the former Senator from Cross River State to man Sports and Development Ministry, knowing the importance of that sector amongst our teeming and budding youths who are eager for laurels in sports.
To this columnist who has covered international sporting meets severally, no doubt would vividly say that the choice of this Minister of Sports development was apt and without any equivocation too. The Minister sounded vehemently as one who is ready for this enormous workload.
He has signified great willingness to tackle some of the problems which have been confronting sports headlong, before his time is up. He looks set as he has identified the problems. While the Minister has glowingly pointed out the pitfalls against sports development and also told us how he would go about doing what he could and as laudable as his intentions are, availability of funds would determine enduringly how far these his great intentions would go.
Senator John Enoh has demonstrated that he knows where he is going to. He has great good heart to work. However, he should be watchful of those who hoover around the corridors of power doing the hatchet man's job.
Truth is that many independent observers applause your foresight on sports since after your significant tour of the National Stadium Lagos.
I will anchor this on that as we watch events as they unfold. You have started on strong footing doing the talk depends on the availability of funds. One prays that who sent you to Sports Ministry would do the needful.
We will keep shooting hard till next week. Meanwhile we wait!!
Source Daily Sports Nigeria
Posted September 4, 2023
---
You may also like...

Ahmad, Samoura insist Nigeria has key role in...

Rob Cross beats retiring Phil Taylor to win...

Poor organisation threatens to mar Lagos City Marathon...

Ikhana rolls up sleeve for Pillars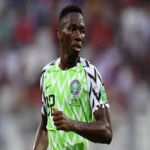 Chelsea Close In on €5m Omeruo Sale to...