The Battle For The Soul Of Nigeria: The Race Question?
By Victor Enyinnaya on May 1, 2023
I do not know how most readers would understand or interpret this week's article, because of the way and manner Nigeria and some Nigerians understand some things especially, when it is in favour of their kit and kin, but if it turns the other ways round, the affected person and his tribe becomes something of little value before their detractors. That has been huge deficit and such has been the trouble with Nigeria for a long time. On that inflammable note therefore, things have gone amiss in the entire polity.
This narration is apt this time because of how Nigeria has been treating Igbo race in the scheme of affairs in the land, it is obvious to all that care to tell the truth to shame the devil. This race from the Eastern part of the country has acted as the most patriotic amongst the other components that made up the nation. This most suspected, criticized and marginalized geo political zone of the country has always been on the fore front on what affects the country nationally and internationally too, going back to history even when the nation was formed.
Note that when such situation arises as it is currently in Sudan where battle for supremacy is going on and other countries have been spiritedly moving their citizens out of the war torn country, it is instructive to report that it is only Nigeria that hers has not been smooth as there has been the usual back and forth which is synonymous with her.
I digress. That is never the thrust of write up rather, it was to thoroughly emphasis vividly the vital role Ndigbo constantly play when it comes to making things work well for the country, unfortunately, they always receive conspiracy theory from some of the rest of Nigeria tribes as a payback whenever it comes to power equation in the land.
As soon as the Sudan conflict surfaced and it became apparent that the situation which has since became out of hand required countries to evacuate their citizens, the rest of Nigerian richest citizens in Africa and in the world never made any attempt to assist their own, but waiting for government that is always held down by bureaucracy. An Igbo man, Allen Onyema as usual and in typical spirit of brotherhood volunteered and made his aircraft available to bring back the already stranded Nigerians in tension-soaked Sudan.
The usual Nigeria government corruption tendencies has reared its ugly head making various agencies and Foreign Affairs Ministry to be accusing each other on why the number of buses originally meant for the evacuation of Nigerians to Egyptian border still remains joke far from being the reality.
Recalled Abike Dabiri Erawe appeared in one of the national televisions to curry sympathy from unsuspecting Nigerians by running down others who are involved in the operation of rescuing Nigerians from this Sudanese imbroglio. Nigerians won't forget in a hurry how Dabiri fought tooth and nail in fighting the Foreign Affairs Minister, Geoffrey Onyeama over what role each plays in the foreign terrain.
What we have seen more has been blame trading from participating government agencies and Foreign Affairs Ministry, than action, like other countries have done to their citizens in this Sudan debacle. The usual Nigerian blame game has been at play ever since.
Now Allen Onyeama, owner of flourishing Air Peace is being hailed to high heaven by all tribes in Nigeria because of his yet again patriotism and love for the country. These people do not mind the tribe Onyrama is from. That all important aspect to them is a nonissue for now, nobody cared a hoot for these usually common questions in Nigeria. This ever ready humane Nigerian of Igbo extraction has practically distinguished himself as pan-Nigerian citizen of great repute. Recall, history has it that when the late Queen of England, Queen Elizabeth (II) first visited Nigeria, the country could not afford a befitting car the convey her from the Airport, it was an Igbo man who offered his car to do that important assignment on behalf of the country. These are the type of contributions Igbos are known for in forging Nigeria's unity and development.
However when this same man who everyone has confessed of his sterling qualities ventures into politics and wants to vie for Presidency, there and then where he comes from would take the front seat and duly subjected to tribal and bitter politics by these same people who are holding him in high esteem today, for making his aircraft available to air lift stranded Nigerians currently stranded in Sudan. These same Nigerians praising him today will tell him that he is Igbo man therefore IPOB and cannot rule Nigeria. Even the people he brought back will tell him that they would rather vote for one of their own even if he's on wheelchair. Where is the unity and oneness?
Make no mistakes about it, Allen Onyeama has carved a niche for himself and his race i.e Ndigbo, most hated and cheated in Nigeria power game. If he contests election he will not be voted for because he is from Igbo extraction, he will be called all sorts of names in deliberate effort to rubbish him, because he is from Igbo land. The above and more have been the shame of Nigeria and the story of Ndigbo in this country which never placed any atom of premium on equity of any kind.
In my mind, if Ndigbo could come together and agree to shun Nigeria and their government, and concentrate on their self-actualization and development of their region, as a protest, they should not participate in Nigeria governance, don't accept their cheap ministerial appointments, their so called senate president or national assembly positions, let it be obvious that other tribes are ruling us as they are doing now, Ndigbo is not a tribe a few people will gang up and relegate to the background in the scheme of things concerning a country where they are stakeholders because they offer a lot to the society. I tell you, when the time comes, the hen will come home to roust
Peter Obi, the presumed winner of the February 2023 Presidential election is now struggling to reclaim the mandate given to him by majority of Nigerians which Yakubu Mahmood, INEC and ruling APC stole and announced Bola Tinubu, the result which is highly contentious and currently in Court, similar to what happened to late M.K.O. Abiola in 1993, may God spare his life from the blood sucking tyrants.
Accept this or not this raw and naked fact that Nigerians in Sudan are said to be mostly Northerners studying Islamic coursribes peolees. Again, there are many airlines owned by Northerners but none came out to bell the cat. The President of Nigeria, Muhammadu Buhari is also an unrepentant Northerner that hate Ndigbo with passion, Allen Onyeama, a core Igbo man came out boldly again to solve this national riddle despite what Buhari subjected Igbo race to, during this his infamous repressive regime. It is on record that this same Buhari ensured that INEC did not declare Peter Obi President in an election he clearly won with constitutional requirement of scoring at least 25 percent in Abuja. Sadly, Bola Tinubu that came short of 25 percent was rather declared purported winner.
Buhari who is alleged to have come from neighbouring Niger Republic is believed to be Africa's richest man as a Northerner. In spite of all these, it is the chairman of Air Peace, Allen Onyema, an IGBO MAN, who has AGAIN, in his characteristic manner, volunteered to use his planes to bring back Nigerians trapped in war-torn Sudan.
Whatever you do as an Igbo man in today's Nigeria, always remember that IGBOPHOBIA is real. In fact, there is a sense in which it can be argued that Igbophobia is the major oxygen sustaining the Nigerian state. The late literary icon Chinualumogu Albert Achebe was right when he said: "Nigerians will probably achieve consensus on no other matter than their common resentment of the Igbo." However this quote fitted vividly into this discourse is left for me and you to reason.
As Nigeria, a country of irony is put on the spot before the World today, this columnist will be on guide and vintage position knocking on door of the Nigerian Judiciary the last hope of Nigerians to redeem this horrifying image for Nigeria. Keep shooting hard till next week. Meanwhile, we Wait!!
Source Daily Sports Nigeria
Posted May 1, 2023
---
You may also like...

Castellanos: These awards help women's football

Barcelona Coach Not Convinced By Plans To Restart...

Adesanya eyes revenge against Pereira

VAR could kill football — Falcao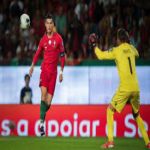 Ronaldo Moves Closer To 700 Career Goals