Kylian Mbappe: France forward misses open training ahead of England World Cup quarter-final clash
By Daily Sports Nigeria on December 7, 2022
England assistant manager Steve Holland says France star Kylian Mbappe is among a handful of players on the planet who need "special attention".
Mbappe missed France's open training session on Tuesday - just four days out from Saturday's World Cup quarter-final against England.
The PSG forward, who is the top scorer at the tournament with five goals, underwent a separate recovery session.
But the 23-year-old provides a major headache for England, whose assistant helped devise plans to keep Lionel Messi quiet as Chelsea shocked Barcelona in the Champions League semi-finals in 2012.
"I think there are a handful of players on the planet that you need to consider special attention to," Holland said. "Messi has been one and probably still is.
"You'd have to put Mbappe in that kind of category I would suggest.
"We do need to look at trying to avoid leaving ourselves in situations where he is as devastating as we've all seen. We have to try to find a way of avoiding that.
"I remember having a conversation with (Jose) Mourinho about it a long time ago when he was with Real Madrid, they were playing Barcelona and they had (Cristiano) Ronaldo.
"(Dani) Alves would be the right-back for Barcelona and flying forwards in attack, he would play a soldier against him to try to stop him.
"But then of course you don't get any threat from your team from the soldier as you're just stopping somebody, you're not actually hurting them.
"Then he would try to play Ronaldo against him, directly, one against one because Alves was fantastic going forwards but maybe not quite as good defensively as a consequence.
"There is always a plus and a minus to everyone. It's that cat and mouse of, yes, we have still got to try to deal with him but we also have to try to exploit the weakness that his super strength delivers, if I'm making sense.
"Trying to adapt your team to cover for that while still trying to create your own problems is I think the challenge.
"I would like to think we won't just be looking to stop a player but we would be looking to try to do everything possible to limit his super strength whilst still trying to focus on our own strengths because we have good players.
"Players just as likely to cause France trouble as Mbappe would be to us. We have to find that balance."
Source Sky Sports
Posted December 7, 2022
---
You may also like...

Rivers United Crash Out Of CAF Champions League...

Spain wallop Costa Rica 7-0 as Japan stun...

Forward With Eyitayo Olayinka Jegede SAN, Sportsman Extraordinaire,...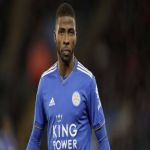 Bad Influences To Blame For Iheanacho Slump —...

Ronaldo Scores On Return From Injury