FIFA President rejects $2 million pay proposal
By Daily Sports on May 30, 2016
Views: 2,710
FIFA's recently elected President Gianni Infantino told its governing council a salary offer made to him by the soccer group's compensation committee was "insulting," according to report by German newspaper Frankfurter Allgemeine Zeitung.
The newspaper's report, based on the leak of a recording of a board meeting held before the 211-member FIFA Congress in Mexico City, bring renewed focus on Infantino's governing style. The former European soccer administrator unexpectedly found himself in soccer's top job in the wake of criminal indictments issued last year against some of the sport's top leaders by U.S. authorities.
Infantino has been under pressure since the May 13 Mexico meeting, his first as FIFA leader after his election in February. Just a day later, FIFA compliance head Domenico Scala quit, saying governing changes promoted by Infantino imperiled efforts to eliminate corruption.
Scala was on the committee that proposed Infantino's salary. The 45-year-old was offered $2 million a year, according to its former ethics adviser Mark Pieth. The figure is less than the $3 million base salary Infantino's predecessor Sepp Blatter earned in the year before he was ousted.
"I did not accept the proposal," Infantino told the council, according to the Germany daily, known as FAZ. "It was a proposal I found insulting."
A FIFA statement on Saturday reaffirmed a promise made by Infantino that he'd disclose his salary once an agreement was reached, declining to comment further. Infantino's staff didn't make him available for an interview. The FIFA president is at Champions League final in Milan.
Scala and Infantino had a troubled relationship and, according to newspaper, the new FIFA president discussed ways to remove him, including getting a member organisation to proposal his dismissal and seek a vote by the Congress. In the end, the Congress decided on the statute change that expanded the power of the ruling council to hire and fire its independent oversight committees. Scala walked of the Congress before the vote.
"We can't operate this way," British council member David Gill said during the council meeting, according to FAZ. "We can't dismiss people without a piece of paper and facts."
Gill declined to comment on the events of the meeting. Scala declined to comment. FIFA said that the decision to change the rules that prompted Scala to resign was made to allow vacant positions to be filled.
"Any allegation that this decision would be the result of a 'plot' is ludicrous," FIFA said in the statement. (Bloomberg)
•Photo shows FIFA President Gianni Infantino.
Source Daily Sports
Posted May 30, 2016
---
You may also like...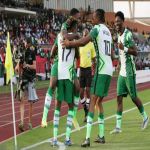 World Cup playoff: Super Eagles declare war on...

Bloody Cult Fight Prevents Top Grassroots Club BJ...

Ighalo Eager To Taste EPL Action This Weekend...

Mane Off To Germany For Bayern Medical

Udoh sinks Ethoile du Sahel