Sport As Instrument For Crisis Management
By Daily sports on July 22, 2021
Globally, sport (football inclusive) is a huge industry just like any other big business or conglomerate. It encompasses sporting organisations, clubs, societies or associations around the world and often, it's a veritable tool for crisis management in many of world's troubled spots.
As a kicker, crisis in many parts of the world is a situation that disrupts normal business operations, and has an uncertain cum potential negative outcome. Statistically, so many researchers have shown with their findings that we have many multidimensional factors that breed crisis in our society, but for the purpose of this piece we shall limit our searchlight on the impact of sport in global crisis management.
In Nigeria for example, indulging in sporting activities like football, basketball, wrestling and boxing, etc, has a cushioning magical wand on the various socio-political and economic challenges plaguing or bedeviling the teeming frustrated masses of Africa's most populous black nation. Therefore, it is never out of place to state equivocally that over the decades most unchecked or unmanaged crisis in many countries of the world has snowballed into full-blown banditry, armed robbery, youth restiveness, kidnapping for ransom, rape, arson, drug addiction, racism and terrorism. The action of these unscrupulous elements in the society has continued to torment and bring untold hardships cum fear on citizens of various countries. Thus, there is a dire need to curb this high rate of criminality with the help of sport, since no amount of funds can be said to be too big in bankrolling sporting activities when compared to the devastations, loss of lives or properties emanating from such heinous crisis.
However, sport plays a crucial role in uplifting a nation's economy. Aside the largess that an athlete benefits by making it to the podium, it also plays a significant role in building a healthier society by bringing people from all walks of life together, influencing people's lives and promoting a culture of fitness. For example, joining a sports team has the capacity to give a kid a sense of belonging, opportunity to make new friends, learn to lose graciously and occasionally provides extra dose of discipline that helps curb violence or crisis in our society.
Aside from the aforementioned, partaking in sporting events helps an individual in the society to learn to control his emotions, self-esteem, patience, togetherness and dedication to the cause of defending his country's patriotic image. No wonder, all these are enshrined in the charter or activities of top sporting organisations like the Federation of International Football Associations (FIFA), Commonwealth Games and International Olympic Committee (IOC).
A peep into the positive impact of sport (football inclusive) in the society can be seen during the FIFA World Cup matches where warring countries or communities go as far as silencing their guns to watch the global fiesta. In fact, football events or tournaments are like festive periods for fans that make out time to savour the peace and new lease of life the beautiful game offers.
In Nigeria's history, the efficacy of sport being used as an instrument to curb or manage crisis was well demonstrated following the visit of the then world's best player, Edson Arantes do Nascimento "Pele" of Brazil on January 26, 1969, and his club Santos FC during the civil war. The visit was observed with a ceasefire between Nigeria and break away Biafran forces in a bid to pay respect to the visiting soccer legend and his club. During the period of their stay many Nigerians almost forgot that the country was at war. That action alone confirms the power sport participation possesses!
From reports, Pele and his club were on a two-match visit to Nigeria. They faced a selected National Team made up of most players from the famed Stationery Stores FC of Lagos on January 26, 1969 at the City Stadium in Onikan that held Brazil to a 3-3 draw at the 1968 Olympics in Mexico.
The Santos team paraded three Brazilian internationals namely, Pele, Edu and goalkeeper Gylmar. The match ended 2-2 apiece at the Onikan Stadium with Pele scoring a late stunning equaliser for his side that made Onikan fans to 'abandon' their home team in celebration with Pele and his 'gang'. In the Nigeria team line-up that sunny day were goalkeeper Inuwa Rigogo (later replaced by Peter Fregene), Anthony Igwe, Augustine Ofoukwu, Willie Andrews, Segun Olumodeji, Samuel Opone (captain), Muyiwa Oshode, Kenneth Olayombo, Baba Alli, Mohammed Lawal and Sunny Ine. After the energy-sapping encounter, Santos FC ended their brief playing tour of the country on a consolatory note by beating a Mid-West Region selected side with a slim 2-1 win in the second and final game in Benin.
The lesson from the aforementioned soccer encounter reveals that sport will continue to remain a potent weapon to promote peaceful settlement or crisis management in a troubled society like ours. Furthermore, published studies has revealed that sport programmes aimed at youths helps to reduce risk of criminal behavior, enhance self-esteem, reduce reoffending, promotes fairness, teambuilding, equality, discipline, inclusion, perseverance and respect.
Sport also has hidden health benefits such as lowering the chance of osteoporosis or breast cancer later in life and always promotes a positive influence on society and individuals. It often provides a platform for people to come together and support their country like during international events like the Olympics and the World Cup. Both events serve as rallying point for citizens to show national pride and unity.
From the foregoing, sport alone has the enormous power to lift people up in times of turmoil and it is therefore advisable to encourage entrepreneurs to embrace sport business as a way of life because of the numerous advantages it brings to the table. For example, at the global level, the Commonwealth Games and the Olympics has continued to unite the world as a global village with major aim of averting crisis among member nations using sport. The Commonwealth which is a voluntary association of 54countries that support one another to work together with shared goals in democracy and development saw the importance of sport in crisis management that they agreed to stage the Commonwealth Games among members.
United through the association's values of democracy, freedom, peace and rule of law, Commonwealth Heads of Government and ministers meet regularly to ensure that Commonwealth policies and programmes represent views of members and gives governments a better understanding of one another's goals (like crisis management).
Sport for Development and Peace (SDP) is one priority area the Commonwealth Games has excelled among its member nations. No wonder world class, multi-sporting event like the Commonwealth Games Federation (CGF) is one of highest profile events in the world. Within this context, Commonwealth leaders have consistently endorsed the role SDP can play in development and peace work, in particular in the domain of youth engagement and empowerment. The Commonwealth Heads of Government reinforced this commitment during their 2011 meeting. In doing so, they endorsed the observations of the Commonwealth Eminent Persons Group (EPG) of the need for Commonwealth governments and sport stakeholders alike, including the Commonwealth Games movement, to intensify efforts at using sport as a platform to promote peace and rapid development in today's world.
A look at Article 28 of the Olympic Charter opens up on the mission of the National Olympic Committees (NOCs) which is to develop, promote and protect the Olympic Movement in their respective countries. The role of NOCs within each country is to promote the spirit of Olympism, ensure the observance of the Olympic Charter, and to encourage ethics in and development of sport.
Fundamental principles of Olympism affirms that Olympism is a philosophy of life, exalting and combining in a balanced whole the qualities of body, will and mind. By blending sport with culture and education, Olympism seeks to create a way of life based on the joy of effort, the educational value of good example, social responsibility and respect for universal fundamental ethical principles.
In a nutshell, the goal of Olympism is to place sport at the service of the harmonious development of humankind, with a view to promoting a peaceful society concerned with the preservation of human dignity.
The practice of sport is a human right. Every individual must have the possibility of practicing sport, without discrimination of any kind and in the Olympic spirit, which requires mutual understanding with a spirit of friendship, solidarity and fair play. This helps the citizen inhabiting the earth to live in peace and shun crisis.
The enjoyment of the rights and freedoms set forth in the Olympic Charter secures without discrimination of any kind, such as race, colour, sex, sexual orientation, language, religion, political or other opinion, national or social origin, property, birth or other status. All these helps to reduce the cacophonic drums of war among nations or communities and make sport an instrument for peaceful living!
In the light of the above, the funding gap required to develop the sports sector in Nigeria to achieve the benefits stated is so huge. Therefore, in order to compliment the various efforts of government in the funding of sports development, every other effort through private initiative should be encouraged and supported to ensure the country enjoy all the qualitative and quantitative benefits possible.
•CONTRIBUTED. PHOTO: Sports Minister Sunday Dare
Source Daily sports
Posted July 22, 2021
---
You may also like...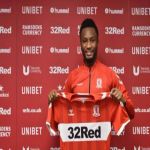 Mikel Obi back in England at Middlesbrough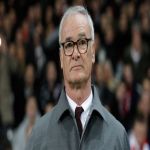 Champions League: Ranieri seeks Leicester City matadors against...

Liverpool boss Jurgen Klopp criticises officials' decision-making during...

Ronaldo says he is a tax invader

Arsenal in contract talks with Iwobi