GP World FA Emerge Anambra Super 8 Champions
By Pamela Eboh, Awka on April 6, 2021
Views: 180
GP World FA Nnewi, weekend beat its opponent, Konti FC in a keenly played match to emerge winner of Anambra State maiden Super 8 football tournament organised by the State Football Association (AnSFA)
The tournament which was sponsored by Aspire FC, Adazi and organised by Anambra State Football Association was kicked off February 1, 2021 with 27 teams from different senatorial zones of the state until 6 teams finally emerged for the quater, semi and finals of he tournament.
The finals played at the NEROS stadium in Nanka, Orumba North Local Government Area of the state ended in penalty with GP world clutching to victory with 4 goals against Konti FC 3 goals.
The winning team was presented with a N500,000 check, the second place team, Konti FC won the sum of N300,000 while the second runner up, Mekon United FC took hpme N200,000.
With the victory, GP World FA has qualified to play in the Nationalwide League.
There was however a mild drama when GP World FC victory was greeted with protest following centre referee's annulment of the fifth penalty kick by Konti FC as a result of the player falll before taking the kick.
According to the referee, the fall was an intentional act to deceive the GP World Goalkeeper or that his body touched the ball before he kicked it into the post.
In his reaction, the Coach of Konti FC, Damian Okoro, said his team lost to poor officiating despite playing very well.
He said: "The penalty that led to the equaliser was uncalled for. I thank the organisers for putting up a quality and memorable football fiesta."
Coach of GP World, Johnwealth Nwebiem, said his team took the victory because his boys were technically and technically superior to their opponents.
He added that Konti FC players made the game boring by falling all over the pitch after taking advantage of his team's error because they knew they were not an equal side.
Earlier in an interview, the director of Konti FC, Mr Emeka Okonkwo, commended his team for the good outing saying that they would do their best to win the trophy in subsequent contests.
On his part, the chairman of organising committee of the tournament, Prince Oliver Ndigwe, hailed the 27 teams that participated in the tournament for adhering to decorum and spirit of sportsmanship.
He gave assurance that the next edition would be better.
According to him, "The Super 8 Tournament was part of My Anambra Football's next 10year plan to reawaken football in Anambra State."
•PHOTO: Anambra Super 8 Champions, GP World FA
Source Daily sports
Posted April 6, 2021
---
You may also like...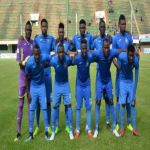 CAF Confed Cup: Enyimba Spanked In Tunisia, Casablanca...

Kaduna stadium, fans wow NFF, Super Eagles

Tottenham Appeal Against Son Red Card

Association directors resign following abuse scandal

Achimugu up to goalkeepers' war at Enyimba