LeBron James Out Indefinitely For Los Angeles Lakers
By Daily sports on March 21, 2021
Views: 377
LeBron James has a high ankle sprain and is out indefinitely, the Los Angeles Lakers announced Saturday.
James exited the Lakers' 99-94 loss to the Atlanta Hawks in the first half after Solomon Hill collided with James' right ankle. He knocked over a chair in frustration on his way to the locker room, and received X-rays and an MRI on his right ankle after the game.
Hill was called for a foul with 10:50 remaining in the second quarter when the Hawks' forward fell on James' right ankle while trying to steal the ball.
James immediately shouted in pain and rolled off the court, clutching his right leg. The Lakers called timeout to check on the 18-year veteran, with several teammates, coaches and members of the medical staff trekking across the court to surround James while he was on the floor.
Several of James/ teammates took exception with Hill's involvement in the play.
"A guy dove for a loose ball, took his leg out from up under him," Montrezl Harrell said. "I really don't feel like it was one of those loose-ball plays. He had to go through his leg to get the ball, man. He was turned sideways. The ball was behind him. I mean, you're jumping at an angle, going across this way, I mean, I don't know how you feel that's a loose ball."
Dennis Schroder concurred.
"That's an unnecessary play to dive in the leg like that," he said.
After the game, Hill tweeted a note to critics, who may have thought the move was intentional.
would never disrespect the game and take a player out purposely... he knows that. That's all that matters to me. praying for a speedy recovery. #riptothementionstho #moredmsthansaweetie
James was able to stand on his own and limped back to the bench where he re-laced his sneakers and stayed in the game after the timeout.
On the Lakers' first possession out of the timeout, James hit a 3 from the corner, lifting his stat line to 10 points on 3-for-6 shooting, keeping his streak intact of 1,036 straight games – including Saturday – scoring 10 points or more. (ESPN)
•PHOTO: Lebron James
Source Daily sports
Posted March 21, 2021
---
You may also like...

Arsenal's Mustafi Set To Miss FA Cup Final...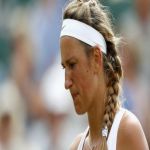 Azarenka set to miss the US Open -...

Rio Paralympics: We're proud of you, Saraki tells...

Club Owners Send High-Powered Delegation To Wedding Of...

Senate passes NFF Bill